Best Running Insoles
1 Comment
Wednesday, 16 September 2015 |
Admin
The weather is turning chilly, summer is over, and the true runners that dwell within the hearts of us lot here at Shoe Insoles couldn't be happier. Forget sitting on over-heated tubes or under-heated buses, this perfect running weather was made for the healthiest commute of all – on your own two legs, and your two great insoles, of course. So whether you're a fan of the brisk winter morning jog or a balmy summer evening's run, we're still fans of your hard-working feet, and rewarding them with the perfect insole for your daily jog.
Top 5 Best Running Insoles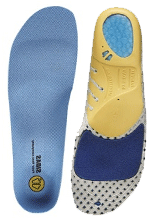 The Sidas range started almost 50 years ago making custom insoles for skiers taking on the French Alps, so we reckon they're rightly qualified to help your feet make it round the track in total comfort. Sidas have created these insoles to give total stability even on uneven terrain due to a nylon shell keeping your feet in prime position and thanks to their great cushioning and high levels of comfort, pounding your feet along the hardest surfaces won't leave you with aching feet. Designed specifically for the needs of runners, these sporting insoles protect from blisters and correct misaligned feet for a natural running gait, are super durable for even the most dedicated of daily runners, and help feet beat fatigue with their shock absorbing gel heel pad. Add to that an anti-bacterial top coat to keep odours at bay and you've found yourself the perfect runner's insole!
Sole Signature Dean Karnazes Response Insoles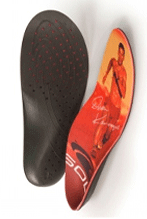 If they're good enough for Ultramarathon runner Dean Karnazes, it's good enough for us! If you are amazed by Karnazes' feats then you are surely in awe of his feet. With achievements including completing 50 marathons in 50 days, running "The Relay" – a 320 kilometre run – eleven times, and running 350 miles over the course of 4 days without sleep, if you want to know what makes a serious running insole, look no further. With 1.6mm of breathable cushioning, a moisture-wicking top sheet and an odour-control top coat to keep feet fresh, the Response Insoles are also perforated to make you lighter on your feet and better in performance. Not just great for fighting fit feet, the high cushioning of Karnazes' Signature Insoles is perfect for supporting users recovering from Plantar Fasciitis, Metatarsalgia and a host of other conditions. For a more personal fit, they can also be heat moulded to your feet simply by warming them in an oven, or for a more responsive fitting, simply let them mould to your feet as you run, 50 marathons not necessary!

Sof Sole Gel Active Insoles for Men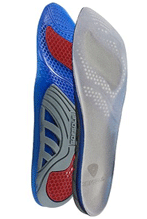 Tried and tested to withstand 1500 kilometres worth of running, these Sof Sole Gel Active Insoles are soft on your feet and hard on your goals. Only 15 grams in weight, these insoles are perfect for taking on any sport and have been designed for the most active of feet. Flat feet or fallen arches are supported, and the shock of foot strike is completely absorbed, saving feet from aches and fatigue. Not only improving the life of your feet, they also prolong the life of your shoes keeping feet perfectly balanced and supported and stopping unnecessary wear. Sof Sole's insoles are also unique for understanding that feet have gender! Made specifically for men or women and differing thickness, width and heel cups to best suit their user, Sof Soles create the perfect shape for perfect comfort.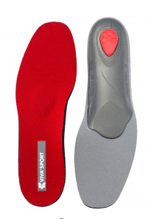 Did you know that you're more likely to win tournaments if you wear red? Apparently this colour of champions inspires greater feelings of confidence, ability and power, so Pedag is definitely onto a winner with these Pedag Viva Sport Insoles. And if the colour doesn't have you convinced, maybe the thousands of micro-air chambers absorbing impact will. Distributing shock evenly across the foot, these tiny chambers lessen the stress on your foot and alleviates pain across your heels, knees and back. A Metatarsal pad keeps your foot well supported, not only keeping a range of unhappy foot conditions like Metatarsalgia and Morton's Neuroma at bay, but being the perfect insole for helping poorly feet battle back to health. So indulge your inner red with these innovative insoles; ready whenever you are!
Sole Thin Sport Insoles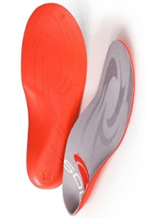 The way to a runner's soul is through their insoles, so Sole has us covered. Thin and light in wear but not in support, these insoles can slip into even the tightest fitting shoes, making them great for skates and sport boots, increasing comfort and enhancing performance. They may be thin but that doesn't compromise their range of features with their moisture wicking top coat, cushioning, pressure-distribution and heel cup keeping feet well supported. Perfect as a Plantar Fasciitis-busting insole, the Sole Thin Sport Insoles are just as good for comforting arching arches and hurting heels. The EVA base layer can be heated to mould perfectly to your personal foot profile, keeping feet perfectly aligned and supported to carry you to victory, whatever your sport of choice.
Visit Shoe Insoles for a great range of Runner's Insoles!