Advertising at ShoeInsoles.co.uk
ShoeInsoles.co.uk is one of the UK's largest providers of insoles, orthotics and footcare products, and as such our website offers a fantastic opportunity for marketing these type of products. We have in-house marketing experts, including highly-experienced copywriters and graphic designers who can help you to create your dream ads.
Get In Touch with Our Advertising Team
Advertising Packages
Homepage Packages
Our homepage is our most valuable area on the website and advertising here can have a huge boost to your visibility and the success of your advertising. See below for a breakdown of our pre-made packages.
Package
Home Page Banners
Category Banners
Marketing Emails
Price per Month (Ex. VAT)
Bronze

✔

(2nd Position)

✘

✘

£1,999.99
Silver

✔

(2nd Position)

✔

(1)

✘

£2,449.99
Gold

✔

(1st Position)

✔

(3)

✔

(1)
£4,199.99
Platinum

✔

(1st Position)

✔

(5)

✔

(2)
£4,499.99
Our Most Popular Option: The Gold Package
Category Packages
Our category pages offer a great amount of reach to specific audiences. Want to target runners specifically? Or people with plantar fasciitis? Our Category Packages allow you to segment your advertising to get the best return on investment.
Package
Category Banners
Basket Banners
Price per Month (Ex. VAT)
Bronze

✔

(1)

✘

£699.99
Silver

✔

(3)

✘

£849.99
Gold

✔

(5)

✔

£999.99
Platinum

✔

(10)

✔

£1,199.99
Our Most Popular Option: The Platinum Package
Email Marketing Packages
We have a large database of customers that we can target with remarketing emails. These emails are great for building brand awareness and helping you to reach people who may not be aware of your products.
Package
Emails
Price per Month (Ex. VAT)
Silver

✔

(1)
£999.99
Gold

✔

(2)
£1,699.99
Our Most Popular Option: The Silver Package
Bespoke Packages
While we have a number of packages that offer a variety of marketing options, we understand that businesses may have their own specific needs and ideas. Because of this, we can also create bespoke packages that are tailored to your specifics (please use the form below to get in touch with our advertising team).
Get in Touch About Your Preferred Package
To speak to a member of our advertising team, simply fill in the form below to message our advertising team.
Where Can I Advertise?
Homepage Banners
Homepage banners are one of the first things that most customers see on our website, and as such they can be extremely lucrative in driving traffic. We offer banners on multiple positions within the slideshow, but we recommend that being first is best for maximising your reach. Homepage banners are provided in desktop, tablet and mobile formats.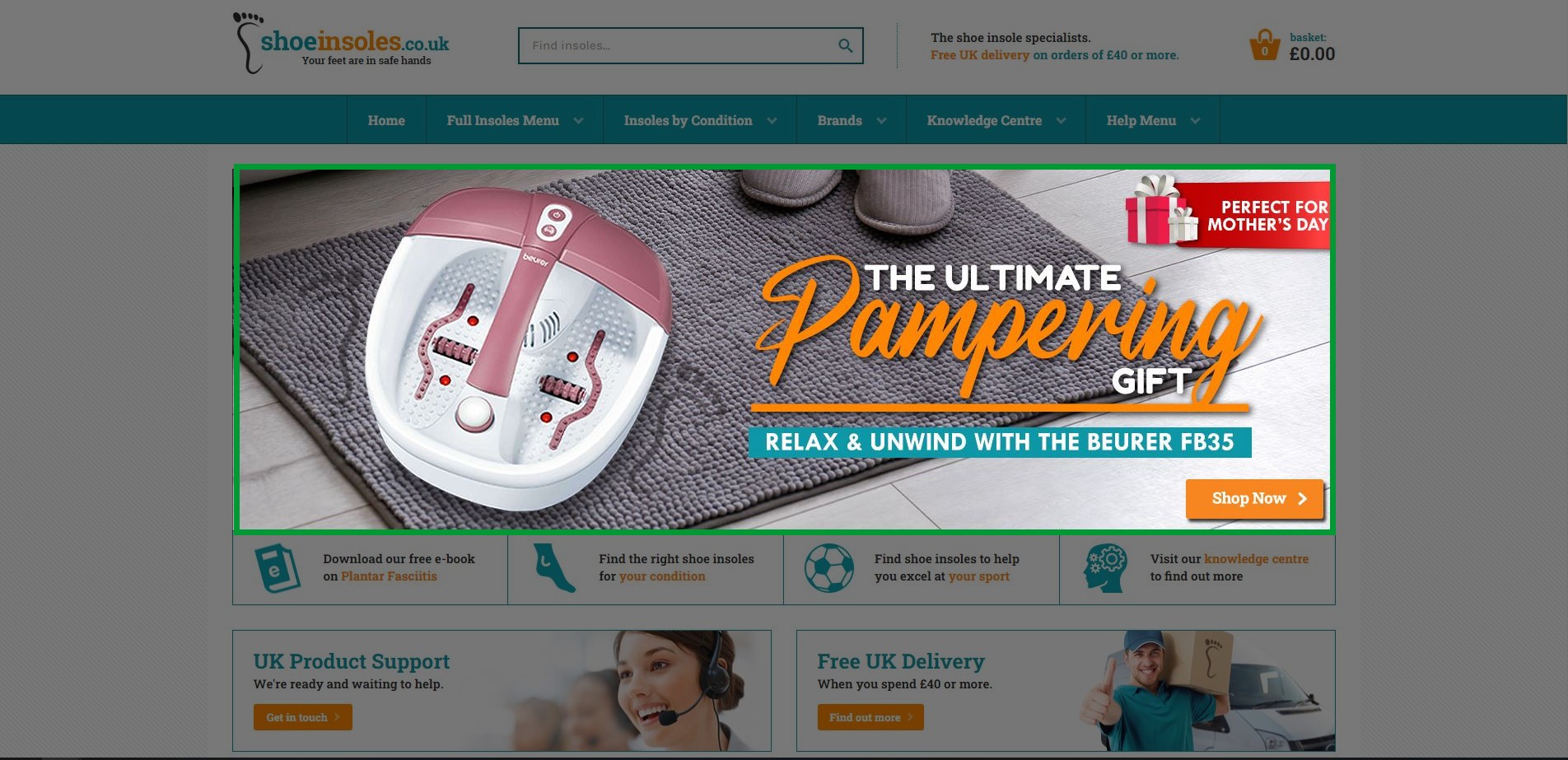 Your banner could be here on our homepage
Category Banners
Category banners allow you to target specific sections of our user base with great precision. For example, you could put a banner on our Cycling Insoles category and advertise to people interested in both insoles and cycling. Unfortunately, category banners are desktop and tablet only and do not currently appear in our mobile view of ShoeInsoles.co.uk.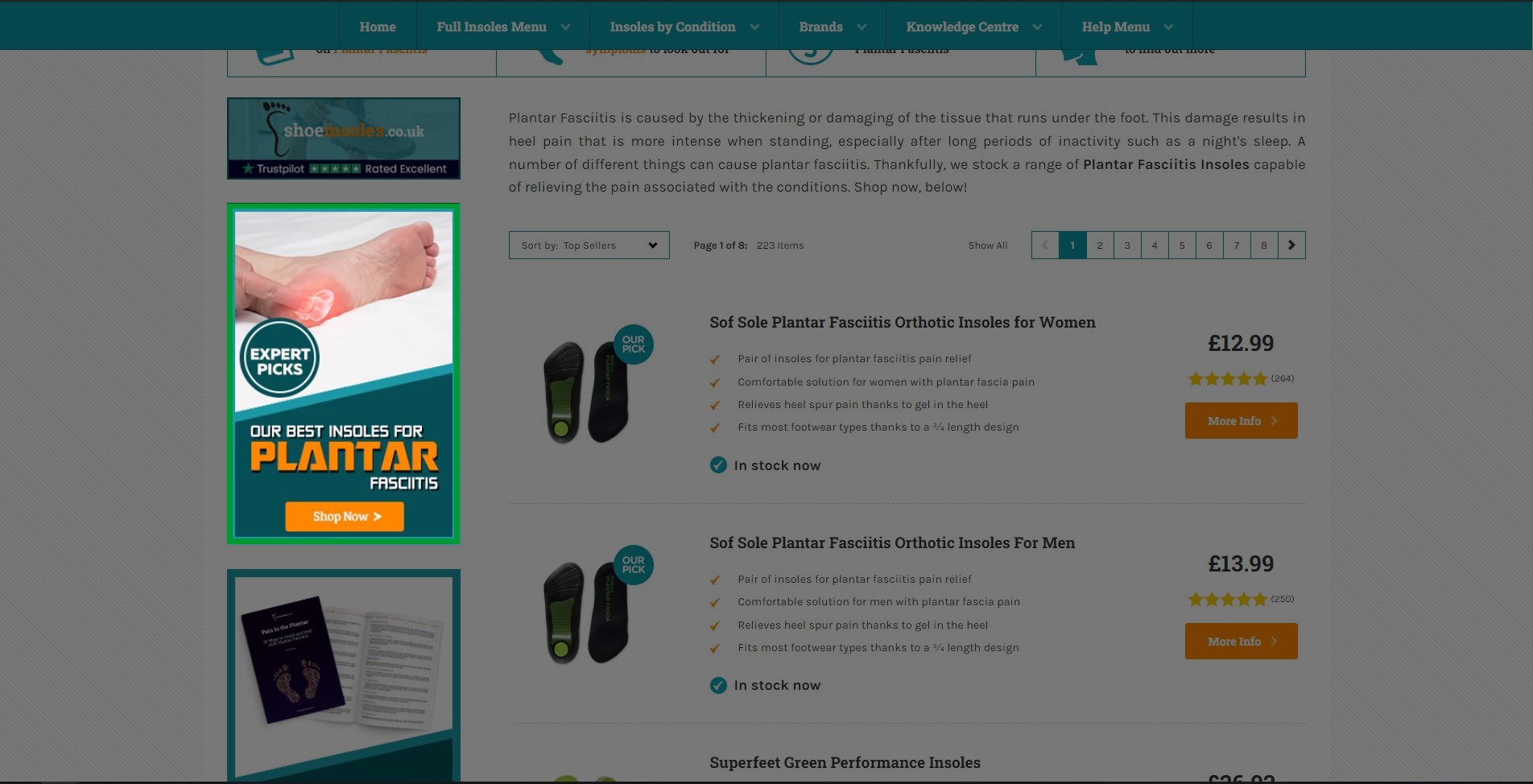 Your banner could be here on our site
Basket Banners
Our basket banners are the equivalent of the sweets beside a checkout in the supermarket – a way to entice people as they are just about to make a purchase to add something else to their basket. Basket banners are supplied for desktop, tablet and mobile views.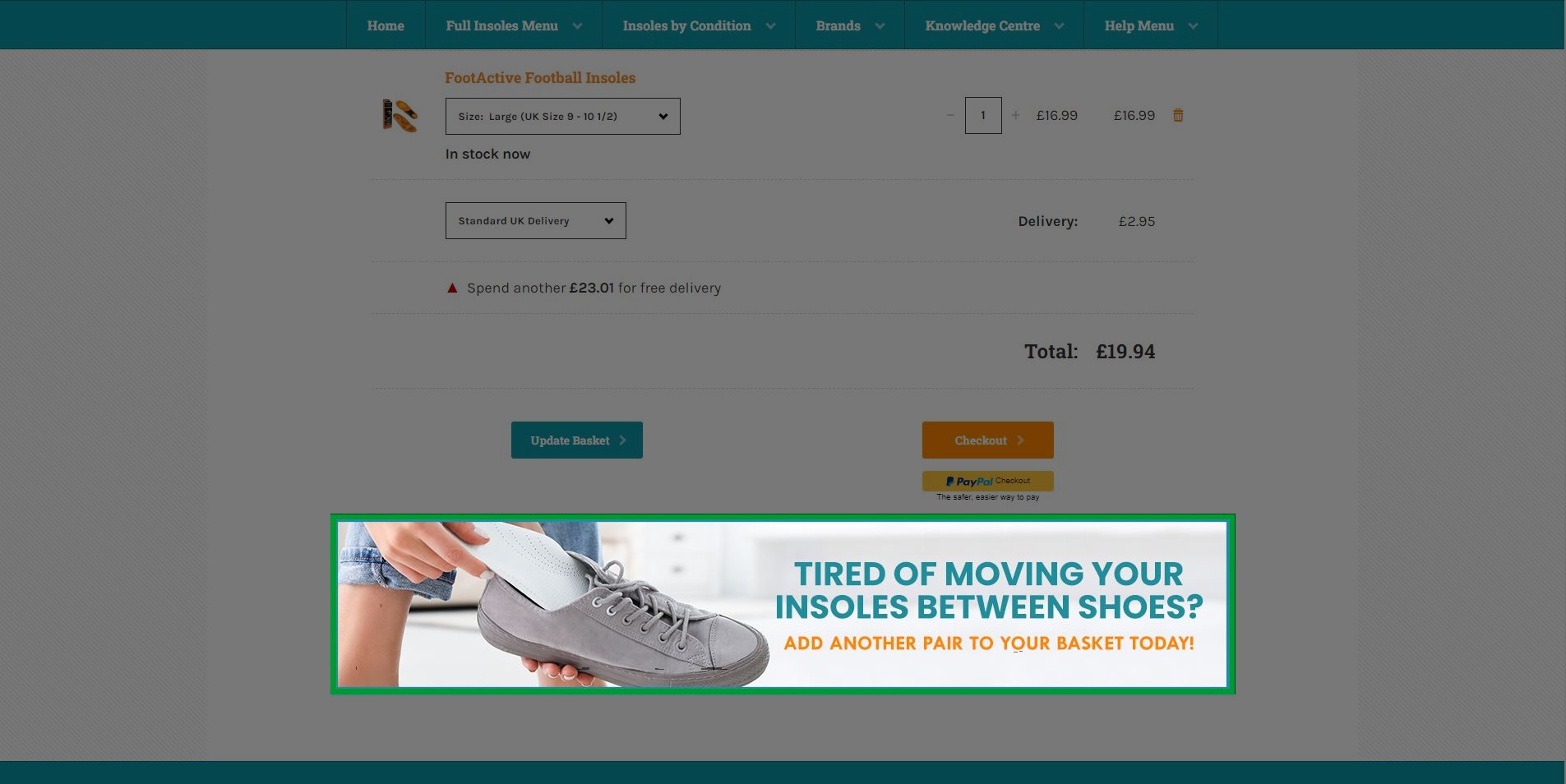 Your banner could appear in our basket
Why Advertise with ShoeInsoles.co.uk?
Trusted Brand: ShoeInsoles.co.uk has been trading since 2015 and in these years, we've cultivated an excellent reputation. We try to excel at every aspect of e-commerce, and this extends to helping our commercial partners.
Wide Audience: We receive 100s of orders on a daily basis and have over 1,000,000 users per year visit our website – meaning that any advert you place with us has the potential of reaching a very wide audience. While we've got a wide user base, our product range is highly targeted, meaning that you can be confident that your products are going to be relevant for a large slice of our users.
Experienced Marketers: Our marketing team at ShoeInsoles.co.uk includes a number of highly-experienced members that can help advise you on how to best position your products – we know our bunions!
Arrange Your Adverts Today
If you are interested in speaking to us about advertising or you have any questions, please contact us at helpdesk@shoeinsoles.co.uk or by filling in the form below.