Plantar Fasciitis Arch Supports
5 January 2016
Aching arches? What a nuisance! Most people never give a second thought to their arches until they start to hurt, but spare a second to think beyond your feet and consider what an arch is, in a building for example. Sure they're pretty, but they're there for a purpose too! Arches bear weight and your feet are no different, taking your body weight almost constantly throughout the day, really it's a miracle that our feet aren't always aching, so the least you can do for your hard-working arches is make sure they're supported!
For feet suffering from Plantar Fasciitis a bit of support is even more important. The entire muscle band along the base of your foot (your plantar fascia) is aching due to being over stretched, and the longer you continue with the habits that caused this damage, the worse that aching is going to get! Your feet, aching or not, still have to carry your body weight all day, it's only a matter of time before other unwanted side effects of this condition like Heel Spurs begin to appear. Using an arch support gives the Plantar Fascia a helping hand so that the tension is released and it is not being stretched beyond its limits. An arch support stops the Plantar Fascia from flexing, keeping it in a comfortable position for relief from pain and safe from any further damage.
Love Arch-ually
We stock a variety of ways for you to love your arches and keep them fully supported. Whether you're suffering from Plantar Fasciitis or just trying to ensure that you never do, our range of insoles and foot supports help your feet stay happy and healthy!
A band-style arch support is worn around your entire foot, giving support from every angle and providing a healthy dose of compression to boot. Perfect for treating or staving off a range of foot conditions such as heel pain and ball of foot pain, these band supports are ideal for wear during or after sports to help minimise cramp and stiffness. For Plantar Fasciitis-afflicted feet, this compression can boost blood flow, keeping the muscle supple and reducing stiffness and pain. Try the Ultimate Performance Compression Supports for slip-on support that makes pain relief simple.
Insoles have plenty of options for giving your feet precise support, and while they may not offer the compression of band supports, all they require is to be slipped into your everyday shoe, so you'll never forget to wear them. Our range includes insoles that are specifically tailored to high, medium or low arches so you can find the best fit for you. Not just all about arches, insoles help protect against a wide range of other conditions, including Shin Splints, Heel Spurs and Fatigue. Many also properly align your feet, thereby improving your posture and helping combat knee and back pain. Not bad for just slipping something in your shoe.
If you have done the damage and Plantar Fasciitis has already set in, not only do we have a whole range of blog posts to tell you everything you need to know about getting through this condition, we also have a great range of arch-soothing products, including gel-lined foot sleeves and night socks to let you continue enjoying relief throughout the night.
If you're ready to show you arches some support then head over to our online store where we have a huge range of insoles, inserts, bands and supports to get your feet back to fitness!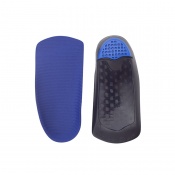 Shock-absorbing 3/4-length arch supports
Ideal for heel pain, heel spurs and plantar fasciitis
Protects against odours and moisture-related blisters
Fits almost any shoe for versatile use
| | | |
| --- | --- | --- |
| | | In stock now |
£31.48
---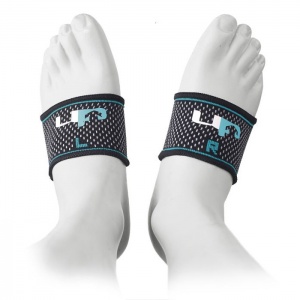 Bi-lateral fit for comfort
Offers compression to targeted areas
Comfortable to wear for protracted periods
Provides support to the arch
| | | |
| --- | --- | --- |
| | | In stock now |
£13.29