What is Foot Fatigue?
8 July 2015
Your feet have a hard job to do, carrying you about all day and hammering through sports — it's only natural that they get tired once in a while. Luckily, Foot Fatigue is not at all the most serious foot condition to befall your feet, but it can usually be taken as a sure sign that you're not giving them the care and attention they deserve, and be warned, continuous foot-abuse can lead to far more unpleasant conditions such as Plantar Fasciitis or Achilles Tendinitis.
Tired Toes and Shattered Soles
Foot Fatigue is signalled by all the usual symptoms of overwork - you may find your feet are swollen either in parts or as a whole, they may have started to cramp during or after activity and are suffering from a constant or periodic pain that may be a dull ache or a sharp, stabbing sensation. Foot Fatigue doesn't necessarily affect the whole foot and can localise in just the heel, just the ball or shift and change position from day to day.
Anti-fatigue massages for your feet can help bring relief and is simple to do either by concentrating on the affected areas with your thumbs or rolling a suitable sized ball such as a tennis ball beneath your foot, replace the tennis ball with a bottle of iced water for double the relief.

Anti-Fatigue Insoles
You may not think having slightly tired feet is a big deal, but you'll think again once you realise what a difference anti-fatigue insoles can make.
Full Length Insoles are a great way to prevent Foot Fatigue as not only do they accommodate every part of the foot, they help properly align your whole body, countering leg, knee and back pain too. The majority of full length insoles are thin and flexible enough to be worn in any shoe, many can be trimmed to fit, and with a range of styles combining both design and expert foot care know-how, you don't have to worry about them detracting from your sense of fashion. With a full length insole for every foot profile, from the everyday wearer to the hardcore athlete, Foot Fatigue doesn't stand a chance against shoes sporting this level of comfort.
3/4 Length Insoles can offer all the same support of a full length insole with the added bonus of enhanced versatility. Able to fit into a wide range of shoes, including high heels and fashion shoes, 3/4 length insoles do not crowd the toes while still adding support to the key areas of the foot. Ideal for combating Foot Fatigue in any of your regular wear shoes, 3/4 lengths are low-profile and high-performing and will be sure to keep your feet in tip-top condition.
Foot Pads and Cushions are offered as both gel and foam inserts and are a good choice for anyone who wants to precisely place their in-shoe pain relief. Shock absorbing and durable, pads fit into a huge variety of shoes and can easily be transferred from shoe to shoe to suit your style.
Farewell, Fatigue
Being neither an immensely serious nor rare condition to develop, Foot Fatigue is best combated not as a one-off ailment but with long-term prevention in mind. All our anti-fatigue insoles share this mentality, aiming not simply to help heal your feet when they need it most, but to keep them that way for the foreseeable future.
With an anti-fatigue insole helping manage the work of your feet, you will soon find that the pain and strains of Foot Fatigue are a thing of the past, and to keep it that way, it's recommended that you reward your insole's service with some loyalty, and let it keep providing support and comfort for your feet and the hard work they do.
Please visit the Shoe Insoles website for a full range of Insoles for Fatigue.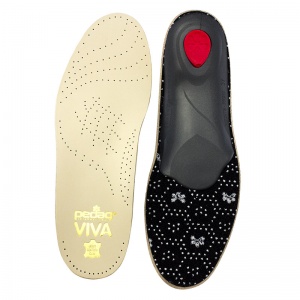 Pair of high-quality leather insoles for a range of shoes
Fantastic for dealing with plantar fasciitis
Active carbon filter to reduce odour
Lightweight and thin design for great comfort
| | | |
| --- | --- | --- |
| | | In stock now |
£19.99