What are Heel Spurs?
Heel Spurs are a bony outgrowth from the heel bone at the back of the foot caused by calcium deposits gathering at the rear of the foot. Every time the muscle along the bottom of the foot (the plantar fascia), a little more calcium is deposited until the build up becomes serious. The condition can range from being almost painless in some patients to causing extreme discomfort in others and is commonly associated with Plantar Fasciitis.
Heel Spur Causes
The usual suspects are the causes of Heel Spurs; badly fitting shoes, over work and any attempts to combine the two will weigh heavily on your feet and, more precisely, on your plantar fascia. Any sufferers looking to lessen the strain of living with Heel Spurs, as well as ensuring that further foot conditions are kept at bay, should use a suitable insole with a sensible everyday shoe and try to give the high heels a miss.

In-Spur-ational Insoles
Insoles are an essential part of keeping feet comfortable and supported while you go about your day-to-day life with Heel Spurs. Selecting insoles can depend on the shape of your feet, as those who have Flat Feet or High Arches or suffer from Supination or Ankle Instability are most vulnerable to this condition, and an insole to treat their foot as a whole is preferable to a pad exclusively for cushioning the heel.
Full and 3/4 Length Insoles are ideal for addressing issues all along the foot and can combine support and cushioning of the arch, heel and metatarsal area as well as helping fully align the feet and lower body to protect and prevent from further conditions. These can be particularly effective for Heel Spurs as they fully stabilize the foot, helping to treat the root cause of the condition.
Heel Cups and Pads are the perfect addition to any shoe that you want to provide extra comfort. Offering shock absorption and lessening the pressure on the heel area, heel cups can come in soft foam, soothing gel or combination of cushioning materials. Great for direct cushioning to the area affected by Heel Spurs, these small but effective insoles fit well into almost any shoe.
Heel Protectors are ideal for providing protection at all times, whether in or out of shoes. Able to provide shock absorption while still giving you a sense of being barefoot, they are an excellent choice for all-day, all-night support.
Spur On Recovery
Living with Heel Spurs can be a pain in more ways than one, but through the use of a suitable insole and by giving your feet the care and attention they need, you should be back on your feet in no time. While a period of rest and relaxation is recommended, light exercise can help keep your from becoming stiff or weakened. If you do choose to get your feet back into action, be sure to pick a shock absorbing insole that helps with the alignment of your feet, insoles which are intended for use in high-impact activities are usually the best choice for these sorts of features.
However you choose to treat your Heel Spurs, you can rest assured that here at Shoe Insoles we provide only the best insoles to suit both your hurting feet and your busy life.
Please visit the Shoe Insoles website for our full range of Insoles for Heel Spurs.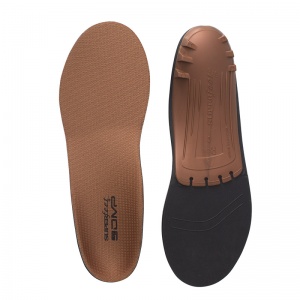 Naturally moulds to your foot shape without heat
The non-extra-sensitive alternative to Superfeet Black DMP
Patented heel cup and contoured shape supports your foot
Anti-odour top coat keeps insoles hygienic
| | | |
| --- | --- | --- |
| | | In stock now |
£42.97