Best Shoe Insoles for Knee Pain
23 May 2023
Suffering from a knee injury or knee condition can not only be painful, but it can also stop you from being able to get on with your daily routine and everyday activities. Using an insole can help to reduce the pain and discomfort of knee pain to help you live life to its fullest.
Although every condition is different, when it comes to relieving knee pain, there are a few characteristics of insoles to look out for, including weight redistribution to reduce stress from being placed on the knee and shock absorption to protect your body against impact. In this blog, we present you with our handy guide to the Best Shoe Insoles for Knee Pain, aiding you in making the right decision for you and your knees.
What Will This Guide Cover?
In this guide, we will cover the following areas:
Best All Round Insoles for Soothing Knee Pain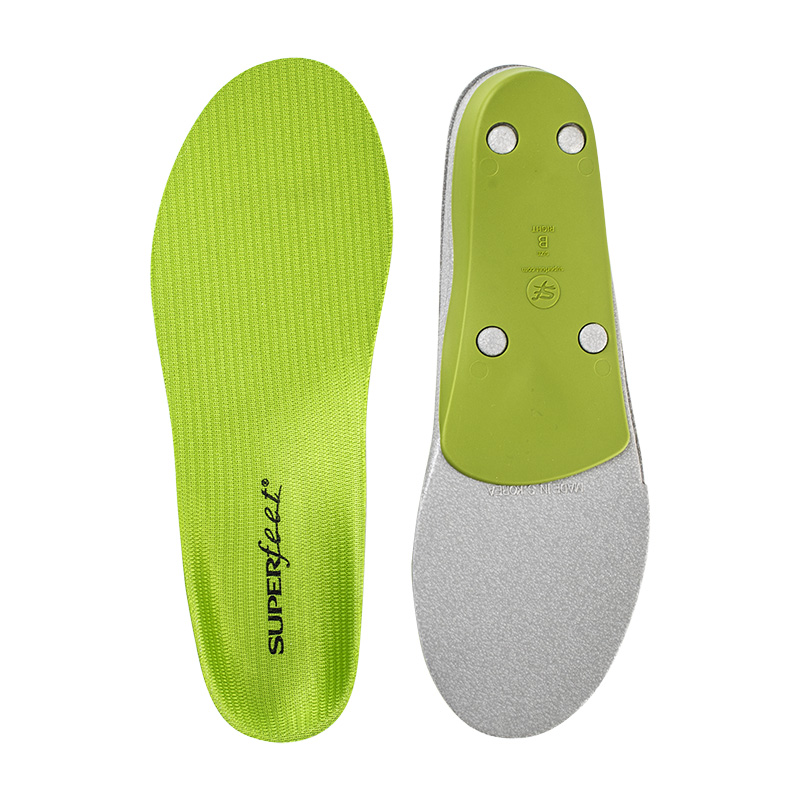 Why We Love Them...
✔ Support your feet to help align the ankles, knees and hips
✔ Heel cup cushions the heel, absorbs shock and optimises support
✔ Outstanding arch support improves balance and prevents pronation
Ideal For...
✔ Providing comfort and relieving knee pain
✔ Reducing strain and preventing further knee pain
✔ Wearing with almost any style of shoe
Not the Best For...
✘ Knee pain caused by arthritis (See our solution)
✘ Open-toed shoes (See our solution)

Editor's Verdict: No matter where your knee pain originates from, an insole with a stable base can help prevent poor posture and reduce stress and pressure on the knees. The Superfeet Green Performance Insoles are a great all-around choice because they feature a deep heel cup that helps correct foot placement and posture to realign your body and reduce joint pain. What's more, these insoles also include high-density foam that absorbs impact shock to prevent wear and tear of the tendons and soft tissues in your knees.
Customer's Verdict: "These are fantastic, I have had a lot of pain in both knees for years. Within two days of using these insoles, the pains in my knees have gone. I am now going to purchase two more pairs." James ★★★★★
Best Insoles for Arthritis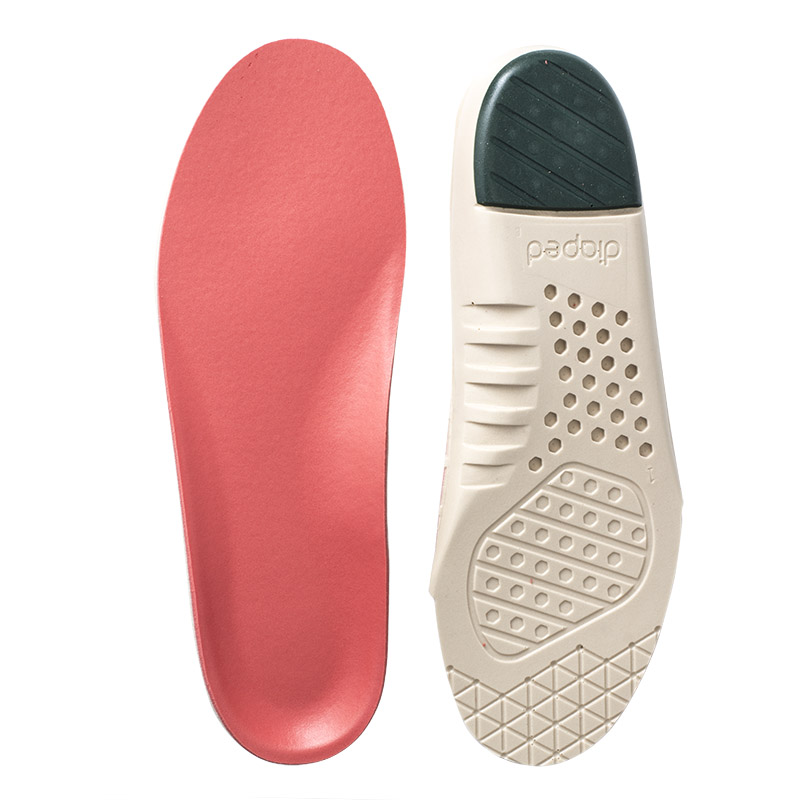 Why We Love Them...
✔ Resilient shock-absorbing base helps with knee pain
✔ Soft top material cradles the foot and evenly distributes body weight
✔ Breathable material helps to keep your feet cool, dry and odourless
Ideal For...
✔ Individuals with arthritis in need of a protective insole
✔ Elderly users due to the extremely soft and cushioning design
✔ People suffering from allergies or skin irritation due to latex-free design
Not the Best For...
✘ Treating supination (See our solution)
✘ Sports use (See our solution)
Editor's Verdict: Arthritis takes a serious toll on your mobility, and it can cause inflammation, swelling and tenderness of the knee. Persistent inflammation can even lead to long-term effects like knee deformity. If you want to avoid this at all costs, the Diaped Duosoft Plus Insoles will absorb shock and reduce the stress placed on the cartilage, which will in turn help aid with inflammation and relieve pain and tenderness.
Customer's Verdict: "Bought to alleviate foot pain from Psoriatic Arthritis. Very comfy and supportive insoles, and good quality. Easy to order and delivered quickly." Joanne ★★★★★
Best Insoles for Overpronation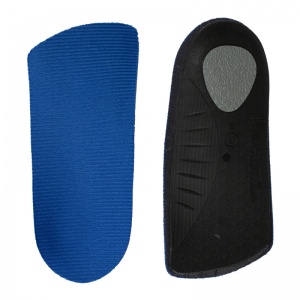 Why We Love Them...
✔ Include strong, medical-grade arch to support the foot during landing
✔ Designed to provide both cushioning and support
✔ Flat heel cradle adds stability and motion control to limit excess stress
Ideal For...
✔ Minimising strains, fractures and other stress injuries
✔ Gaining stability and correcting posture to prevent further pain
✔ Wearing with tighter shoes and shoes that may leave toes exposed
Not the Best For...
✘ Knee pain caused by arthritis (See our solution)
✘ People in search of a running insole (See our solution)
Editor's Verdict: Overpronation happens when the outer edge of your heels hit the ground first, leading your foot to roll inwards onto the arch, which adds strain on the knees. Featuring strong, medical-grade arch support, a low, flat-heel cradle and a HyPUR-cel top layer for extra cushioning, the Powerstep Slim-Tech 3/4 Length Orthotic Insoles stabilises and protects your heels against impact, which in turn reduces knee pain.
Customer's Verdict: "A podiatrist recommended these insoles to me to relieve pronation and I have used them ever since. Her instructions were to wear them for 30 minutes on day one, one hour on day two and an hour extra each day until I was wearing them for eight hours. This was to allow my body to get used to the support and realign gradually." Cheryl ★★★★★
Best Insoles for Supination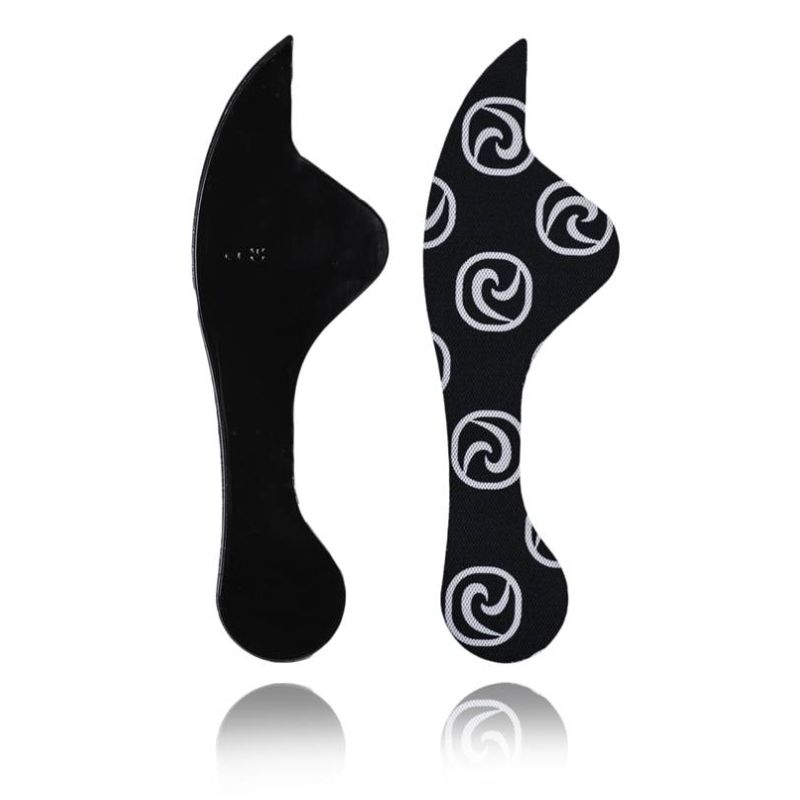 Why We Love Them...
✔ Support the outer or inner edge of your foot depending on your needs
✔ Unique PU-based gel absorbs shock to prevent knee damage
✔ Provide stability while preventing further injury
Ideal For...
✔ Encouraging a natural walking position to prevent knee pressure
✔ Athletes who struggle with foot rolling
✔ Reducing pre-existing pain and preventing foot conditions
Not the Best For...
✘ Insoles to help with runner's knee (See our solution)
✘ Knee pain caused by arthritis (See our solution)
Editor's Verdict: Supination happens when your weight rolls onto the outer edges of your feet. It can lead to stress and tension in your knees, resulting in pain and discomfort. Luckily, the Rehband QD Pronation and Supination Foot Wedge Insoles have been designed specifically to stop your feet from rolling. These insoles allow users to support the outer or inner edge of the foot depending on their needs, while the thick Technogel base absorbs impact shock to prevent further damage.
Customer's Verdict: "I suffer from supination, which is rarer and harder to find good solutions for. These are excellent; the best of the various ones I tried. I'll be ordering more." Mark ★★★★★
Best Insoles for Runner's Knee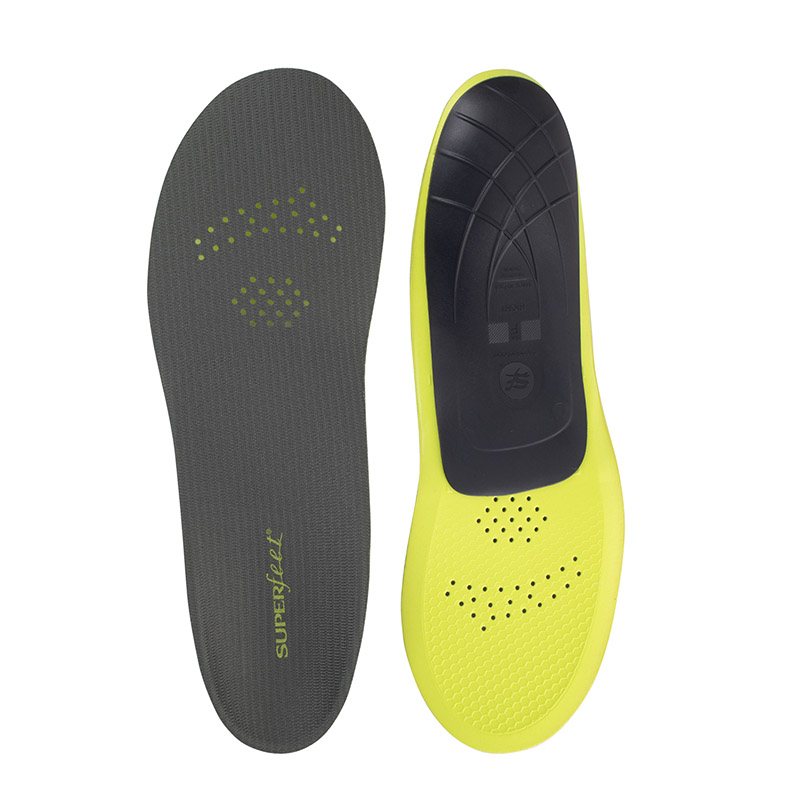 Why We Love Them...
✔ Carbon-fibre construction is lightweight and strony
✔ High-density foam material is especially useful for tight-fitting footwear
✔ Perforated foam offers improved breathability to eliminate odours
Ideal For...
✔ Addressing alignment issues causing runner's knee
✔ Use with sports trainers due to low-profile design
✔ Providing ongoing comfort and reliable support
Not the Best For...
✘ Aiding with arthritic knee pain (See our solution)
✘ Users in search of an extremely cushioned insole (See our solution)
Editor's Verdict: A case of runner's knee (or Patellofemoral pain syndrome) requires an insole that will provide firm support, as these will work best in the long run (no pun intended). You might be tempted to buy extra soft insoles that will feel like you're walking on clouds, but these will not provide the support you need to correct the functional imbalance leading to your runner's knee. Instead, opt for a pair of Superfeet Carbon Insoles. Featuring a firm carbon fibre and polymer structure for optimal strength, these insoles will support your arch from end to end to address alignment issues causing runner's knee, while providing structure and instability for utmost comfort.
Customer's Verdict: "Perfect fit, easy to adjust and comfortable" James ★★★★★
Best Running Insoles for Knee Pain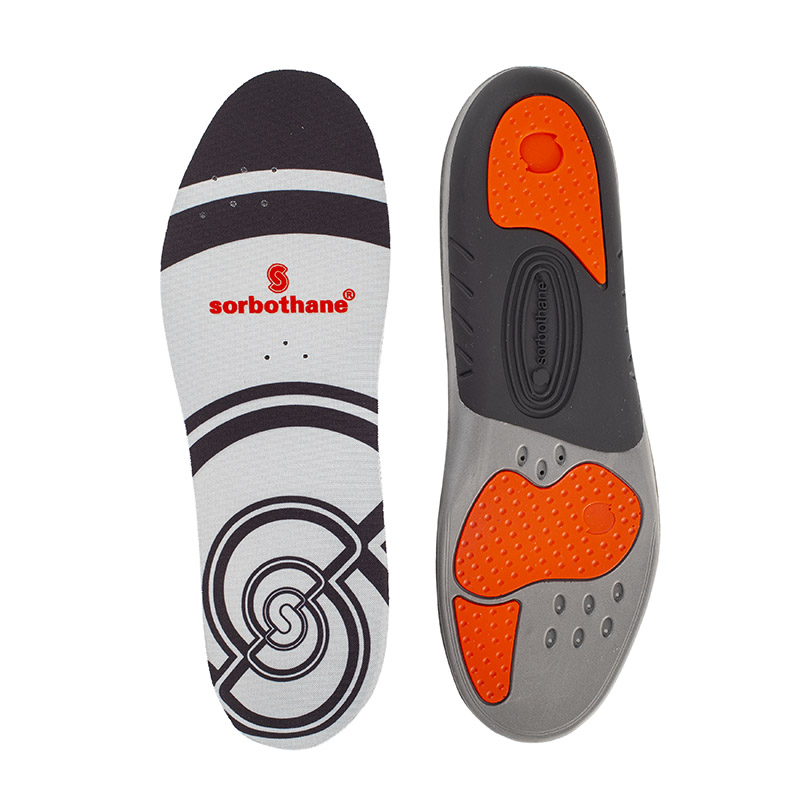 Why We Love Them...
✔ Shock-absorbing design protects the knee and reduces pain
✔ Ensures the feet are properly supported, aligned and cushioned
✔ Features a heel cup and stabilising arch to cradle the foot
Ideal For...
✔ Relieving existing knee pain caused by pressure
✔ Reducing the negative effect of impact and shock
✔ Use with all sports footwear
Not the Best For...
✘ Knee pain caused by arthritis (See our solution)
✘ Treating overpronation (See our solution)
Editor's Verdict: Although running is an excellent hobby, it does come with its fair share of risks. Every time your foot strikes the ground, a shock that amounts to nearly five times your weight travels up your legs, leading to overuse injuries in the knees. To avoid this from happening, you should turn to shock-absorbing, cushioning insoles, such as the Sorbothane Sorbo Pro Total Control Insoles. These insoles offer unrivalled shock impact protection that will take pressure off your knees to relieve existing pain and prevent further harm.
When We Asked Sorbothane, They Said: "Our world-class Sorbothane insoles help to mitigate the effects of shockwaves produced during exercise which can lead to issues such as knee, back & joint pain, tendonitis and stress fractures. Enhancing the body's natural defence mechanisms, Sorbothane absorbs 94.7% of shockwaves by dispersing them laterally rather than up through the body."
Customer's Verdict: "Having been running for a year or so, I started getting knee pain around 6 miles. So I decided to give these a try. I'm so pleased that I purchased these" Sarah ★★★★★
Best Cushioning Insoles for Knee Pain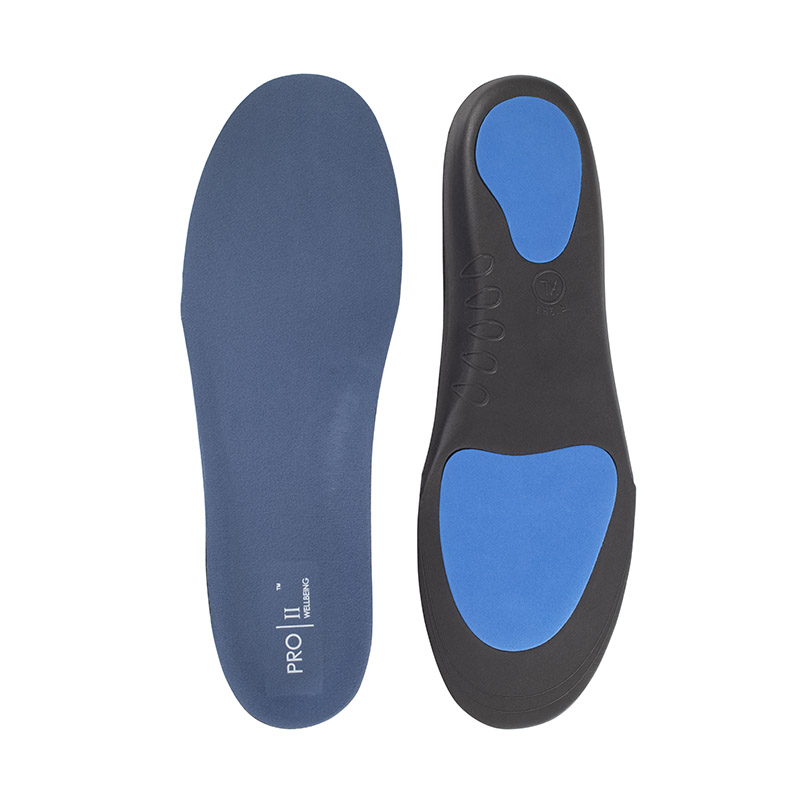 Why We Love Them...
✔ Help realign the feet to correct posture and relieve knee pain
✔ Cushion the metatarsal bones to reduce pressure and shock
✔ Can be used with shoes, trainers and boots for an all-in-one option
Ideal For...
✔ Users looking to correct overpronation and improve their feet posture
✔ Relieving strain leading to knee pain
✔ Daily use and impact sports such as running
Not the Best For...
✘ Treating runner's knee (See our solution)
✘ Supination sufferers (See our solution)

Editor's Verdict: Featuring metatarsal padding, the Pro11 Orthotic Insoles with Metatarsal Pad and Arch Support have been designed by leading podiatrists to support your arch and realign the foot to correct its positioning. By promoting correct alignment of the bones of the feet and ankles, these soft and cushioning insoles can improve your posture, relieve strain and offload pressure on the knees to facilitate every task.
Customer's Verdict: "Very comfortable insoles. They provide the perfect support to my heels and I've experienced almost immediate results in my knee and lower back." Jared ★★★★★
Stand Up to Knee Pain
Knee pain can negatively impact our lives and affect how we carry out everyday tasks, but we can't simply put our feet up and avoid responsibilities. Turning to an insole could be a great solution to help you manage the pain step by step and protect yourself against overuse injuries. Whether your knee pain is caused by a temporary injury or a chronic condition, the products suggested in this guide should bring relief and ensure you stay shielded against further harm.
Although these options can help you with managing your knee pain, it is important to note that an insole may not always be the answer to the problem, and all patients with knee pain should be assessed by a podiatrist or physiotherapist prior to purchasing a pair of orthotics.
If you haven't found what you're looking for here, please feel free to browse the rest of our Insoles for Knee Pain range to find the most suitable product for you.