Best Insoles for Trainers
Tuesday, 17 July 2018 | Eugene
For most of us, there is no more comfortable pair of shoes in our closet than our trainers. Trainers are great for walking, running and all kinds of exercise, but are also unbeatable for providing comfort and support on your walks to just about anywhere. With that said, trainers aren't always perfect for our feet, and sometimes a little bit of customisation with an insole can go a long way for the support, cushioning and comfort your trainers can provide.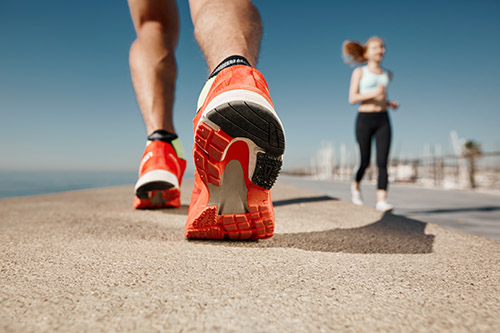 The right insoles can boost the comfort, support and cushioning your trainers can provide
With so many kinds of insoles out there, how are you to choose the right pair for your feet, and your trainers? At ShoeInsoles.co.uk, we're here to help, and we've had our insole experts pick out their choice of the Best Insoles for Trainers out there. These insoles are picked out specially to be the best for trainers, and focus on providing your feet with the shock absorption and support you need for walking, running, and just about anything else. Read on, and decide which insoles are the best fit for you.
Sidas 3Feet Activ Insoles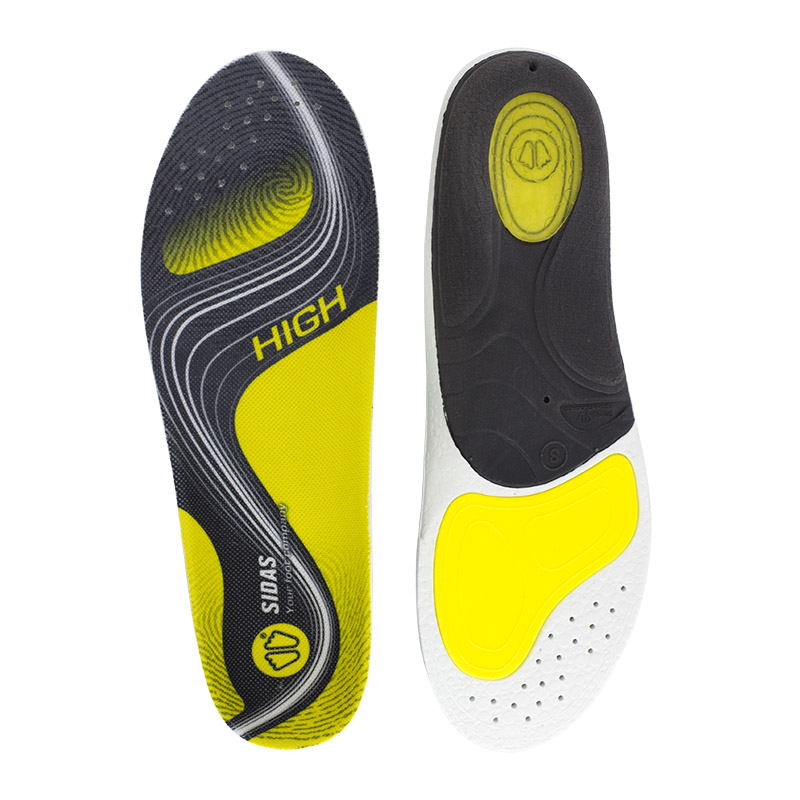 Everyone's feet are different, and off-the-shelf trainers don't always anticipate this, which is why this next pair of insoles is available in three versions depending on the shape of your arches. The Sidas 3Feet Activ Insoles are available for High Arches, Medium Arches or Low Arches, providing you with the exact level of arch support your feet require. Built specially for walking, running and hiking, these insoles focus on distributing weight across the wearer's foot, helping to reduce high-pressure zones in your trainers for consistent comfort.
Key Feature: Available in three versions to provide ideal arch support.
Sof Sole Plantar Fasciitis Orthotic Insoles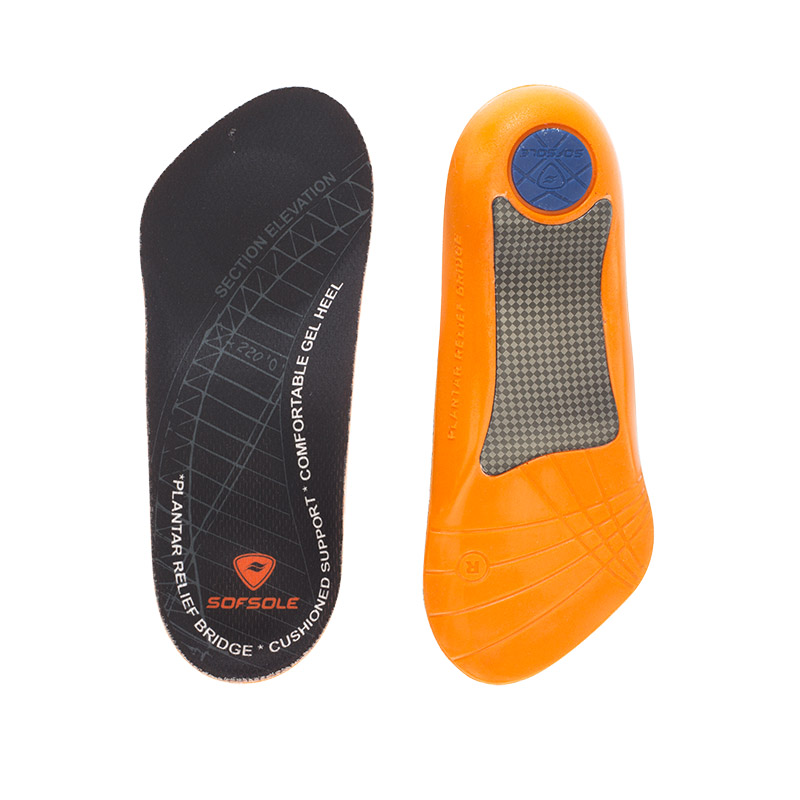 Plantar fasciitis is a common condition that can cause long-lasting pain while you walk and run, so if your trainers aren't providing the pain relief you need, an upgrade might be needed. The Sof Sole Plantar Fasciitis Orthotic Insoles are the perfect solution, as they are specifically engineered to reduce pain from plantar fasciitis, general heel discomfort, heel spurs and over-pronation. Also available in a version designed for women, the unique plantar relief bridge of these insoles make them ideal for painful arches and plantar fasciitis.
Key Feature: Designed to reduce arch pain associated with plantar fasciitis.
Superfeet Blue Active Insoles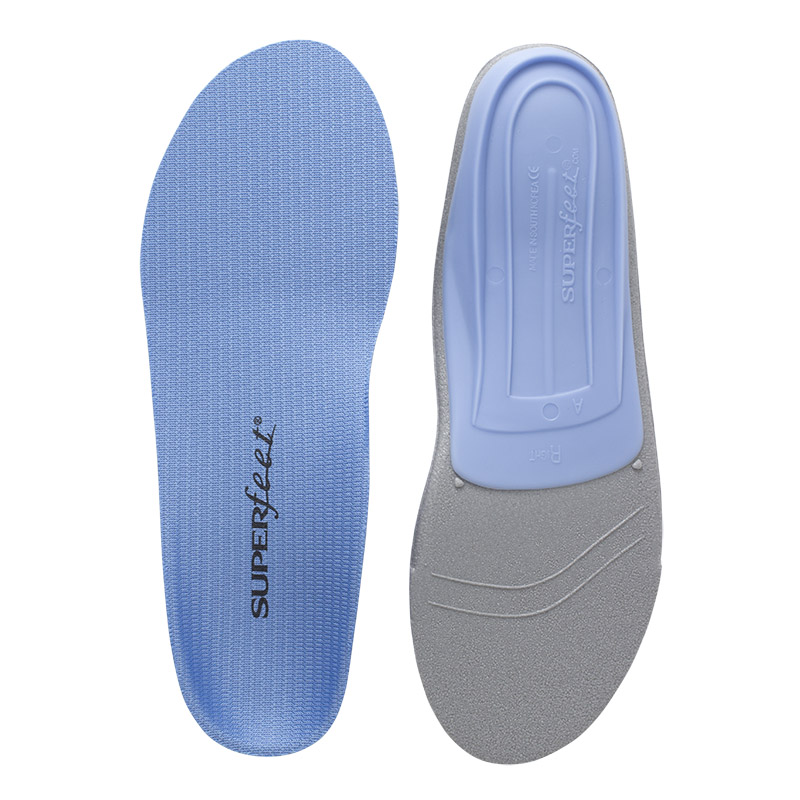 The last insoles for trainers on our list are loved by our customers for their versatility, comfort and support – and for good reason. The Superfeet Blue Active Insoles are made from cushioning foam and can fit virtually any shoe, providing excellent shock absorption and stability for almost any foot shape. Effective for the prevention of arch, heel, knee and back pain, if you simply cannot decide which pair of insoles is for you, the Superfeet Blue Insoles are always a safe and reliable bet.
Key Feature: Highly versatile to provide excellent support and shock-absorption for almost anyone.
Take Your Trainers to the Next Level
Trainers are designed for comfort and support, so if you aren't getting what you need, it's time to take matters into your own hands. These insoles can all help to significantly boost the comfort, stability, support and cushioning you get from your trainers, turning a sub-par pair of shoes into your favourite in the closet. Weigh up the strengths of our top picks, decide what you're looking for, and soon you'll be enjoying a pair of trainers that makes you excited to get on your feet again.
Not convinced by our experts' picks? Take a look at our entire range of Insoles for Trainers.
Do you have a question, or something to add? Why not let us know in the comments, or find us on Twitter and Facebook!
Shop Related Insoles
Flexible arch support designed especially for high arches
Soft gel heel pad to give optimal cushioning and shock absorption
Can help to combat heel pain, rolling of the ankles and over-pronation
Also available in Low and Medium Arch varieties
| | | |
| --- | --- | --- |
| | | In stock now |
£23.95
---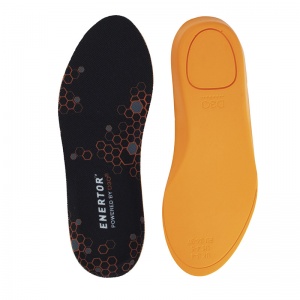 Reduces shock in the whole foot
Helps reduce foot and heel pain
Created by leading podiatrists
Can be trimmed down to size
| | | |
| --- | --- | --- |
| | | This product has been discontinued. Please contact our team for details of the latest release. |
£20.99
---
Pair of insoles for plantar fasciitis pain relief
Comfortable solution for men with plantar fascia pain
Relieves heel spur pain thanks to gel in the heel
Fits most footwear types thanks to a ¾ length design
| | | |
| --- | --- | --- |
| | | In stock now |
£16.99
---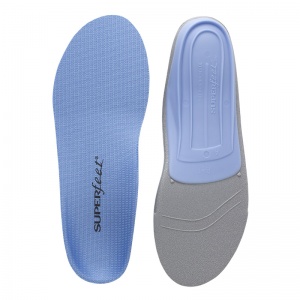 Superfeet's most versatile and easy-to-fit insole
Thin, high-performing and flexible, can fit almost any shoe
agION antimicrobial finish keeps insoles clean and fresh
Available in both adult and junior sizes
| | | |
| --- | --- | --- |
| | | In stock now |
£26.56