Best Insoles for Sandals
8 July 2022
Whatever style of sandal you prefer, when summer rolls around you don't want to have to compromise on fashion because of niggling foot pain or a condition that requires dedicated orthotics or insoles to treat.
Never fear. We've been in touch with the product experts at the biggest insole companies to put together a list of the Best Insoles for Sandals to save you time and effort. Whatever style it is you love, our picks are all designed to support and cushion the foot without compromising the relaxed, stylish look that sandals offer.
What Exactly Does Our Guide Cover?
We've put this guide together to showcase the best orthotics and insoles for sandals. If you know exactly what it is you're looking for, jump straight in by clicking the quick links below. If you're not sure and want to browse our full selection, keep scrolling for more information.
The Best Full Length Sandal Insoles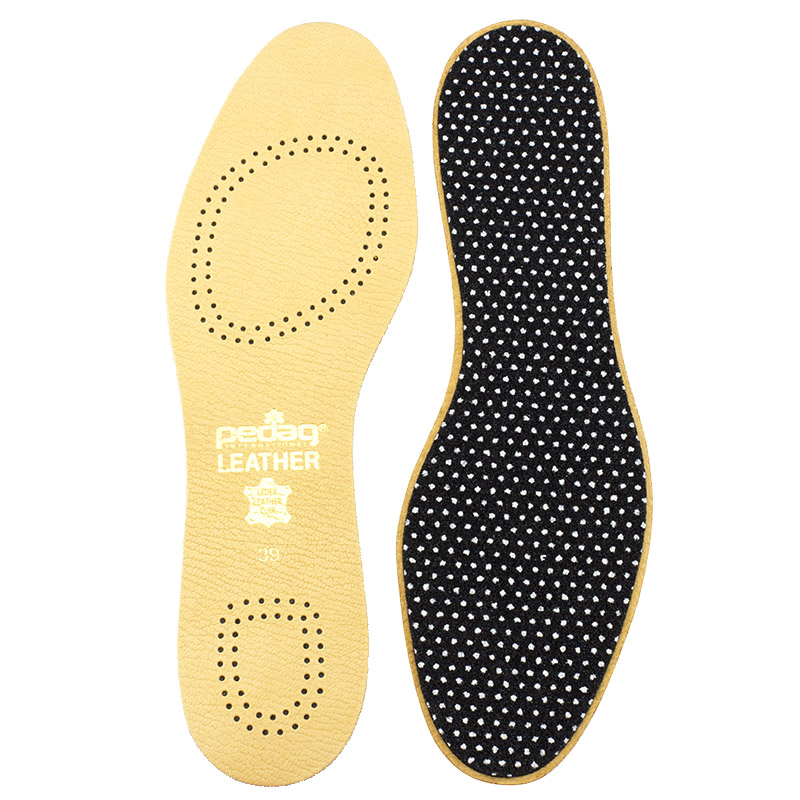 Pedag Leather Full Insoles are our number one sandal insoles for a reason. Manufactured using genuine leather to provide a stylish beige finish, Pedag Full Insoles come in thirteen different sizes for a guaranteed fit no matter which type sandal you wear.
Our Favourite Because...
✔ They're manufactured using genuine leather
✔ Full-length design ensures the entire foot is supported
✔ Beige colour seamlessly blends in for a stylish finish
Not the Best for:
✘ Targeted relief at the arch (see our number one)
✘ If you prefer 3/4 length (see our number one)
Editor's Verdict: Starting us off with a bang are the Pedag Leather Full-Length Insoles. We love their timeless leather feel and the way they seamlessly fit and blend in with the traditional tan sandal colourway.
Customer's Verdict: "Very comfortable. Just the job. Perfect fit" - Margaret ★★★★★
The Best High Heel Sandal Insoles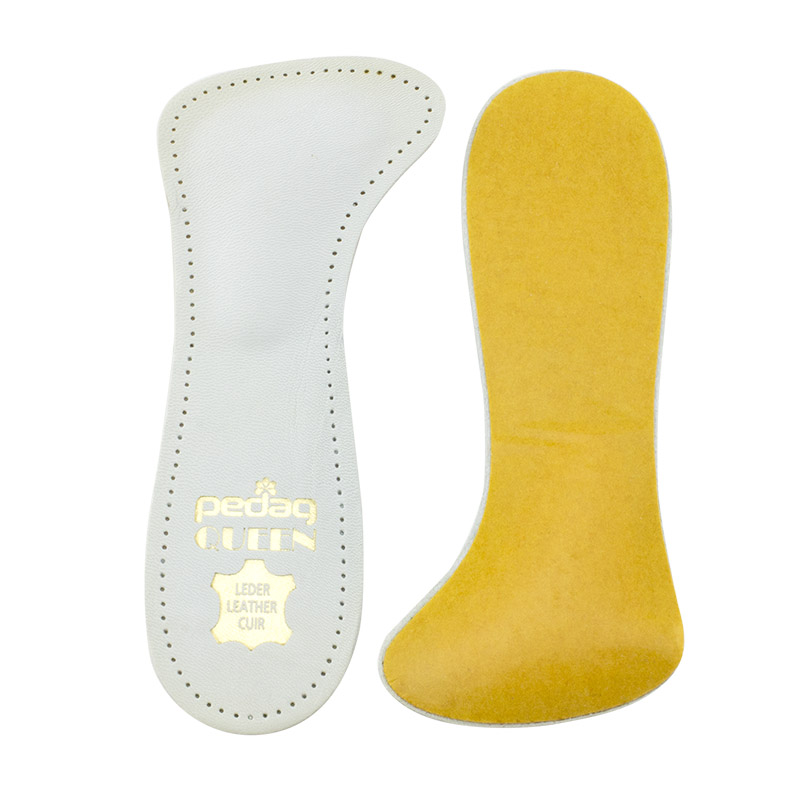 If your sandal of choice is high-heeled, look no further. Pedag Queen Metatarsal Supports are designed to allow you to wear your favourite, stylish sandals without the pain and strain traditionally associated with high-heels.
Whether you're rocking platform heeled sandals to the beach or you're taking an evening stroll in your chunky wedges, look no further. Pedag Queen Supports cushion the inherently weak metatarsal area so you can holiday pain-free.
Our Favourite Because...
✔ Specifically designed for wear with high-heels
✔ Extra-thin design can be worn with open-toe shoes
✔ Narrow shape means zero protrusion over the end of your sandals
Not the Best for:
✘ Those after a full-length insole (see our number one)
✘ Sandals that need a flatter insole (see our number one)
Editor's Verdict: Pedag Queen Insoles are so popular because of their diversity and compatibility with a wide range of shoe styles. They fit fine in chunkier wedges, whilst their sleek, narrow style makes them dually brilliant for wearing with high heels, where space is at a premium.
Customer's Verdict: "I use these in my sandals and they are really comfortable stop the pain in my feet and an added bonus stop my foot slipping around. A really good find having never suffered with foot pain before but now with a dropped metatarsal arch in my middle age" - Fiona ★★★★★
The Best Sandal Insoles for Arch Support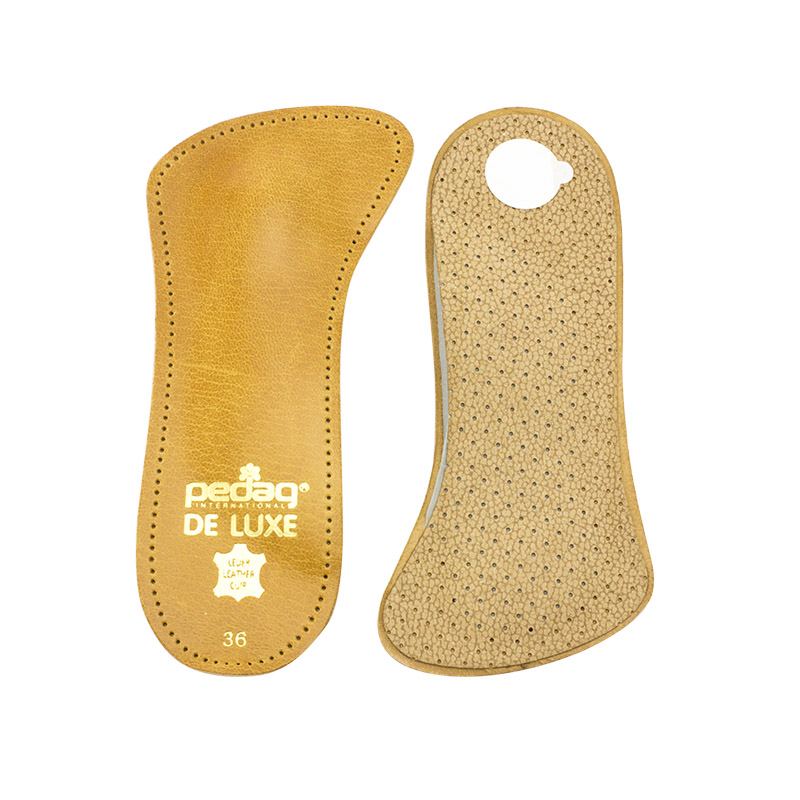 That familiar feeling of intense pain at the centre of the foot as you hobble along the beach can be enough to ruin a holiday.
Thankfully there's a really easy and affordable way to avoid this. Slide a pair of Pedag Deluxe Arch Supports into your favourite sandals and let their targeted arch zone cradle your feet as you walk. With a slightly raised arch section, Pedag Deluxe Arch Supports raise the midfoot just enough to prevent the muscles and tendons in your foot becoming weak and fatigued whilst you walk in unfamiliar footwear.
Our Favourite Because...
✔ Adhesive strip at the heel keeps them in place no matter what
✔ Slender design and colour goes perfectly with sandals
✔ Two pressure relief pads at the heel and metatarsal area
Not the Best for:
✘ Those after a heel lift (see our number one)
✘ High heeled sandals (see our number one)
Editor's Verdict: If you're doing a lot of walking on holiday, be it along the beach or into the market town, Pedag Deluxe Arch Support Insoles are going to be your best friend. Whether you've had arch pain in the past or not, keeping these in your handbag will be a life saver for whenever your feet decide to play up.
Customer's Verdict: "The doctor said the pain in my foot was old age. Another one suggested arch supports. I have bought 2 pairs and they have made the world of difference. I walked 6 miles last week. I am now going to buy more pairs to keep in all my shoes, Couldn't recommend enough" - Sally ★★★★★
Insoles for Sandals That Are Too Big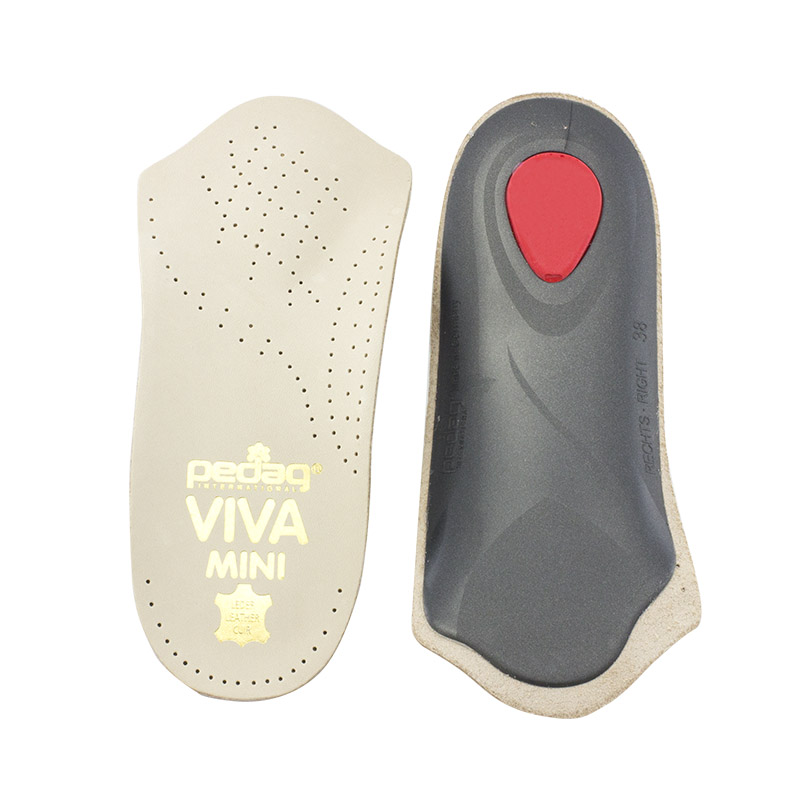 Pedag Viva Mini Insoles are one of our most popular pairs of insoles, period. It just so happens their unique 3/4 shape translates perfectly to the shape of wedged sandals. Their size makes them our number one for bolstering the presence of the foot in sandals that are slightly too large.
They sit inside your sandals without the need for adhesive, making them great for swapping in and out of different styles during your break away.
Our Favourite Because...
✔ Unrivalled heel support thanks to gel pad
✔ Our favourite 3/4 option for sandals
✔ A brilliant all-rounder for wedges
Not the Best for:
✘ Metatarsal support (see our number one)
✘ Leg-length discrepancy (see our number one)
Editor's Verdict: Found the perfect sandals but finding them just a tad too big? Pedag Viva Mini Insoles are our number one choice for boosting the profile of the foot inside footwear. Simply slide them in and reap the rewards, as your foot is elevated slightly thanks to their moulded baseplate and shock-absorbing heel pad.
Customer's Verdict: "The Pedag mini... are perfect for my sandals and very comfortable. Very pleased with them" - Dorothy ★★★★★
The Best Heel Pads for Sandals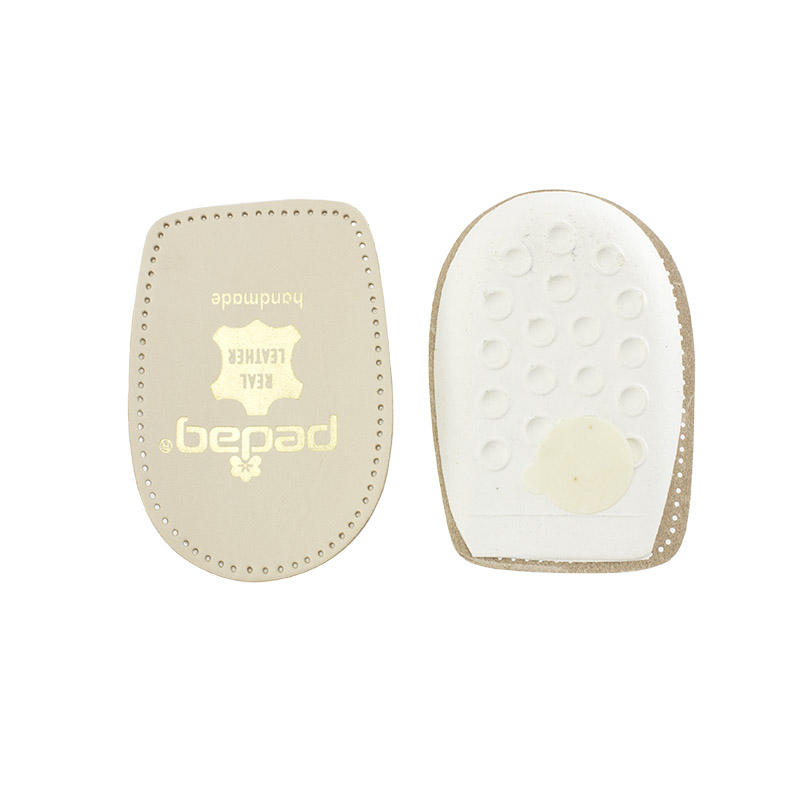 Sometimes the tiniest change can make the biggest difference. If you've got a leg length discrepancy as the result of a hip or knee replacement, Pedag Stabil Heel Pads are an inexpensive way to add height to one of your sandals.
Worried about tricky application and problematic positioning? Thankfully, they couldn't be easier to apply. Simply fit the pad at the heel using the self-adhesive material on the underside of the support and apply pressure. It really is that simple.
Our Favourite Because...
✔ Easy to fit by sticking to the heel area of your sandals
✔ Colour goes perfectly with traditional beige and tan sandals
✔ Raises the height of the foot to alleviate pressure on tendons
Not the Best for:
✘ Arch support (see our number one)
✘ Full-length relief (see our number one)
Editor's Verdict: Pedag Stabil Heel Pads pack a lot into a small package. If you've been diagnosed with a leg-length discrepancy, they're a must have for your sandals. Simply fit one in the lower leg at the heel area and you'll notice instant relief when you slip your sandals on. That slight height increase helps realign the hips to promote proper posture as you walk.
Customer's Verdict: "They are comfortable, good quality and attractive enough to use with sandals. That's a first! I would recommend these to anyone who needs heel risers" - Kay ★★★★★
The Best Metatarsal Supports for Sandals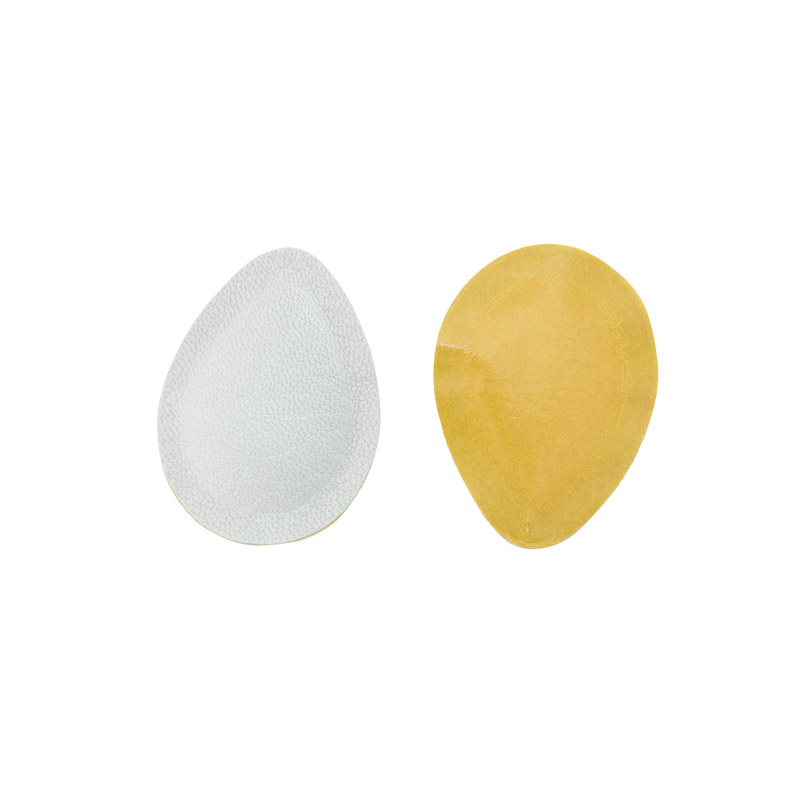 Tried, tested and loved by our customers, Pedag Drop Metatarsal Supports are little dome shaped orthotics designed to slightly raise the metatarsal area in sandals and heeled shoes to promote pain-relief and support.
Because your feet aren't always accustomed to wearing sandals, these soft pads keep the tired metatarsal bones in an anatomically correct position by lifting the foot arches to prevent them from lowering. Simply pop them in your bag when you head to the beach and relax.
Our Favourite Because...
✔ Unobtrusive solution to tired out holiday feet
✔ Easy to apply thanks to self-adhesive backing
✔ Tried, loved and reviewed by our customers for years
Not the Best for:
✘ Heel pain (see our number one)
✘ Leg length discrepancy (see our number one)
Editor's Verdict: If space is an issue and you can't fit a full-length insole in because of the style of sandal, never fear. Pedag Drop Metatarsal Supports offer an inobtrusive and supportive solution to pain in the forefoot area. They are fitted using a self-adhesive strip located at the back of the orthotic and their genuine leather foundation couldn't be higher in quality.
Customer's Verdict: "I have Morton's neuroma in both feet and bought these to replace the ones I'd been given by the NHS, which had started to disintegrate. I have one pair fixed in my sandals, and one pair fixed to insoles so I can use them with different footwear. They are softer than my originals but that makes them more comfortble [sic] and they work really well - it means I can walk without pain" - Karen ★★★★★
The Best Orthotic Sandals for Foot Pain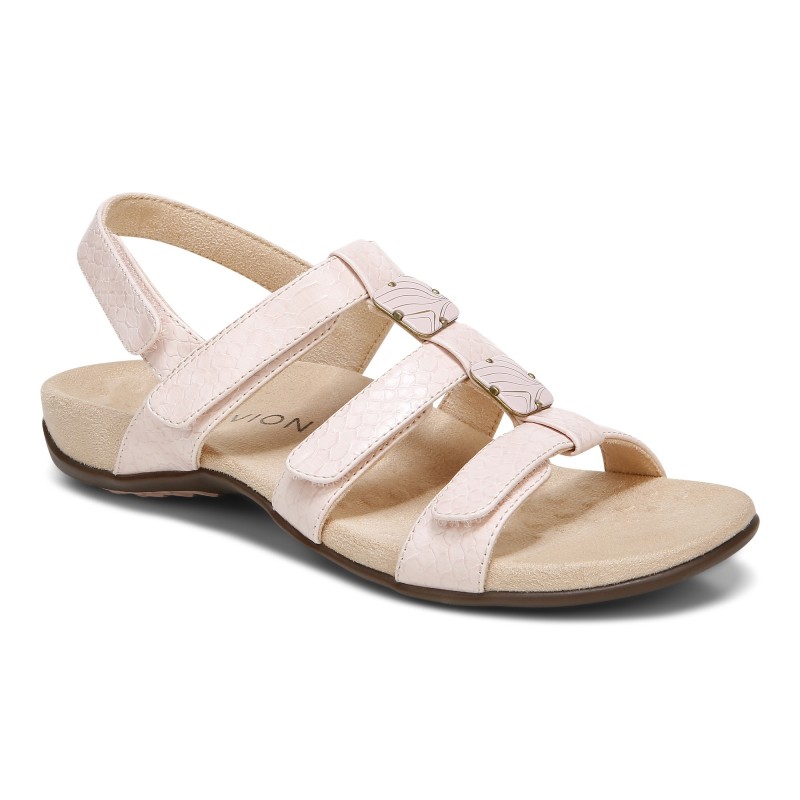 Looking for a pair of sandals with a carefully moulded orthotic insole? Want to avoid the faff of transferring insoles between different pairs of holiday shoes?
Look no further. Vionic Rest Amber Pink Snake Women's Orthotic Sandals are one of few stylish sandals on the market with an orthotic insole built in to the base. They're incredibly ergonomic thanks to the inclusion of an orthotic base designed and manufactured by podiatry experts.
Our Favourite Because...
✔ Contoured orthotic sole is designed by podiatrists
✔ Adjustments are easy thanks to hook and loop strap
✔ No compromise on style unlike other orthotic footwear brands
Not the Best for:
✘ Users after a pair of transferrable insoles (see our number one)
Editor's Verdict: If you're in the market for a pair of sandals that are made with support, cushioning and longevity in mind, you've hit the jackpot. Unlike traditional sandals that are all about fashion, Vionic Women's Orthotic Sandals care equally as much about the health of your feet. We're certain you'll notice the difference right away thanks to the ergonomic curvature of the insole base.
Customer's Verdict: "I needed a pair of supportive sandals that looked smart. These really fit the bill. They hold my foot in the correct position, the velcro straps adjust easily and the pink colour is very pretty. Very pleased with these- would buy them in navy if possible" - Vicki ★★★★★
What Sandals Can You Wear Insoles With?
Most of the time, a lot of what's involved in choosing insoles that will fit and work with your sandals is common sense. For example, we wouldn't recommend using a full-length insole with a pair of sandals that feature thong toe links.
The wide selection we've listed above contains a lot of insoles, giving you options for use with the following styles:
Birkenstocks
Chunky Heels
Gladiator
Platform Heel Sandals
Thong Sandals
Toe Loop Sandals
Wedges
Alternative Options
If you haven't found what you're looking for above, take a look below to see some alternative options that we hope will catch your eye.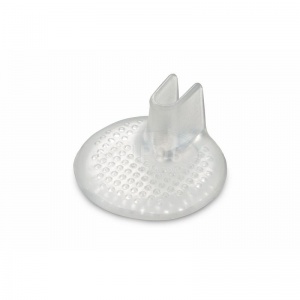 Fits onto the toe stand of sandals to enhance comfort
Reduces pressure and friction for all-day use
Prevents the pain and blisters associated with flip flops
Clear and slim with easy peel and stick application
| | | |
| --- | --- | --- |
| | | In stock now |
£7.45
---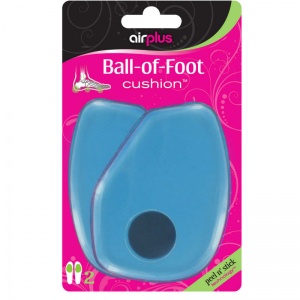 Ball-of-foot cushion pads for long-lasting comfort
Clear and invisible for discreet use
Ideal for wearing in most shoe styles
Two pairs provided for use in multiple shoes
| | | |
| --- | --- | --- |
| | | In stock now |
£7.99
---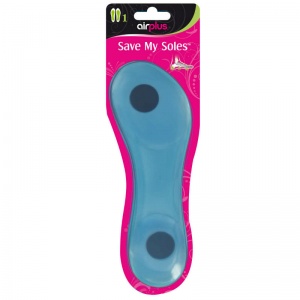 Gel insoles for heel and ball-of-foot cushioning
Clear and invisible for discreet use
Slim design ideal for wearing in most shoe styles
Easy to apply with a 'peel and stick' adhesive backing
| | | |
| --- | --- | --- |
| | | In stock now |
£7.99
---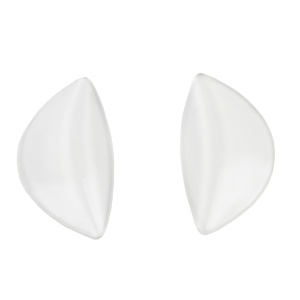 Discreet gel arch supports
Absorb shock and reduce pressure
Ideal for high, weak and fallen arches
Reduce pain caused by high heels
| | | |
| --- | --- | --- |
| | | In stock now |
£5.99
Other Useful Pages
We hope you've found the information and products we've provided useful. If you still haven't found something that works for you, consider giving one of the related articles below a click.
The Last Word
Finding insoles for sandals can be difficult. We hope we've made the process a bit easier and that we've been able to help guide you toward an orthotic, lift or insole that works for you and your feet.
What are your favourite summer shoes? Do you wear them with insoles? Why not let us know in the comments, or find us on Twitter and Facebook!