What are Corns?
13 July 2015
Corns are condition of the foot that has to do with the skin becoming hardened by excessive rubbing and friction over time. A lesser version of Calluses (which are generally larger and can occur anywhere on the body that is subject to rubbing and pressure), Corns occur only on the feet and are small, concentrated areas of dead skin, often found between the toes or to the sides of the ball of the foot. Corns sometimes develop as part of a larger foot problem such as along the joint of a deformed Hammer Toe or on the protruding side of a Bunion.
Causes of Corn Toe
As ever, the most common offender when it comes to Corn Toe are unsuitable shoes – high heels, we're looking at you. Sandals in the summer also lead to increased friction between shoe and foot — not that we're not ones to condone the fashion faux pas that is sandals and socks (we're all about showing off beautifully healthy feet) — but if you're already suffering from corns, then a sacrifice of style might quite literally save your skin.
An abnormality in your gait such as Supination, Pronation or Leg Length Discrepancy, or having been forced into a strange walking style due to other conditions such as Hallux Rigidus can lead to Corn Toe forming as a result of pressure being placed where it perhaps was not before.

Cure Your Corns
It can be very tempting to get rid of Corns by simply taking pair of nail scissors or other household blade to them, as many a self-elected surgeon has attempted in the past. Obviously this is not the ideal way to cure your corns and we certainly don't recommend it! Painful corns can be removed by a qualified foot care specialist; this is not a surgical procedure as it is simply removing the dead skin but this will only ever be done after a thorough examination of your overall foot health.
The development of Corns and Corn Toe usually suggests that something about your walking style or routine has changed and that pressure is now placed where it may not have been previously. To find out the underlying cause of your Corns, you should approach your Podiatrist to understand precisely what has made them start to develop. Hacking away at your Corns haphazardly won't help matters!
Creamed Corn
A variety of over-the-counter creams and removers are available to help treat Corns. While these differ in shape and size, from plasters to drops to tubes of cream, they all contain the same active ingredient; Salicylic Acid. If you suffer from diabetes or have sensitive skin, it is not recommended that you use these products, as the recovery of your surrounding healthy skin may be compromised.
Cap Your Corns
Caps, covers, strips and insoles are all able to offer relief from corns depending on how you wish to treat them.
Toe Separators live up to name and help keep toes from rubbing together, aggravating corns even further.
Toe Strips and Caps cover and protect the Corn site, preventing friction from shoes and neighbouring toes.
Insoles can help relieve pressure on the overall foot, helping to prevent the cause of Corns as well as relieve the site of unnecessary shock or strain.
Please visit our online store for a full range of Insoles for Corns.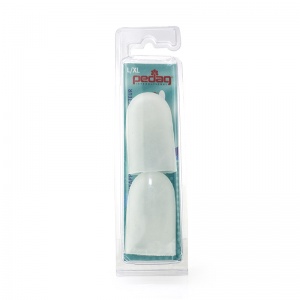 Pair of toe caps for runners and hikers
Suitable for cushioning toes, and managing a range of conditions
Tear-resistant construction ensures optimal durability
Flexible design for easy donning
| | | |
| --- | --- | --- |
| | | In stock now |
£2.99