What is Diabetes?
8 July 2015 | John
Simply put, diabetes is a condition that changes how your body processes sugar (known as glucose). Diabetes can cause your blood sugar to go too high, which can cause serious damage to organs.
Under normal circumstances, your body produces a hormone called insulin that helps sugar in the blood be transferred into cells, where it can be used as fuel for your body. There are two main types of diabetes, and each of these changes how insulin is produced.
Type 1 and Type 2
With Type 1 diabetes, the cells which produce insulin are attacked by the body's immune system, which increases your blood sugar levels because your body cannot move the glucose out of your blood and into your cells. This is the less common type and affects around 10% of those with diabetes.
Type 2 diabetes means the cells aren't producing enough insulin, or the body can't react to it, which also causes the blood sugar levels to rise.

What are the Symptoms of Diabetes?
One of the main symptoms of diabetes is urinating much more often than normal, especially at night, because your bladder has to process more excess glucose than it normally would. Diabetes also causes you to feel more thirsty than normal, and can also make you feel tired, lose weight and muscle bulk and can cause cuts to heal slower than normal.
What are the Causes of Diabetes?
Diabetes is most well know as being caused by obesity, however this is only the case for Type 2 diabetes. Type 1 diabetes has no known cause; however it can often be passed down through families.
Genetics can also play a role in Type 2 diabetes, as can your age; people over 40 are more at risk of developing Type 2 diabetes. However, obesity is a massive cause of Type 2 diabetes.
Fat around your abdomen can release chemicals which can disrupt your body's metabolism. The more fat you have around your abdomen, the more likely you are to develop Type 2 diabetes.
How can Shoe Insoles Help with Diabetes?
Taking care of your feet is hugely important for those with diabetes. Diabetes can cause nerve damage in the foot, which means you are more susceptible to grave injury on your feet as you can't feel what is happening to them. Blisters, corns, calluses, even a simple scratch can develop into something serious without you noticing.
One of the ways a shoe insole can help with foot care for diabetes is that they can provide additional stability to your foot as you walk. This stops your foot from landing poorly and helps prevent the damage this can cause.
In addition, a shoe insole can reduce the pressure your foot takes, which helps to reduce the potential over-straining of the tendons and tissue in your feet. A shoe insole can also provide a softer surface to walk on than an ordinary shoe insert. This reduces the chance of calluses and blisters forming.
If you have diabetes and are worried about keeping your feet safe, visit the Shoe Insoles website and view our full range of Shoe Insoles for Diabetes.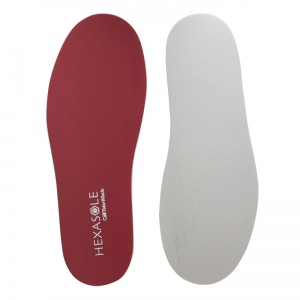 Pair of cushioning shoe insoles for sensitive feet
Suitable for diabetic ulcerations and post-operative care
Available with a 3mm, 4mm, or 6mm thickness
Removeable hexagon plugs offer pressure care to specific areas of the foot
| | | |
| --- | --- | --- |
| | | In stock now |
£12.99
---
Strong pair of insoles featuring medical-grade support
Deep heel cradle supports collapsed or weak arches
Double layer and low profile casing ensures long lasting support
Friction reducing top fabric enhances comfort
| | | |
| --- | --- | --- |
| | | In stock now |
£25.95