Best Work Insoles 2023
20 September 2023 | Amelia
If your industry requires you to be on feet all day, or you work in a fast-paced, challenging environment, the importance of comfortable and energised feet cannot be overstated! In this blog, we'll explore our selection of the Best Work Insoles, uncovering the best options for particular industries and conditions. Whether you work in healthcare, construction, hospitality or any other industry, these insoles are key for all-day comfort and support.
What Does This Guide Cover?
Best Work Insoles for Nurses
Our Choice: Airplus Ultra Work Memory Plus Insoles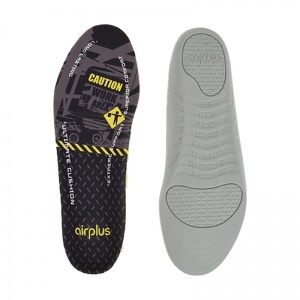 Why We Love Them...
✔ Memory foam moulds to feet for personalised support
✔ Targeted heel protection with shock absorbing design
✔ Antibacterial properties prevent bad odours and keep feet fresh
Perfect For...
✔ Healthcare professionals who are on their feet all day
✔ Managing and preventing fatigue and discomfort
Editor's Verdict: Directly targeting high impact zones in the feet and areas prone to strain, the Airplus Ultra Work Memory Plus Insoles are an excellent solution to combatting discomfort and fatigue during long shifts on the ward. Designed with conforming memory foam and shock absorbing properties in the heel region, nurses and healthcare professionals are guaranteed protection from impact, with feet that feel energised and pain-free for longer.
Customer's Verdict: "Best insoles I've bought, on my feet for 10 hr shift. No aching feet, nice and comfortable." - Stuart
Best Work Insoles for Hospitality Workers
Our Choice: Spenco RX Comfort Insoles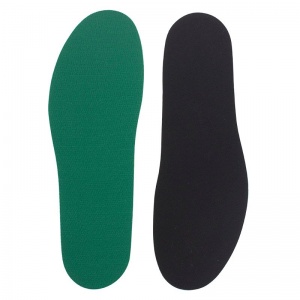 Why We Love Them...
✔ Excellent underfoot cushioning for comfort over long periods
✔ Silpure antimicrobial fabric prevents friction and blisters
✔ SpenCore material designed to absorb shock and impact
Perfect For...
✔ Hospitality workers such as waiters/waitresses who are constantly on their feet
✔ Use with multiple types of footwear, from casual to heavy-duty work boots
Editor's Verdict: No matter how comfortable your shoes are, spending hours at a time on your feet and working in fast-pace environments such as restaurants can eventually cause major discomfort. Offering exceptional underfoot comfort, the Spenco RX Comfort Insoles employ the use of a high-tech, shock absorbing SpenCore material and the Silpure antimicrobial fabric, which work together to prevent discomfort caused from impact and prevent the development of blisters and bad odours, keeping your feet pain-free and fresh.
Customer's Verdict: "They're very good. My feet have weakened in the last two years, and these insoles make walking much more comfortable. I'm ordering more." - Nicholas
Best Work Insoles for Cold Weather
Our Choice: Pedag Alu Astro Thermal Winter Insoles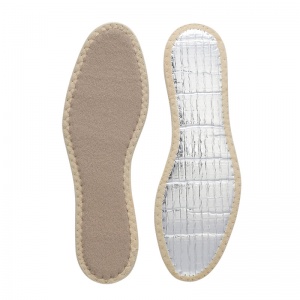 Why We Love Them...
✔ Multiple layers provide effective heat retention
✔ Insulating foam and aluminium base prevents cold from entering shoes
✔ Active carbon filter with breathable design keeps feet fresh and odourless
Perfect For...
✔ Professionals who work outdoors such as construction workers or gardeners
✔ Managing symptoms associated with conditions such as Raynaud's disease
Editor's Verdict: The colder months can be unforgiving for those whose job requires them to work outdoors. For maximum comfort and warmth no matter the weather, the multi-layered Pedag Alu Astro Thermal Winter Insoles are designed with an insulating foam and aluminium base for optimal heat retention. On top of keeping your feet warm, these insoles have a lightweight, moisture-wicking construction for enhanced breathability inside your feet.
Not Quite What You Need? If you're worried that the three-layered Pedag Thermal Insoles will be too warm and cause discomfort, the Sidas 3Feet Outdoor Insoles for High Arches may be a better. With all the features to ensure your feet remain energised and pain-free, their perforated design guarantees maximum breathability, preventing a build up of sweat and bad odours for better comfort.
Best Anti-Static Work Insoles
Our Choice: Sidas 3Feet Medium Arch Work Insoles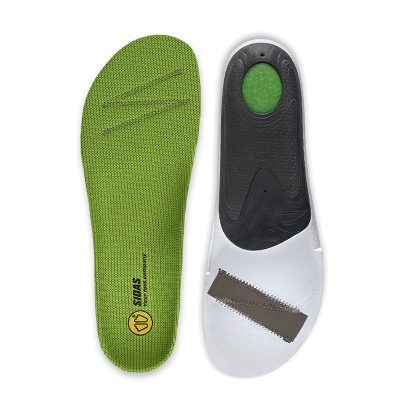 Why We Love Them...
✔ Anti-static forefoot strip for maximum safety around electrical appliances
✔ Shock absorbing gel heel pad shifts pressure around feet for minimal discomfort
✔ Microfibre, antibacterial finish enhances breathability inside shoes
Perfect For...
✔ High risk environments with sensitive electrical equipment
✔ Relief for conditions such as plantar fasciitis and weak arches
Editor's Verdict: The Sidas 3Feet Medium Arch Work Insoles play a crucial role in protecting professionals in industries such as engineering or manufacturing from the dangers of electrostatic discharge. Featuring an anti-static forefoot strip, these insoles dually minimise the risk of injuries and protect sensitive electrical equipment. For your comfort in heavy-duty work environments such as the ones mentioned, the 3Feet Insoles are designed with shock absorbing properties to prevent pressure and fatigue caused by impact, as well as an antibacterial microfibre finish for maximum breathability throughout the day.
Not Quite What You Need? If you require different levels of arch support, the Sidas 3Feet Medium Arch Insoles are also available in a Low Arch model and High Arch model.
Best Shock Absorbing Work Insoles
Our Choice: Superfeet Green Performance Insoles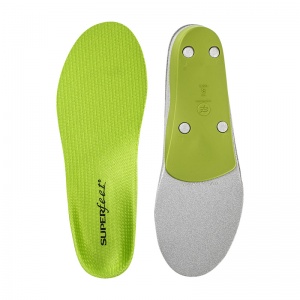 Why We Love Them...
✔ High density, shock absorbing foam for full comfort on your feet
✔ Deep heel cup stabilises feet and supports correct posture when walking
✔ Orthotic arches improve balance and prevents over-rotation
Perfect For...
✔ Heavy-duty applications such as building and emergency services
✔ Preventing the onset of fatigue, arch pain and general discomfort
Editor's Verdict: Designed to meet the demands of high risk, heavy-duty work, the Superfeet Green Performance Insoles are a tried and tested solution for professionals in heavy-duty industries who require unwavering support and resilience inside their footwear. Featuring a deep heel cup, rigid shock absorbing foam material and high arches, users gain excellent orthopaedic support, enhancing both stability and comfort during daily tasks.
Customer's Verdict: "I bought them because of my plantar fasciitis, and it has worked very well on my safety boots at work. The pain in my foot has been reduced considerably." - Alejandro
Best Work Boot Insoles for Plantar Fasciitis
Our Choice: FootActive Plantar Fasciitis Orthotic Full Length Shoe Insoles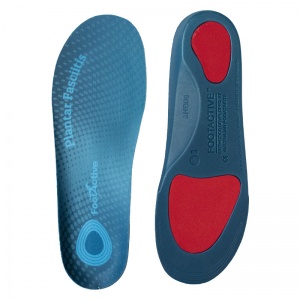 Why We Love Them...
✔ Designed to help re-align the foot and ankle to prevent over-pronation
✔ Cushioning with forefoot and rearfoot wedges to reduce shock
✔ Redistributes pressure across the foot for comfort when standing/walking
Perfect For...
✔ Alleviating and managing pain in the heels and arches
✔ Use inside work boots, trainers and formal footwear
Editor's Verdict: The symptoms of plantar fasciitis can be debilitating and greatly impact your productivity at work. Engineered to combat the discomfort and pain associated with this condition, the FootActive Plantar Fasciitis Orthotic Full Length Shoe Insoles work to correct the posture of your feet to prevent over-pronation, whilst their additional shock absorbing properties and underfoot cushioning maximise your comfort - even on the most demanding days at work.
Customer's Verdict: "Well worth the extra money. The heel cushioning is great and well needed as I am on my feet all day in work boots. Good plantar support and arch support, although the arch support takes a bit of getting used to. Great product and I will be buying more for my other shoes." - Wendy
Best Work Boot Insoles for Flat Feet
Our Choice: Pedag Gelaxy Flat Feet Insoles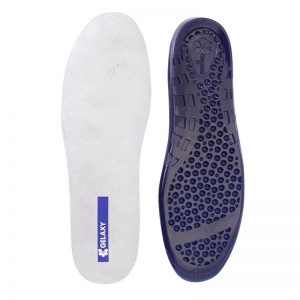 Why We Love Them...
✔ Gentle arch support alleviates discomfort and fatigue associated with flat feet
✔ Gel cushioning at heel and forefoot offer shock absorption and comfort
✔ Excellent moisture management with breathable microfibre top layer
Perfect For...
✔ People with weak and fallen arches
✔ Reducing pain in the back, knees, shins and feet
Editor's Verdict: The Pedag Gelaxy Flat Feet Insoles are expertly crafted to provide relief and support for professionals dealing with flat feet or fallen arches. With an anatomical shape, gel cushioning and arch support, these insoles work to correct the posture of your feet to minimise strain on your knees, hips and back, whilst their breathable microfibre finish enhances breathability, keeping your feet fresh inside your work boots.
Customer's Verdict: "Bought these for my husband, who has been wearing them since they arrived. He loves the, they have fixed his aching feet and helped his knee joints and back pain. So all in all they do what they say, I would highly recommend them." - Sheila
What Are the Main Benefits of Wearing Insoles for Work?
Many industries require you to be on your feet for several hours at a time. Wearing insoles inside your shoes at work can offer several benefits, depending on your industry and specific needs, including:
Enhanced comfort: Insoles are often designed to offer extra cushioning and support, to minimise fatigue and discomfort
Improved stability: They can correct alignment issues, which in turn reduces the risk of slips and falls in the workplace
Managing existing conditions: They're often used to alleviate pain associated with common foot conditions such as heel spurs or plantar fasciitis
Breathability: Often designed with a microfibre material, antibacterial layer or with perforations, they can help to keep your feet fresh inside your shoes
Protection from impact: Insoles can absorb shock from walking on hard surfaces or from fast-pace movement, reducing the impact on your joints
Longevity of your shoes: As an extra layer inside your shoes, they can preserve the interiors and reduce wear and tears for long-term use
Overall, they significantly contribute to greater comfort and enhanced productivity at work, and can also be an excellent yet discreet preventative measure for discomfort and injuries.
Shop Here for Insoles for Work
Separated into categories based on their conditions or uses, here at Shoe Insoles, we have a wide range of insoles suitable for use inside your work boots and shoes. Browse through the categories below to find the perfect pair for you.
Insoles By Application
Insoles By Condition
Insoles By Shoes