Best Insoles for Back Pain 2023
1 January 2023 | Eugene
Back pain can be a complex issue, and a lot of the time it's directly related to the alignment of your feet as you stand and walk. Misalignment of your feet in your shoes can cause postural issues, which can result in strain in the feet that can travel up to your knees, hips and back. Left untreated, this misalignment can make conditions like arthritis and lower pain even worse, so it's important to tackle the issue as soon as possible.
Orthotics or shoe insoles are perhaps the most cost-effective treatment for back pain, and they're a great place to start before considering a more drastic solution. To help you pick the right orthotics for back pain to suit your needs, we've had our product experts go over the multitude of available choices to select the very best back pain insoles, organised into a few key areas:
Our Best All-Round Insoles for Back Pain
Winner: Powerstep Original Full Length Orthotic Insoles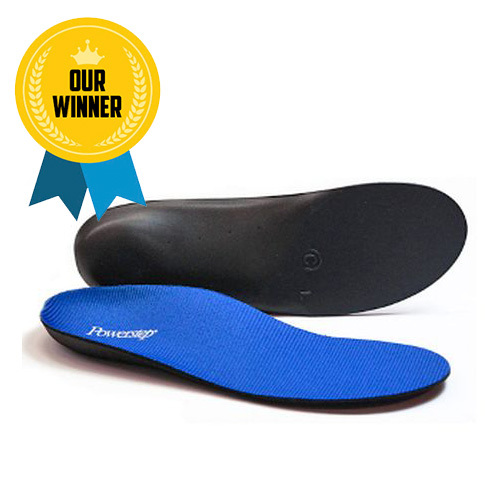 Why We Love Them...
✔ Full length contact design aligns the feet to correct any imbalance
✔ Dual-layer EVA foam provides cushioning to avoid impact shock
✔ Suitable for most footwear – great insoles for sciatica sufferers
Perfect For...
✔ Everyday pain relief in casual or formal footwear
Not the Best For...
✘ Intense sporting use (see our solution)
✘ Those with serious foot deformities
Editor's Verdict: There's good reason why the Powerstep Original Full Length Orthotic Insoles are some of our best-selling insoles, and some of the most frequently-recommended by podiatrists. Stabilising the foot with heel cradling, a total-contact design and semi-rigid arch support, these insoles are some of the best at correcting common misalignments and conditions like plantar fasciitis and ankle instability.
Best Sports Insoles for Back Pain
Winner: Pedag Viva Sport Insoles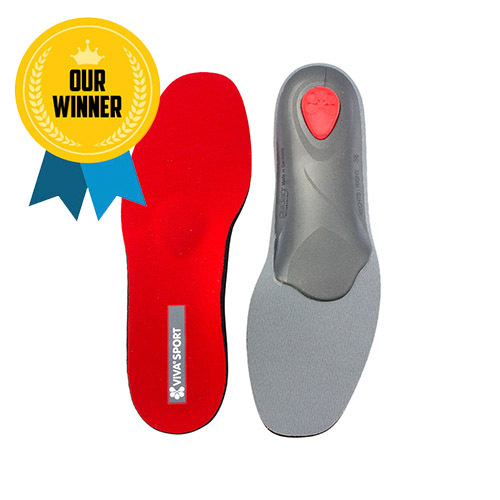 Why We Love Them...
✔ Micro-air chambers reduce impact on every step – ideal for running
✔ Sturdy arch support for a healthy gait and heel-to-toe movement
✔ Dedicated soft metatarsal pad relieves forefoot pain
Perfect For...
✔ Back pain relief during sports or for high-impact walkers
Not the Best For...
✘ Especially tight-fitting sports footwear (for really tight shoes, try the Superfeet Blue Active Insoles)
Editor's Verdict: Shock-absorption is a major concern when choosing a pair of insoles for sports, which is where the Pedag Viva Sport Insoles really excel. They combine some serious cushioning with really sturdy arch support and heel alignment, making them an ideal choice if you find that you suffer from back pain or knee pain after your runs and walks.
Best Back Pain Insoles for Instability
Winner: Superfeet Green Performance Insoles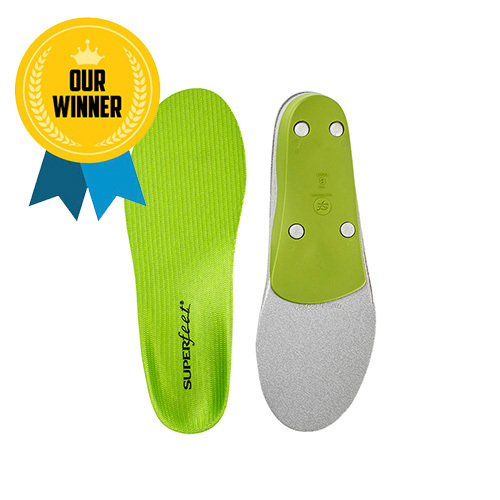 Why We Love Them...
✔ Biomechanical shape guides the foot to reduce pressure
✔ Heel cup cradles heel and reduces shock to improve shoe comfort
✔ Antimicrobial cover layer helps to keep your shoes fresh
Perfect For...
✔ Use in casual footwear to align your body
Not the Best For...
✘ Those looking for a cushioning over support (see our most cushioned insoles)
✘ Anyone looking for a cheap insole on a budget
Editor's Verdict: We rarely leave Superfeet out of a list of top insoles, as they're known for advanced biomechanical shapes that guide the foot to make walking a pleasure. The Superfeet Green Performance Insoles are the flagship of the range, providing an ideal combination of alignment, cushioning and support that have made them top-sellers for everything from back pain to plantar fasciitis. The race for our top pick was very close between these and the Powerstep Original Insoles.
Best Back Pain Insoles for Tight Shoes
Winner: Vionic 3/4 Length Orthotic Insoles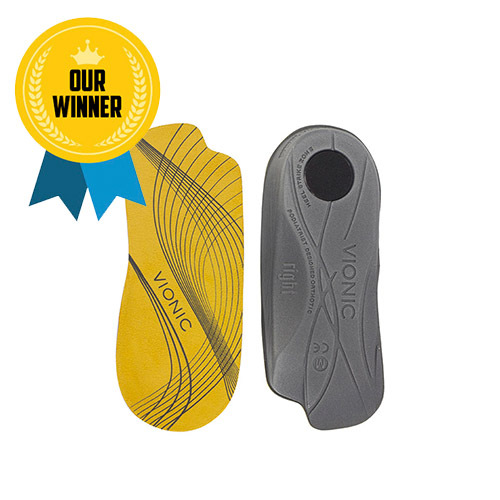 Why We Love Them...
✔ 3/4 design aligns the foot while leaving room for feet in tight shoes
✔ Designed with tri-planar motion control technology for alignment
✔ Cushioned heel provides shock-absorption upon ground contact
Perfect For...
✔ Pain relief in almost any footwear, including tight or specialty sport shoes
Not the Best For...
✘ Those with metatarsal pain or splayfoot issues
✘ Use in boots, wellies or especially wide shoes (see our best insoles for wellies)
Editor's Verdict: This pick is fairly self-explanatory, as the Vionic 3/4 Length Orthotic Insoles provide much of the cushioning and all of the alignment of other insoles, without the cushioning for the forefoot that can make your shoes feel tight. Offering great stability and motion control combined with a satisfying cushioned heel, these insoles are a perfect choice for almost any footwear, including those on the tighter side.
Best High Heel Insoles for Back Pain
Winner: Powerstep Slenderfit Fashion Orthotic Insoles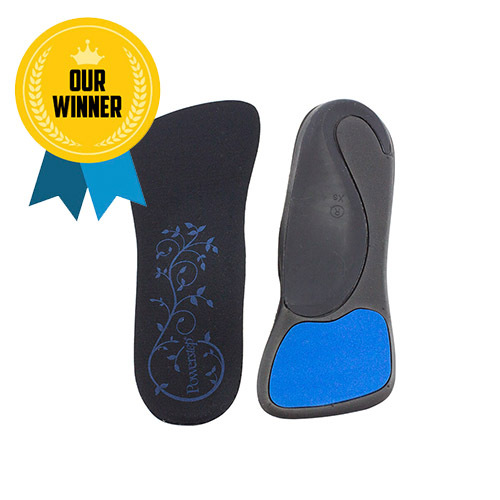 Why We Love Them...
✔ Ultra-slim and tapered – ideal for fashion shoes and high heels
✔ Unique S-shape for arch support and slim, contoured control
✔ Metatarsal pad relieves forefoot pain while preventing slipping
Perfect For...
✔ Back pain relief in high heels or tight fashion shoes
Not the Best For...
✘ Trainers or regular shoes without a high heel
✘ Sporting use or use in boots (see our best overall back pain insoles)
Editor's Verdict: If you frequently wear high heels, for work or otherwise, most insoles won't be a good fit. The Powerstep Slenderfit Fashion Orthotic Insoles are a cleverly-designed solution to this problem, using an S-shaped shell that allows for great arch support without requiring a larger insole. The metatarsal pad solves two problems at once as well; cushioning the forefoot while helping the insoles to stick in the right place.
What Should I Look for in Insoles for Back Pain?
Alignment: Insoles that correct any misalignment of your feet as you walk are key. Correcting imbalances such as pronation and supination can pay dividends for back pain relief.
Cushioning: Lessening the shock that travels up your body from your feet will reduce strain, which is great for correcting all forms of lower body and back pain.
Take Back Your Comfort
Before getting involved in back braces and even surgery, sometimes working on correctly aligning your gait can be the easiest and most cost-effective way to stave off lower back pain. These insoles are all designed to do just that, and will also carry the handy benefit of making your shoes more comfortable through everything you do. If you'd like to see our entire range of shoe insoles to reduce back pain, take a look at our entire Insoles for Back Pain section.
Do you have a question, or something to add? Why not let us know in the comments, or find us on Twitter and Facebook!