Which Powerstep Insoles are the Best for You?
15 December 2022
Powerstep have been designing and manufacturing top-selling insoles for decades. They cram all this expert knowledge into all their insoles, whether they're for every day use or they're targeted at treating a specific condition or ailment.
But how do you know which Powerstep Insoles Are the Best for You? Good question. We've put together a dedicated step-by-step guide that breaks down their extensive range insole by insole to save you time and effort.
What Exactly Does the Guide Cover?
If you know what you're looking for, jump right in by clicking any of the quick links below. If you're unsure and are interested in the entire range, continue scrolling to see what's on offer.
A Quick Look at Powerstep Insoles
Before we dive right in, we thought we'd showcase the insoles you're about to see. Learn more about the range below:
£25.95

Strong pair of insoles featuring medical-grade support
Deep heel cradle supports collapsed or weak arches
Double layer and low profile casing ensures long lasting support
Friction reducing top fabric enhances comfort

£30.90

Orthotic insoles for medical-grade foot support and stability
Suitable for sportspeople, workers, elderly and more
Reduces pain in the arches, heels, ankles, knees and lower back
Reduce effects of plantar fasciitis, arch pain, overpronation and more

£19.99

Pair of strong, medical-grade arch and heel support insoles
Ultra slim design that will fit any style of shoe
Orthotic design cradles the foot and supports arch
Friction reducing top fabric enhances comfort

£32.99

Stabilising heel cup and platform
Hypurcel foam for plush cushioning and comfort
Micro thin, mildly angled heel platform for ultimate support
Helps with rolling ankles, over pronation, supination and more

£32.99

Ultra-slim, tapered profile for pumps, high heels and wedges
Full arch support & extra cushioning
Increased comfort and protection
Fits in most women's fashion shoes & high heels
Our Range of Powerstep Orthotic Insoles
You should always purchase insoles based on the condition of your feet or a diagnosis given by a podiatrist or healthcare professional. We've broken this down one more time below to get you all the information you're after as quickly as possible.
Which Powerstep Orthotic Insoles Are for Me?
For a more detailed look at the insoles we've listed above, take a look at the information below. We've dedicated a whole section to each insole to save you time and get you the right orthotics for your feet.
Powerstep Original Insoles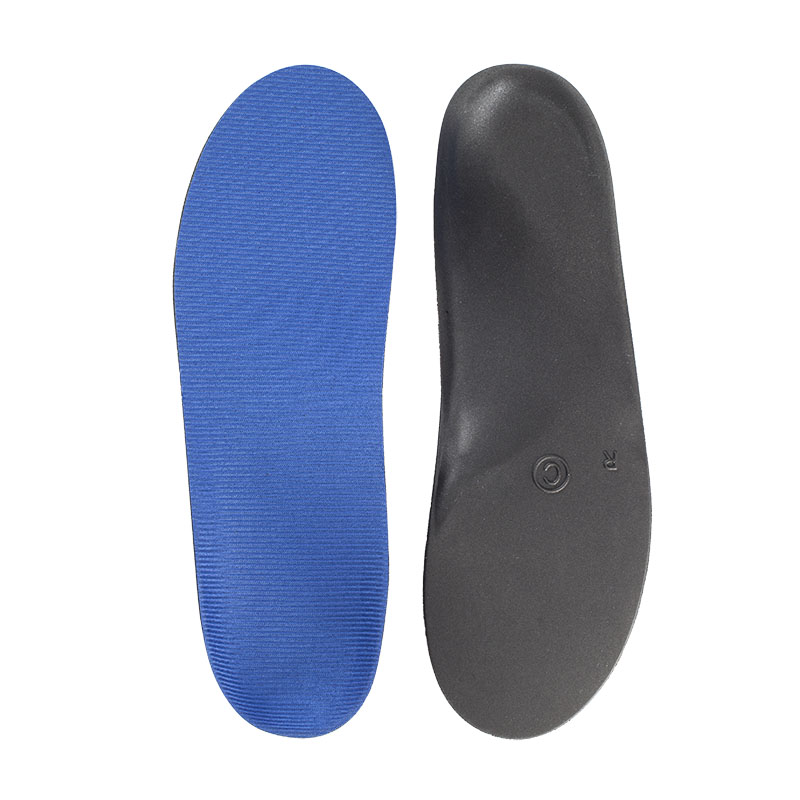 To put it bluntly, Powerstep Original Insoles are our most popular Powerstep product. Tried and tested by millions of users worldwide, the Original Orthotic is the gold standard when it comes to versatility, multifunctional condition treatment and affordability.
What We Love:
Thin design fits almost any shoe style
Built in arch-support prevents the arch collapsing during movement
Perfect for:
Ideal for use with the following shoe styles: Athletic, Casual, Smart Shoes, Trainers and Work Boots
Powerstep Pinnacle Insoles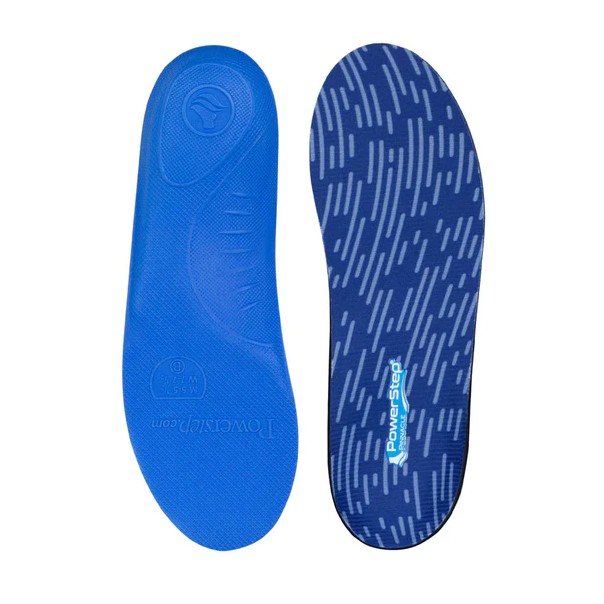 Powerstep Pinnacle Insoles are designed with an inner cell that prevents foot roll and stabilises the foot. They offer outstanding cushioning and are the perfect pair of insoles for users with ongoing mobility and stability issues.
What We Love:
Medical grade foot support ensures foot roll is a thing of the past
Available in eleven sizes for a guaranteed perfect fit
Ideal for:
The perfect insoles for: Loafers, Running Shoes, Sports Shoes, Trainers and Work Boots
Powerstep Slim-Tech 3/4 Insoles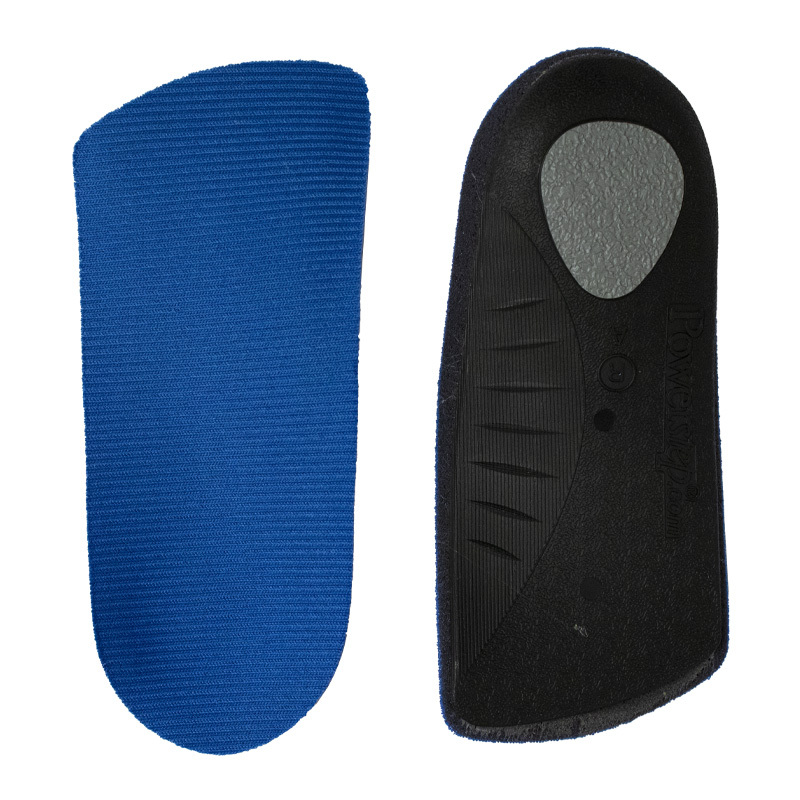 If you're after a pair of ultra-reliable 3/4 length insoles that provide medical-grade arch and heel support, Powerstep Slim-Tech Insoles are perfect. The multifunctional nature of Slim-Tech Insoles means you can transfer them between shoes whenever necessary.
What We Love:
3/4 length design is ideal for tighter fitting shoes
Low and flat heel cradle stabilises the heel during landing
Ideal for:
The perfect insoles for: Dress Shoes, Narrow Shoes, Running Shoes, Sports Shoes and Trainers
Powerstep Pinnacle Maxx Insoles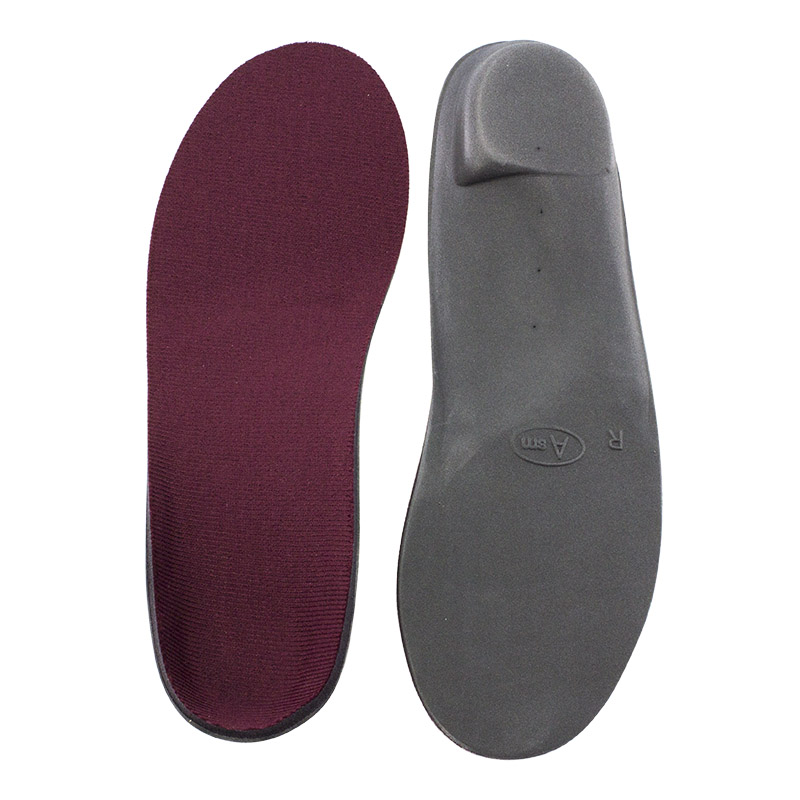 Heel postings offer amazing supination and pronation support. Powerstep Pinnacle Maxx Insoles come with a 2 degree medical heel posting, making them ideal for users who have issues with heel instability.
What We Love:
Comes complete with a 2 degree heel posting located at the heel
Deeper-than-standard heel cradle provides medical grade support and control
Ideal for:
Ideal for use with the following shoe styles: Casual, Sports Shoes and Trainers
Powerstep Slenderfit Orthotic Insoles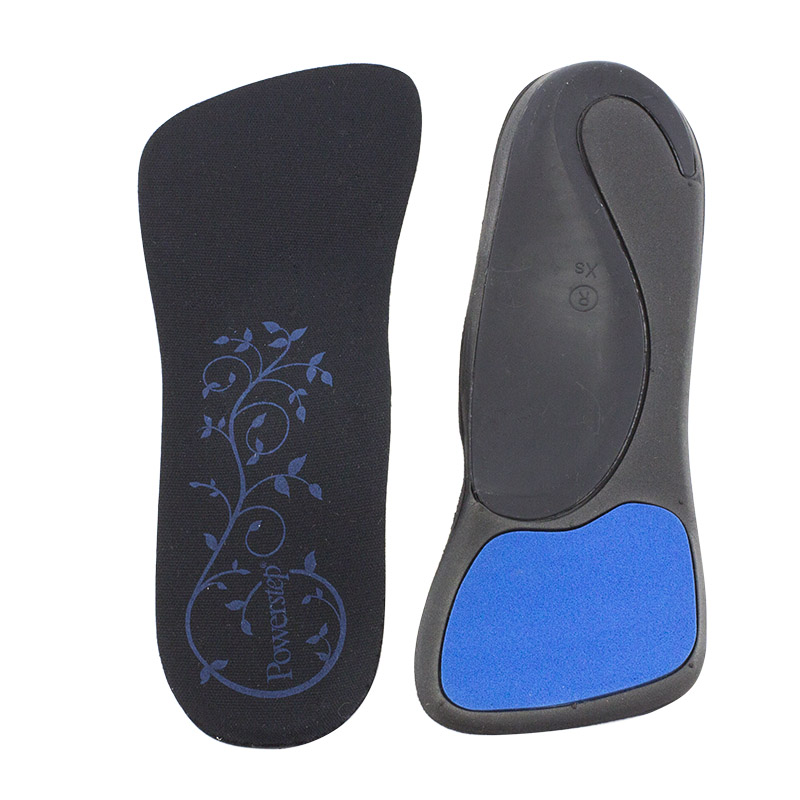 Powerstep Slenderfit Orthotic Insoles use plush foam and Varying Cushioning Technology (VCT) to make wearing fashion orientated and other style-conscious footwear more comfortable. Whether it's heels or tight dress shoes, Slenderfit Insoles slide into tight spaces without compromising on support and reinforcement at inherently weak areas.
What We Love:
The gold-standard option for tight, stylish footwear types
Thin, sleek and slender design means they'll sit inside most tight-fitting shoes
Ideal for:
Slenderfit Orthotic Insoles seamlessly fit within: Bridal Shoes and Fashionable Options, High Heels, Loafers, Pumps and Flats
How Do I Buy Powerstep Insoles?
If you've decided which Powerstep Insoles you want to buy, then you can head over to the product listing and put in an order. To do so, click the corresponding insole image above and head over to their product page. If you'd like to browse further, you can take a look at our Powerstep Insoles category.
Got a question about Powerstep Insoles? Ask away in the comments, or find us on Twitter and Facebook!