Best Insoles For Flat Feet
Tuesday, 18 August 2015 | Admin
We at Shoe Insoles know most conditions come and go but Flat Feet are forever, so it's a good thing we know precisely how to make your life-long relationship with your feet be a sweet one. If your arches just don't hold up when it comes to following a 'normal' shape, don't worry, we've got a range of great insoles and inserts to keep your shoes comfy and feet happy. With approximately 1 in 5 of all adults thought to be living with flatfeet, also known as fallen arches, Pes Planus and Pes Planovalgus, there's no reason anything about your lifestyle – or even sense of style – has to change.
Just take your pick of our large collection of specially designed insoles and ensure aching feet won't ever make you feel flat. Fazed by scrutinizing shoe inserts? No problem! Here's out Top 5 Best list to make it easy to elevate your arches!
Shoe Insoles Top 5 Best Flat Feet Insoles
Pedag Gelaxy Flat Feet Insoles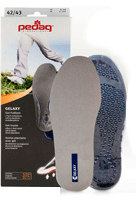 Not so long ago, in a galaxy not so far away, Pedag made these innovative Gelaxy insoles for flat feet everywhere. Not only specifically designed to combat the pains and strains of flat feet, these inserts also keep a range of other foot conditions at bay including Plantar Fasciitis and Heel Fissures. A funky underside that gives perfect grip and no slippage inside the shoe makes this a perfect addition to footwear in need of some arch support. Made from a soft microfibre top to keep feet cool and fresh, and with durable gel at its centre, you can be sure your feet are well supported for many moons to come.
Quadrastep F Flat Foot Orthotic Insole
Feet protection and correction from A to...F. Quadrastep's orthotic range has been made to cover the most common of feet profiles, resulting in 6 highly specialised and super effective insoles. This bright orange model will really brighten up the future of your feet, it may look strange, but it will make your feet feel better than ever before and not only help alleviate the pains of flat feet but correct all the conditions associated with it. Featuring a deep heel cup and enhanced arch support, this is a serious insole for those who seriously want to end flat feet pains. With a system that matches you to your insole by comparing your arch, alignment, gait and callus signs - if knowing is half the battle, then Quadrastep have it covered, the other half is won by wearing the insole all that knowledge has created!

Sof Sole Gel Active Insoles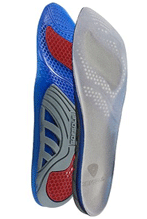 A sport insoles market leader, Sof Sole know precisely what you need. For Men and for Women, these insoles have been perfectly tailored to the unique shape of the male and female foot. Gender specific design that allows heel cup depth and overall thickness to suit your shape makes these some of the most comfortable things you can ever give to for your feet. Active by name and active by nature, these insoles are right there with you whether you're tackling the slopes, the track or the opposing team. Highly shock absorbent and with maximum cushioning, give yourself an arch advantage with these triple-density, lightweight gel insoles.
Aetrex Lynco Sports 425 Supported Orthotics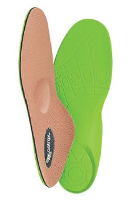 Stop pronation problems, metatarsal misery and aching arches with these sporting insoles. Able to distribute your weight to help relieve pressure from the heel and ball of the foot as well as keep feet stable and supported, these insoles are great for active people looking for a helping hand for hard working feet. Moulded around the heel for an extra boost of support, their shock absorption and tri-density system keeps feet from suffering sport rather than just enjoying it. A Pro-Shox top coat draws moisture away from the foot to keep you fresh, blister-free, and on the way to victory.
Pedag Energy Insoles for Low Arches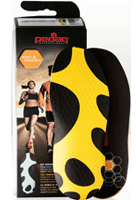 Hard-core insoles for the hard-core athlete, Pedag's history started with them making shoes look good on the outside before they began to make them feel good on the inside. These insoles take the best of both worlds, making your feet feel fantastic and looking seriously cool to boot (or to trainer, all your shoes will want a pair)! Get your feet warmed up quite literally by warming your Pedag insoles and letting them mould precisely to your feet, for even more effective impact protection and joint stabilization. With a sweat wicking, hygienic top coat and bio-mechanical design, these insoles are only interested in the positive side of exercise. The perfect energy insoles for the most energetic of feet, target fatigue, arch pain, pronation and heel spurs and don't let high ambitions be challenged by low arches.
Farewell to Flat Feet
Whether you're harbouring dreams of sporting gold or just want to be able to walk to the shops with total comfort and support, we've got an insole for you. Durable gel, practical plastics and fantastic foams can all over a great level of stability and cushioning, our top 5 are some great picks, but don't let that stop you exploring our range for your perfect fit!
Visit Shoe Insoles for our full range of insoles for treating Flat Feet!