Strive Insoles: Which Ones Are Best for Me?
Monday, 11 April 2022 | Alex
Designed by podiatrists to provide a high level of support and comfort, the Strive Insoles can be used by a number of different people to bring relief to sore feet. With four models available, however, it can be hard to decide which Strive Insoles are best for you. Our product experts have the low down on which ones are best for which situations, helping you find your perfect pair!
What Is Covered In This Guide?
Strive Comfort Orthotic Insoles
Best for Daily Support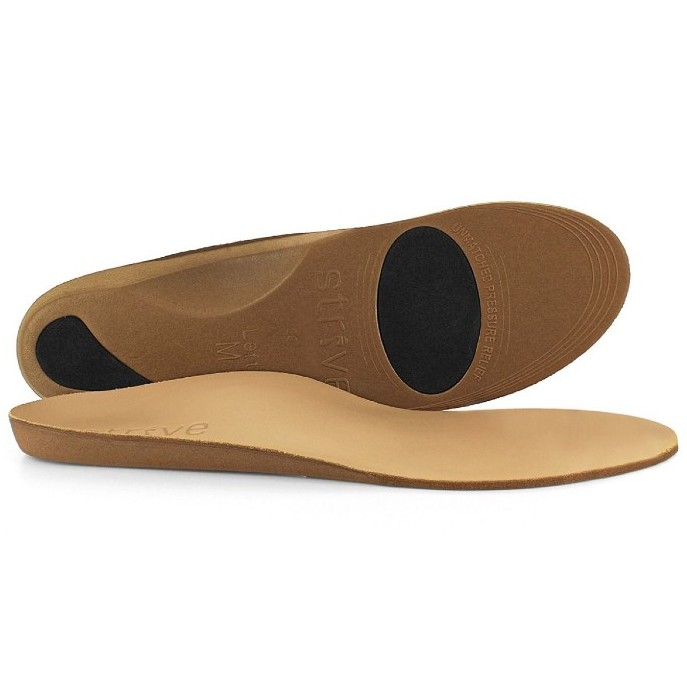 Why We Love Them...
✔ Orthotic design supports the foot in comfort
✔ General design is suitable for most everyday shoes
✔ Made from premium natural leather for lasting quality
Perfect For...
✔ People that suffer from pain when standing or walking
✔ Conditions such as plantar fasciitis and metatarsalgia
✔ Day-to-day support as you go about your life
Not the Best For...
✘ Use in sports' shoes (see our solution)
✘ People looking for a warm, cosy insole (see our solution)
Editor's Verdict: The Comfort Insoles are the classic model from Strive and are designed to provide comfort in almost every situation. The biomechanical shape of the insoles is designed by experts to match the contours of your feet, providing a good level of support that does not feel intrusive in your shoes.
Strive Active Orthotic Insoles
Best for Sports Support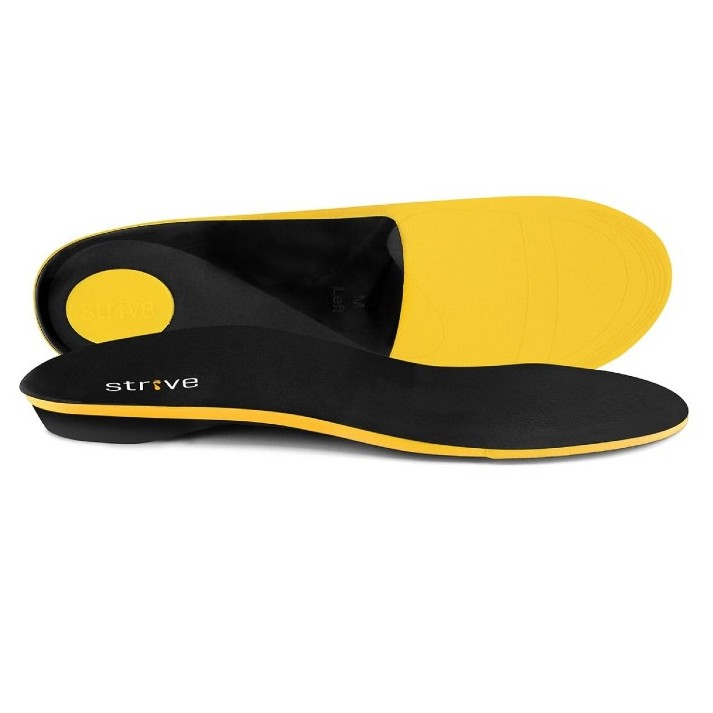 Why We Love Them...
✔ Shock-absorbing design reduces strain on feet
✔ Integrated heel cushion makes the back of the foot more comfy
✔ Easily trimmed for the perfect fit into your shoes
Perfect For...
✔ Dispersing pressure across the foot when playing sports
✔ Day-to-day wear in sports shoes
✔ Football, running, tennis, and more!
Not the Best For...
✘ Cold feet (see our solution)
✘ Tighter fitting shoes (see our solution)
Editor's Verdict: While some insoles feel good when you're just walking about, this can change as soon as you start playing a sport. Strive Active Insoles are designed specifically for dispelling impact when your feet are under stress, making them ideal for a range of sports.
Strive Slimline 3/4 Length Orthotic Insoles
Best for Narrow Shoes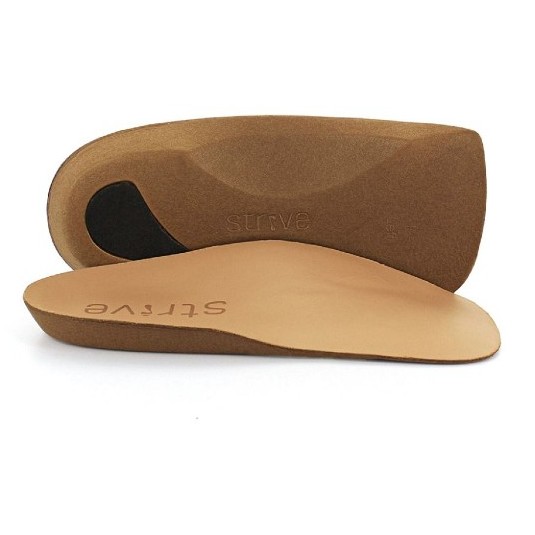 Why We Love Them...
✔ Offers a similar protection to the Comfort, but in a 3/4 design
✔ Design is perfect for narrow shoes or pointed shoes
✔ Easily trimmed for the perfect fit into your shoes
Perfect For...
✔ Narrow fitting footwear, such as formal shoes
✔ Keeping your feet comfy at formal events
✔ Any shoes where regular insoles are too big
Not the Best For...
✘ Sports use (see our solution)
✘ Cold weather wear (see our solution)
Editor's Verdict: Fitting into a wider selection of shoes, Strive Slimline Insoles provide all of the protection of an orthotic insole but fitting into more shoes. With these slim insoles, you can make your work shoes more comfortable or dance the night away at a formal event without feeling the effects the next day.
Strive Fur-Lined Orthotic Insoles
Best for Cold Feet
Why We Love Them...
✔ Orthotic leather insoles lined with faux-fur
✔ Keep your feet warmer for longer in cold weather
✔ Soft fur lining makes the insoles more comfortable
Perfect For...
✔ Wearing during winter
✔ People more susceptible to the cold
✔ Raynaud's disease sufferers
Not the Best For...
✘ Year-round wear (see our solution)
✘ Athletics (see our solution)
Editor's Verdict: If you've ever had a pair of fluffy slippers, you'll know the difference that a bit of fur can make to the comfort of your feet. Perfect for people who suffer from cold feet, Strive Fur-Lined Insoles are biomechanically shaped for support but while also keeping your feet warm.
Which Conditions Are Strive Insoles Suitable For?
With a biomechanical design that helps to support the arch of the foot while providing cushioning to the heel and forefoot (metatarsal), all Strive Insoles can help you to align your feet better. This helps with a number of conditions, including the following:
Arch Pain
Ball-of-Foot Pain
Flat Feet
General Fatigue/Aches and Pains
Heel Pain
Knee Pain
Lower Back Pain
Metatarsalgia
Plantar Fasciitis
Shin Splints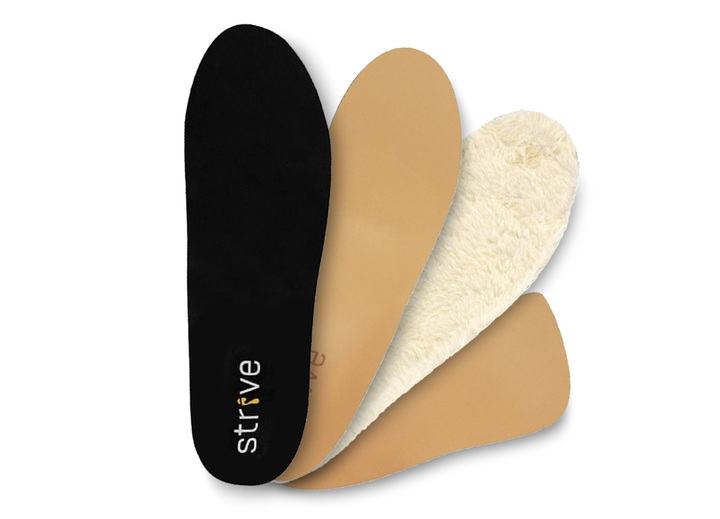 Strive Insoles: Available in Four Fantastic Styles
What Makes Strive Insoles Special?
Strive have been supporting sore feet for over 40 years, using the expertise of podiatrists to create their "Biomechanical Footbed Technology", which goes into every pair of their insoles. This biomechanical support works to support your feet in a number of ways:
Contoured Arch Support: The curves of the Strive Insoles are designed to match the natural shape of your foot, helping you to avoid issues such as flat feet.
Low-Profile Heel Cup: Each Strive Insole features a low-profile heel cup that helps to stabilise your foot without taking up too much room in your shoes.
Targeted Cushioning: Strive's orthotic experts know where feet are placed under the most pressure and they use this knowledge to tailor the cushioning of their insoles for optimal shock absorption
Pick Up a Pair Today
No matter what you are looking for, there is almost definitely a pair of Strive Insoles that could help you out. If you've tried Strive Insoles in the past, let us know your thoughts in the comments below! Alternatively, you can get in touch with our team on Facebook or Twitter.