Sole Custom Insoles: A Pair to Match Your Feet
3 November 2015 | John
Every Sole insole is designed to be customised to match your feet. This gives it the best performance possible, while still making it quick and simple to get great foot care.
Why Sole Custom Insoles?
By moulding your insoles to the specific shape of your foot, the Sole custom footwear insoles can deliver a fantastic level of support and comfort, catered to your exact wants and needs.
Wear Moulding
Sole's custom footbeds can most easily be moulded to the exact shape of your foot by wear moulding. This simply involves placing the Sole insoles into your shoes in the place of the existing inserts and wearing them. After a few days the insole will start to adapt to your foot's unique shape and work to its best possible ability.
Heat Moulding
Heat moulding the Sole custom footbeds is the quickest and best way to shape the insoles. The unique design of the Sole custom insoles means that you can heat mould them to the shape of your foot at home in minutes – no extra equipment or know-how needed.
Firstly, pre-heat your oven to 90°C (80°C for fan ovens, lowest gas mark possible for gas ovens). It's vital that you don't use a microwave for this.

You then need to take out the factory-fitted shoe insert from your shoe, if possible, and put the Sole custom insole into the shoe to check it fits correctly. If they need trimming, cut from the top end – the best practice is to use the old shoe insert as a guide.
Once they're at the right size, pop them in the pre-heated oven for two minutes. After the two minutes are up, take them out and immediately put them into your shoes, making sure they're laying flat and haven't bunched up.
Once they're in, step into the shoes straight away. Standing up straight, hold the position for another two minutes, making sure that your heels are against the back of the shoe and that they laces are done up as you would have them normally.
After that, you're done! Enjoy your new custom fit insoles.
If you're interested in getting your hands on some Sole custom insoles, head on over to Shoe Insoles and check out our range of Sole Insoles.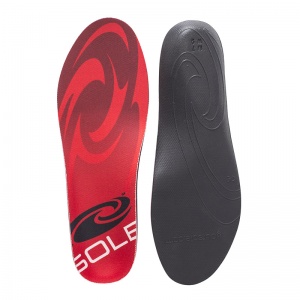 Extra cushioning for athletics
Vegan-friendly design and manufacture
Moisture-wicking top sheet for better hygiene
Mouldable custom support allows customised fit
| | | |
| --- | --- | --- |
| | | In stock now |
£37.99