Best Insoles for Walking 2022
Friday, 19 November 2021 | Eugene
Even though walking isn't seen as the most intense physical exercise, it can still pose a number of risks to the feet and legs if the wrong footwear is worn. The right running or hiking shoes can go a long way to keeping you comfortable and safe on your walks, and often a pair of insoles will be needed to add some extra support and cushioning. Choosing between the multitude of shoe insoles on the market can be difficult, but luckily our experts at ShoeInsoles.co.uk are here to help.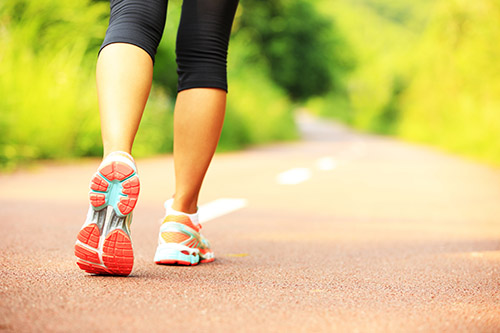 The right pair of walking insoles can help make your walks safer and more comfortable
When selecting a pair of insoles for walking, you'll usually want to focus on shock absorption, stability, support and breathability. Which of these factors is most important for you will depend on the type of terrain you'll be walking on, as well as any previous ailments you've suffered. For example, if you're walking on firm ground, shock absorption is key, and if you're prone to rolling your ankle, an insole that provides added stability will be highly advantageous.
With that said, we'll go over the Best Insoles for Walking chosen by our product experts.

Our Best All-Round Walking Insoles
Winner: Powerstep Original Full Length Orthotic Insoles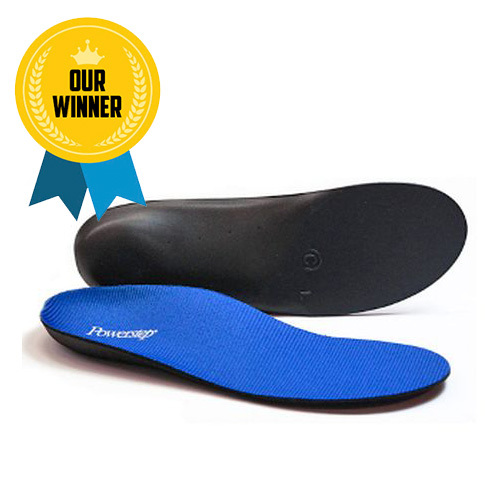 Why We Love Them...
✔ Large contact surface area supports and guides the entire foot while walking
✔ Made with multiple layers of foam to cushion the sole and reduce fatigue
✔ Aligns the feet to combat knee, back and hip pain while walking
Not the Best For...
✘ Especially narrow or tight-fitting shoes
✘ Sufferers of toe deformities (claw toes, hammer toes)
Editor's Verdict: The Powerstep Original Full Length Orthotic Insoles are one of our favourite recommendations for overall foot health for walkers, and they're a favourite of industry podiatrists as well. They provide an excellent combination of cushioning and support, as their design cradles the foot and caters to every contour, while the multiple foam layers reduce impact with every step.
Best Cushioning Walking Insoles
Winner: Sorbothane Shock Stopper Double Strike Insoles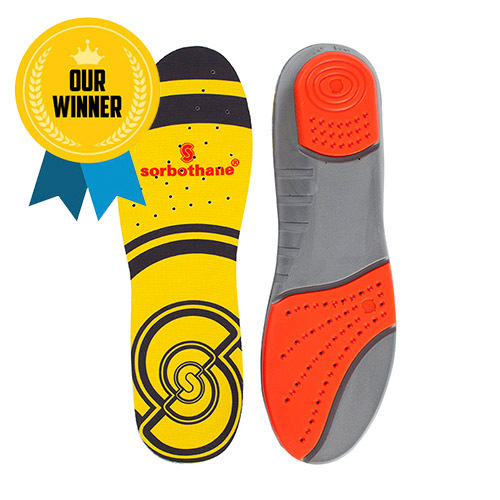 Why We Love Them...
✔ Support the arches and cushion the feet with powerful shock-absorbing material
✔ Perfect for anyone who experiences pain in the heels or forefoot during a walk
✔ Reduction of shock helps to reduce foot fatigue – ideal for staying fresh on long walks
Not the Best For...
✘ Specialist or tight-fitting footwear
✘ Those with high arches in need of more support
Editor's Verdict: For foot pain and fatigue, there is no better choice than the Sorbothane Shock Stopper Double Strike Insoles. Their contouring and arch support is ideal for most normal arch types and gaits, and are simply the best option for those looking for powerful shock absorption on their walks.
Best Walking Insoles for Plantar Fasciitis
Winner: Superfeet Green Performance Insoles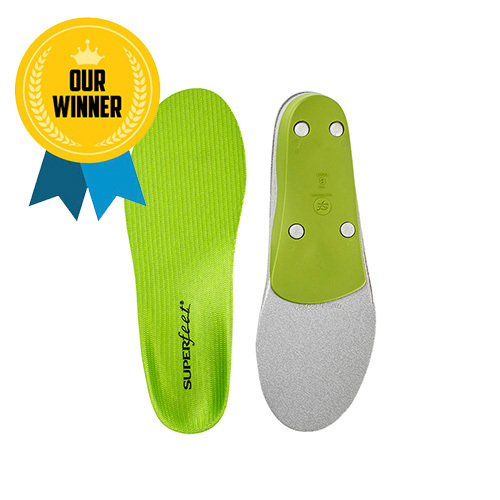 Why We Love Them...
✔ Fit into a wide range of narrow, wide and casual footwear
✔ Biomechanical shape corrects the step to evenly distribute foot pressure
✔ Help to stabilise the foot to reduce strain on the plantar fascia
Not the Best For...
✘ Those with especially high arches
✘ Running or sports (see the Superfeet Blue Insoles for Sports)
Editor's Verdict: Stabilising the feet and creating a healthy gait is important when combatting plantar fasciitis, making the Superfeet Green Insoles an ideal choice. They'll take pressure off your metatarsals to keep you moving in comfort with their biomechanical shape, which can correct your gait and help to prevent the burning pain often caused by plantar fasciitis.
Best Insoles for Walking in Cold Weather
Winner: Pedag Viva Winter Insoles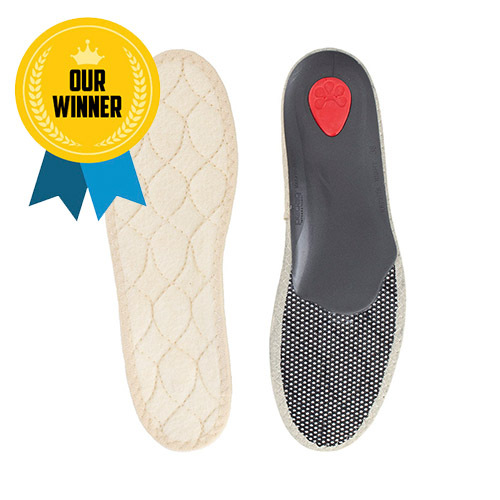 Why We Love Them...
✔ Cosy and insulated with an aluminium foil base and woollen top liner
✔ Closed air cell middle layer helps to trap heat and increase insulation
✔ Built-in arch support and cushioning provide a great all-round comfort effect
Not the Best For...
✘ Shoes with a great deal of rigid arch support
✘ Use on hot summer days
Editor's Verdict: It can be disheartening to have to turn back on a winter walk because of cold feet, making the Pedag Viva Winter Insoles an essential piece of kit for your cold weather strolls. These winter insoles also feature an underside made of special aluminium foil, helping to shield the feet from the cold ground and prevent the "frozen toes" effect.
Best Walking Insoles for Tighter Footwear
Winner: Vionic 3/4 Length Orthotic Insoles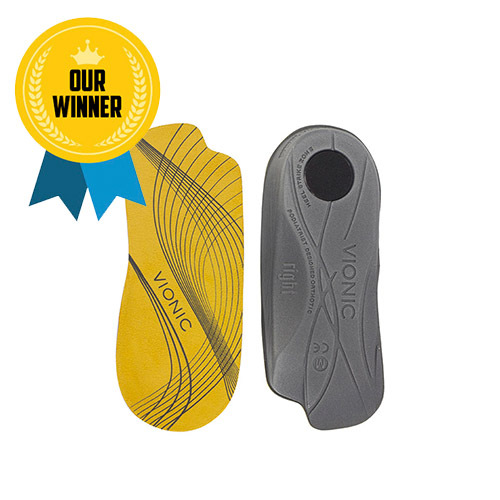 Why We Love Them...
✔ Smaller design supports and cushions the feet while leaving more room in your shoes
✔ Keeps your feet aligned with a Tri-Planar Motion Control design
✔ Absorbs shock in the heel with an efficient cushioning material
Not the Best For...
✘ Sufferers of forefoot pain or metatarsalgia
✘ Use in wider footwear
Editor's Verdict: Some of us like to walk in sporting or specialist footwear, which is where the Vionic 3/4 Length Orthotic Insoles can really shine. These insoles provide all of the cushioning and motion control of a full-length pair, while using a tapered shape to allow more space in your shoes. If you want to walk without compromising on stylish footwear, these insoles are a great choice.
Improve Your Balance Today
All of these insoles can help you improve your comfort and performance while walking, and can greatly reduce your chances of developing injuries from impact or an unstable gait. Whether you're looking for increased foot control, more support or better cushioning, the insoles on our list can do the trick. If you're still undecided, feel free to visit us at ShoeInsoles.co.uk today to check out our entire range of Insoles for Walking.
Do you have a question, or something to add? Why not let us know in the comments, or find us on Twitter and Facebook!