Best Insoles for Heel Pain
Tuesday, 16 January 2018 | Eugene
Pain in the feet is all too common, with almost everyone experiencing some sort of foot soreness at one point or another. Some people find their pain is isolated in one foot in particular, or one area of the foot, but for many, the problem is widespread and hard to control. Most commonly, the first part of the foot to experience pain is the heel, so if you want to stop your foot pain before it starts, cushioning your heel is the way to go.
Tackle Your Heel Pain with Shock-Absorbing Insoles
When it comes to heel pain, there is no better remedy than a good pair of shock-absorbing insoles or heel cups. Most shoes are made without adequate cushioning for the heels, which is why so many people end up complaining about pain, especially after long-term use of one pair of footwear. Shock-absorbing insoles boost the comfort and cushioning power of your shoes, helping to dissipate the impact from the ground away from your heels and other problem areas to help you stay comfortable on your feet.
At ShoeInsoles.co.uk, we know our insoles, and have hand picked some of our favourites for shock-absorption and pain relief. Read on the learn about the Best Insoles for Heel Pain, and hopefully you'll come across the perfect option for you.
Sorbothane Shock Stopper Double Strike Insoles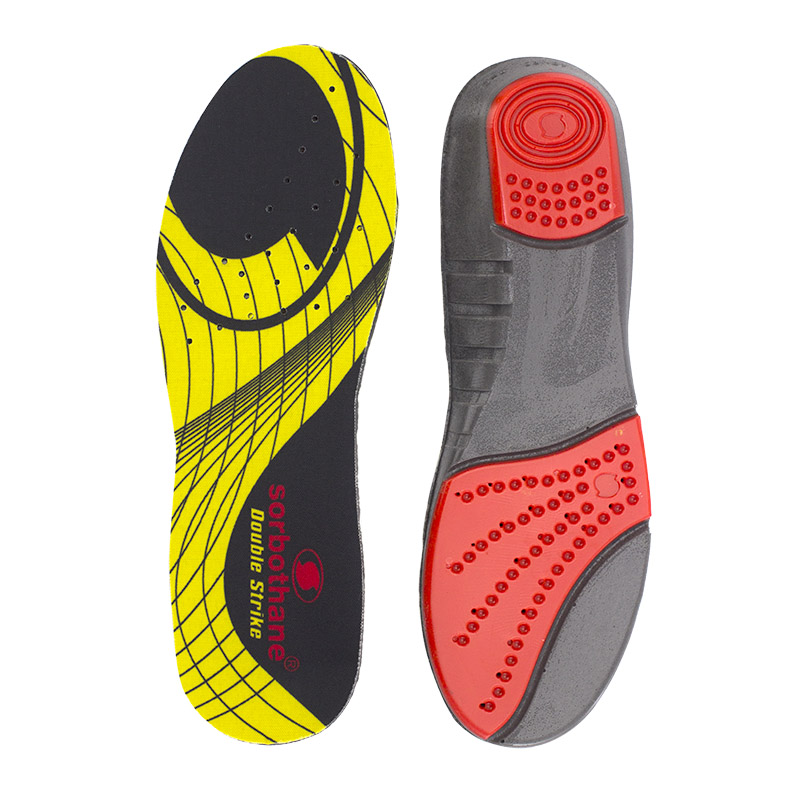 Insoles that are designed for sport will often include the best shock protection, designed for repetitive impact to the heel and forefoot. The Sorbothane Shock Stopper Double Strike Insoles are no different, with a powerful shock-absorbing Sorbothane compound located at the heel and forefoot to stop foot and heel pain before it starts.
Whether you're a casual walker or a serious athlete, the comfort and cushioning that these insoles provide will be hard to beat. Lightweight and supportive to suit any activity or lifestyle, these insoles can take your standard shoe and make it feel as though it were custom tailored to your foot for comfort and relief.
Spenco Gel Heel Cushions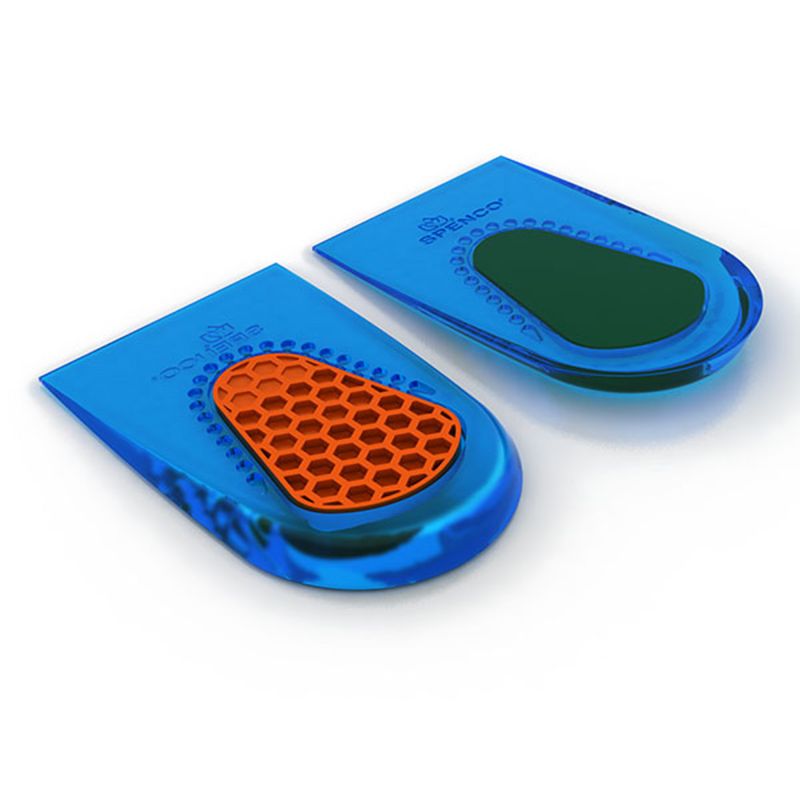 For more targeted relief that focuses on the rear of the foot, heel cushions provide an excellent way to prevent or treat pain. The Spenco Gel Heel Cushions are some of the best we've tried, providing excellent comfort through the principles of cushioning and energy return.
These heel cups are shaped to provide contoured cushioning around the entire heel, helping to stabilise your foot while preventing harsh shocks from travelling into your heel and up your leg. Since these cushions are small and targeted, they will easily fit into virtually any footwear.
Superfeet Blue Active Insoles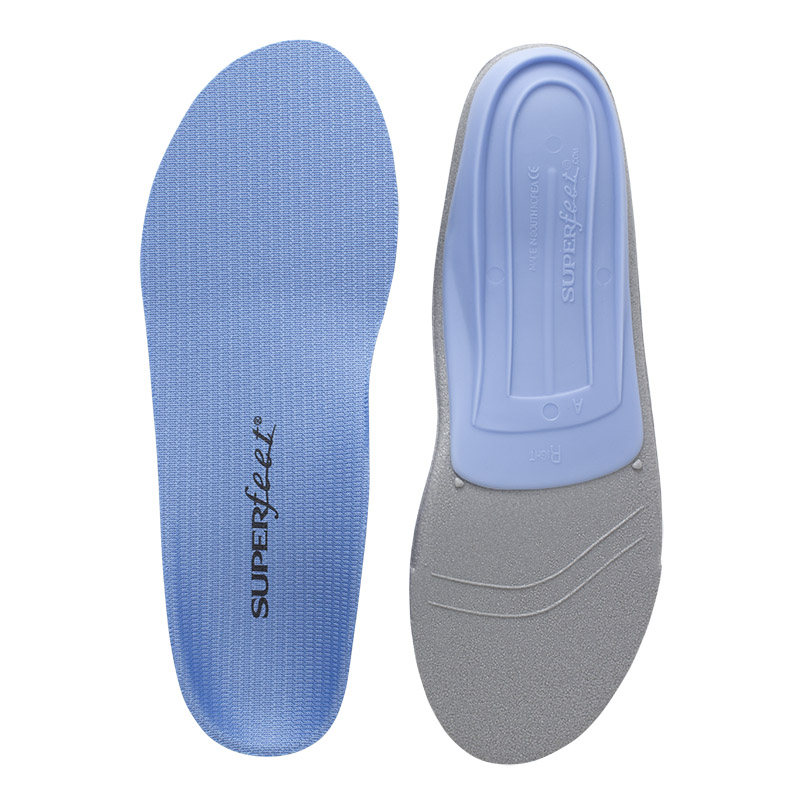 Our list continues with one of our most advanced pairs of insoles for heel pain prevention: the Superfeet Blue Active Insoles. Working to align the body and maximise shoe comfort, they are ideal for anyone suffering from, or seeking to avoid, common conditions like heel pain that can lead to issues further up the legs and body.
The secret behind the remarkable pain relieving properties of these insoles is the multi-faceted approach they take toward boosting your comfort. Firstly, to reduce the impact associated with walking and running, a patented heel cup is placed at the rear for full shock protection. Next, the Superfeet Blue Active Insoles use an advanced biomechanical shape to fully support the entirety of your foot. This means that you'll feel less pain, have greater control, and enjoy your activity a whole lot more.
Rightstride Comfort Heel Cup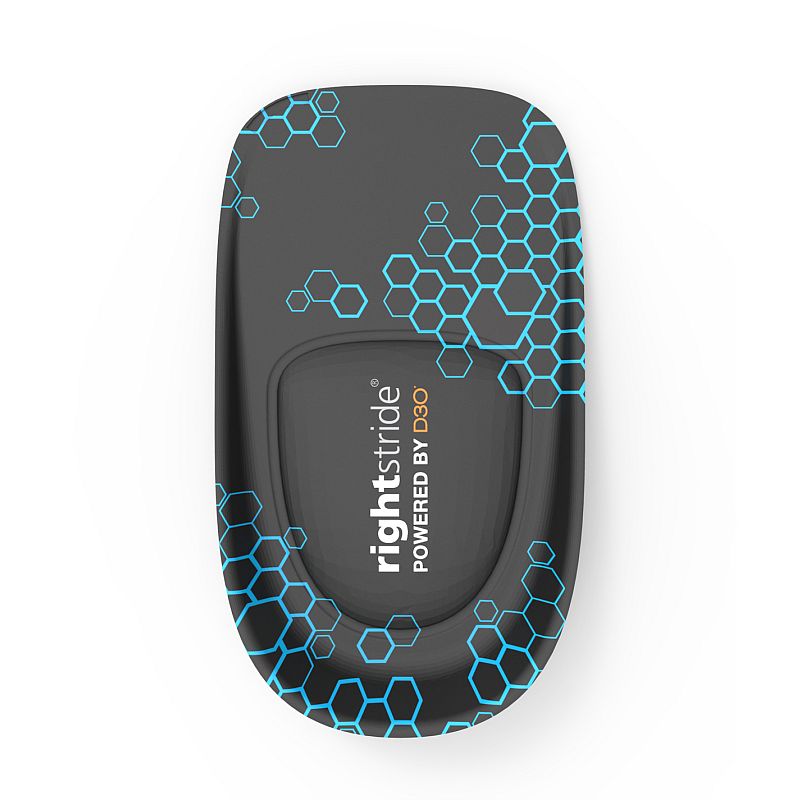 While foam and gel can provide high levels of comfort and shock-absorption, some may prefer a slightly more advanced approach. The Rightstride Comfort Heel Cup marks the first time the revolutionary shock-absorbing D3O material has been brought to the general market.
Previously tested by the UK military, this durable material has been rigorously tested for it's thin and lightweight design with powerful shock-absorbing properties. It will fit seamlessly into almost any shoes, and is ideal for those going about their day that do not want to sacrifice the fit of their footwear.
Get Rid of Heel Pain Today
After reviewing some of our favourite options for the relief of heel pain, you should have everything you need to go out and select the perfect pair for you. Whether you're looking for a heel cup or cushion to target those aching heels, or a cushioning insole to support and comfort your for throughout your stride, we've got you covered. Not convinced by our selection? Check out our entire range of Insoles for Heel pain at ShoeInsoles.co.uk.
Do you have a question, or something to add? Why not let us know in the comments, or find us on Twitter and Facebook!