Best Insoles for Flat Feet 2023
1 January 2023 | Alex
Flat feet are a surprisingly common issue, with as many as one in five adults suffering from the condition. While for many people, flat feet do not cause any discomfort, it is not uncommon for them to cause pain and suffering, especially in the arch of the foot.
Thankfully, the pain of flat feet can be easily managed by using the right pair of insoles. Our product experts here at ShoeInsoles.co.uk have put together our guide to the Best Insoles for Flat Feet 2023, including our favourites and our customers' favourites so that you never need suffer again!
What Is Covered In This Guide?
Best Overall Flat Feet Insoles
Expert Verdict: The Powerstep Original Full Length Orthotic Insoles are (at the time of writing) our most reviewed product and we find it difficult to stop our customers from raving about them. With a design that cradles the heel and supports the arch, the Powerstep Original Insoles can help with your general foot alignment, benefitting not just flat feet but your whole body too.
Strong pair of insoles featuring medical-grade support
Deep heel cradle supports collapsed or weak arches
Double layer and low profile casing ensures long lasting support
Friction reducing top fabric enhances comfort
| | | |
| --- | --- | --- |
| | | In stock now |
£25.95
Customer Verdict: "My son has flat feet and been suffering with patella tendinitis from this and the insoles have helped within a matter of a week. Will be buying another pair." ★★★★★ Nicole
Best Flat Feet Insoles for Running
Expert Verdict: Designed specifically for use in sports shoes, the Pedag Viva Sport Insoles are another favourite of our customers. The Viva Sport Insoles have an inbuilt longitudinal arch support that is perfect for reducing strain on your arch when running or playing sports.
Viva insoles designed for sport's shoes
Features micro-air chambers to reduce impact
Metatarsal pad relieves ball of foot pain
Available in 13 sizes and suitable for both men and women
| | | |
| --- | --- | --- |
| | | In stock now |
£21.16
Customer Verdict: "Arrived quickly and love them. Have replaced my walking boot insoles. Really comfy and give my flat feet a bit of extra support." ★★★★★ Sue
Best Flat Feet and Plantar Fasciitis Insoles
Expert Verdict: When you have flat feet, a lot of strain can be placed on the arch of your foot and this often leads to the dreaded plantar fasciitis. The Vionic 3/4 Length Orthotic Insoles are great for helping with both weak arches and plantar fasciitis, giving your arches a gentle lift to stop pain in its tracks.
Premium 3/4 length insoles supplier in pairs
For general, everyday use in a range of different shoes
Realigns the feet and lower body to prevent conditions worsening
Fit for use in most types of low heeled footwear
| | | |
| --- | --- | --- |
| | | In stock now |
£29.98
Customer Verdict: "I have used these insoles since 2018 after I had a foot reconstruction. I have flat feet and these correct the foot position nicely. Fits all my shoes, trainers etc." ★★★★★ Janet
Best Flat Feet Insoles for Children
Expert Verdict: Children under the age of five normally have flat feet and this is not an issue, but in older children, flat feet can lead to arch pain. Soothing soreness, the Pro11 Children's Funky Orthotic Insoles with Arch Support are designed to take the strain off of growing feet so that your little one can focus on running, jumping and playing.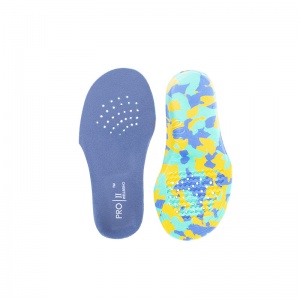 Insoles designed to correct pronation
Reduce arch, knee, hip and lower back pain
Prevent knee and ankle injuries and plantar fasciitis
Anti-bacterial cover keeps feet fresher for longer
| | | |
| --- | --- | --- |
| | | In stock now |
£8.99
Customer Verdict: "Got these for my 9 year old with flat feet who has been complaining of sore ankles and calves. She has sever's disease too. When I asked how they felt after a week, she said much better. I hope it continues" ★★★★★ Kirsty
Best 3/4-Length Flat Feet Insoles
Expert Verdict: If you're suffering from arch pain, sometimes you don't need a full-length insole taking up room in your shoes. The Trio 3/4 Length Insoles provide a great amount of arch support without crowding your shoes, making them especially useful in shoes that narrow at the toe.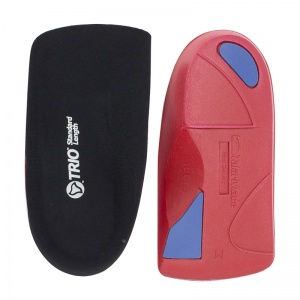 Durable insoles for a superior support
Heel cup for shock absorption
Anti-bacterial top cover keeps insoles fresh
Helps plantar fasciitis and heel pain
| | | |
| --- | --- | --- |
| | | In stock now |
£35.47
Customer Verdict: "After buying almost every insole on the market & not finding the right balance between comfort & support, I finally gave in to paying for a private physio who swears by this brand... I suffer with flat feet, plantar fasciitis, arthritis & fibromyalgia. After several weeks of gradually introducing these insoles, I have reduced pain in my back, feet, hips, knees & ankles & the swelling has gone down." ★★★★★ Katy
Best Value Flat Feet Insoles
Expert Verdict: We get it – you might not want to splash out on an expensive pair of insoles that might not even help your condition. The Pro11 Plantar Series Orthotic Insoles are an inexpensive pair of insoles that may not be quite up to the standard of the above products, but will allow you to try insoles to see if they work for you!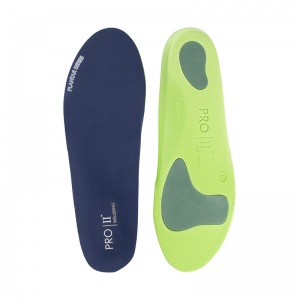 Full-length orthotic insoles for support and comfort
Designed to add support to flat feet and fallen arches
Re-align over-pronation to reduce foot and body pain
For plantar fasciitis, metatarsalgia and other conditions
| | | |
| --- | --- | --- |
| | | In stock now |
£8.99
Customer Verdict: "I recently purchased these to help with my fallen arches... As a product though, I found them to be very cost effective for those who may be on the NHS waiting list or are looking for a quick fix for foot issues." ★★★★★ Brandon
How Do I Know If I Have Flat Feet?
If you have arch pain, it might not necessarily be due to having flat feet. If you're unsure of whether or not your arches are flat, don't worry as there is a simple way of finding out!
Step One: Submerge your feet in water
Step Two: Step onto a dry piece of paper or cardboard
Step Three: Have a look at the outline of your foot and match it to the types below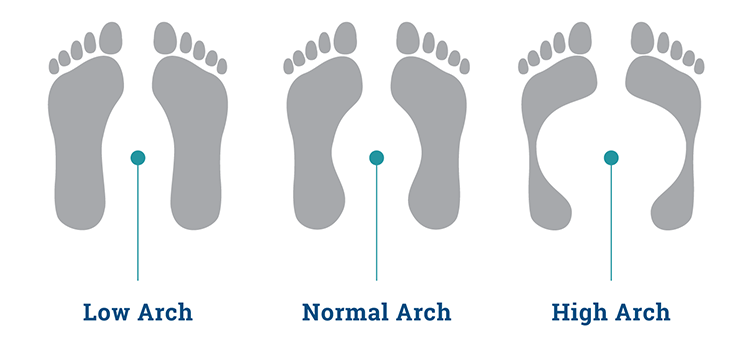 Keep Flat Feet at Bay
Sufferers of flat feet can often be amazed at the huge difference such a small product can make. Hopefully we've provided a perfect option for all individuals with our guide, but if you'd like to see some more choices, take a look at our full selection of Flat Feet Insoles.
Do you use a specific pair of insoles that work well for flat feet? Let us know in the comments below or on Facebook or Twitter!