Best Hiking Insoles
Wednesday, 16 September 2015 | Admin
Ah hiking, the early rise, the exhilarating trek, a day spent closer to nature...an evening weeping over aching feet. Shoe Insoles says no more! The joy of a day's hiking should no longer be marred by several days more nursing your feet. It may not seem like the most punishing of tasks, a leisurely day walking around in the fresh air, but your feet will soon be ready to tell you when they've had enough. Couple a day spent on your feet with the stress of walking over uneven terrain and you might find your feet complaining for days after. So if you're for wandering through mother nature, take care of the nature of your feet with one of our high performing hiking insoles!
Shoe Insoles' Top 5 Best Shoe Insoles
Sole Signature Ed Viesturs Ultra Insoles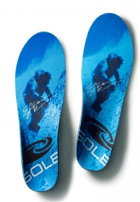 Ed Viesturs is a man who lives the high life, quite literally. With only two other climbers in the world being able to say they have made more high altitude climbs, Viesturs is a walking record of climbing achievements, which certainly makes his insoles something of note, too. These super supportive insoles will give you a taste of the high life instantly, with a 3.2mm boost of cushioning to protect you from even the most extreme of conditions and also give unbeatable support to feet suffering from Plantar Fasciitis or other unpleasant conditions. A moisture-wicking top coat will keep feet sweat-free and prevent blistering while the EVA base layer can easily be heat-moulded to your feet or simply left to shape to your gait over time. Some of the thickest cushioning insoles around means these insoles can tackle Viesture-worthy mountain climbing, but are just as great for a mellow Sunday hike.
Sole Softec Response Insulated Insoles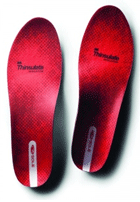 We're not shallow at Shoe Insoles, but even we are loving the looks of these ruby red insoles, there's no base like foam and these EVA insoles prove it. A truly versatile insole with 1.6mm of cushioning to make them some of the comfiest, too, they can be worn during your everyday routine, but are just as good for tackling a hike. Reducing the strain on the plantar fascia which runs along the underside of your foot and which can cause many an unpleasant foot condition, these Sole Insoles have been made knowing precisely what happy feet need. A 400 gram Thinsulate layer keeps feet toasty warm through the cold and wet while a moisture wicking top sheet keeps them sweat-free. Heat mouldable for a personal fit, the Sol Softec Response Insulated Insoles are the perfect choice for all-season hiking in all-round comfort.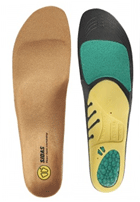 Making the inside of your shoes more outdoor friendly, these insoles can tackle any terrain your feet can. Hiking shoes might be some of the hardiest footwear, but that same toughness can be equally as hard on your feet. Sidas have 40 years of experience to draw on, from Alp-friendly skiing insoles to football inserts, so they know what it takes to keep hiking feet fighting fit. Keep feet perfectly aligned and stable whatever is underfoot and blisters and friction at bay while saving feet from shock and impact. Walk through nature with a natural gait as your Sidas Outdoor Insoles keep feet in the optimum condition for taking on any challenge.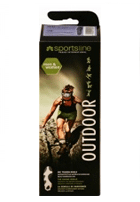 High? Medium? Low? Whatever arch you are, these insoles can stop you making arch enemies of a pleasant hike. If taking on the outdoors is what you're about then these insoles are right there with you – strolls, marathons, hikes and climbs, Pedag know what it takes to make a great insole, and 5 decades of experience to back it up. Their Outdoor Insoles can tackle any weather, terrain and sport, and thanks their high levels of stabilising support, your feet, knees and back can do the same. Tailored to your precise arch profile, they can be heat-moulded to perfectly match the rest of your foot, and combat fatigue, heel pain, and keep feet perfectly balanced and over-pronation-free. Anti-slip, anti-blister and with an innovative biomechanical build, even multi-day hiking trips will be all gain and no pain with these nature-loving insoles!
Tulis Gel Energy Tracks Insoles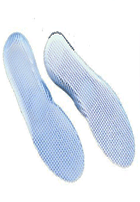 It's comfort for all with the Tulis Gel Energy Tracks Insoles, able to be trimmed to your perfect fit, slip them into your favourite hiking shoe for superior shock absorption and add a literal bounce to your step with hard-wearing gel. Medically designed with a 'waffle' construct, Tulis don't need to waffle on to convince us about their insoles, they do precisely what they say on the tin, with an energy-returning cushioning system and heel cup that reduces fatigue so you can make serious tracks on your hike. Don't think you have to take on a trek to benefit from these super absorbent insoles, though, they're just as good to protecting feet that are recovering from painful conditions, or have to work hard every day.
Take a Hike
Shoe Insoles are all about keeping feet happy, from foam to gel, heel cups to full length insoles, we're sure to have just what you need to take on a hike, marathon, or even the daily walk to the office. Our store is bursting with shoe solutions whether you're searching for relief from foot conditions or the perfect insole for jogging, so head over to our site and let us help you make your feet feel fantastic!
Visit Shoe Insoles for a full range of Hiking and Outdoor Insoles!