Best Hiking Insoles 2023
2 January 2023 | Eugene
Hiking can be a great way to boost your fitness, get some fresh air and see the countryside, but without the proper support and cushioning, the activity can end up causing foot pain, blisters and all sorts of other foot problems. At ShoeInsoles.co.uk, we believe the joy of a day's hiking should no longer be marred by several days of nursing your feet, so we've put together a selection of our best hiking insoles to keep you rambling on pain-free.
How Can Hiking Insoles Help Me?
The proper shoes and boots are crucial, but this alone is often not enough. Shoe insoles can help to support your arches and cushion your feet, reducing the pain felt in your heels, metatarsals and toes to keep you going for longer. Hiking insoles can:
Reduce Pain – by cushioning the heels, forefeet and other high-impact areas
Lessen Fatigue – by supporting your arches, providing a healthier gait and soothing issues like plantar fasciitis
Reduce Blisters and Odour – by providing an even foot platform and wicking away moisture with breathable materials
Below, we'll list the favourites from our experts organised by category, including our:
Best Overall Hiking Insoles
Our Winner: Superfeet Trailblazer Comfort Insoles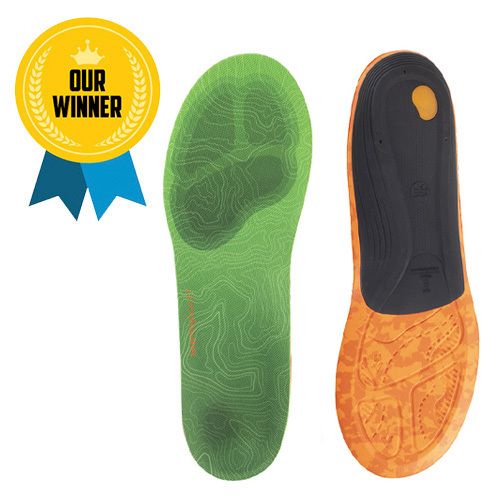 Why We Love Them...
✔ Designed specifically to lessen impact during hikes
✔ Provide exceptional cushioning with Aerospring foam
✔ Heel cup stabilises the heel while preventing slipping in shoes
✔ Available in a separate version for women's footwear
Ideal For...
✔ Long walks, including intense hikes on uneven terrain
✔ Use in almost all footwear, from casual shoes to hiking boots
✔ Reducing pain associated with foot impact while hiking
Not the Best For...
✘ Those with particularly high arches (see our solution)
Editor's Verdict: When a trusted name like Superfeet designed an insole specifically for hiking, we had high hopes, and the Superfeet Men's Trailblazer Comfort Insoles exceeded them. Focusing on dispersing impact and stabilising the heels, these insoles are great for keeping you comfortable on rough terrain, and are even versatile enough for everyday use.
Best Hiking Insoles for Plantar Fasciitis
Our Winner: Powerstep Original Full Length Orthotic Insoles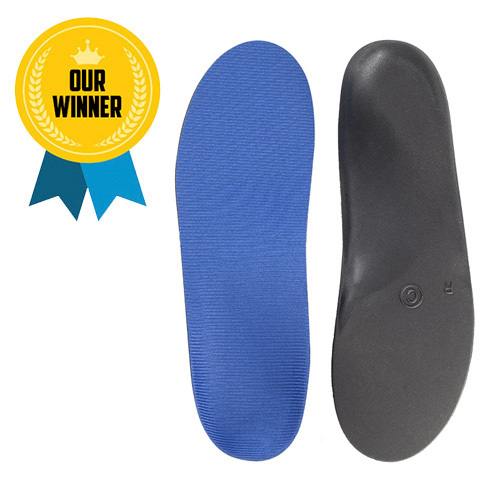 Why We Love Them...
✔ Provide medical-grade support and cushioning during long walks
✔ Elevated heel and plantar contouring to reduce plantar fascia stress
✔ Heel cradle and semi-rigid arch support provide greater stability
Ideal For...
✔ Support in almost any type of footwear
✔ Reducing pain associated with plantar fasciitis and arch strain
✔ Long hikes that would otherwise cause foot fatigue
Not the Best For...
✘ Those looking for a thick cushioning insole (see our solution)
Editor's Verdict: If you're looking to target a specific condition rather than general foot pain, an insole with medical-grade support like the Powerstep Original Orthotic Insoles is a great option. These are particularly suited to plantar fasciitis, as the elevated heels taper down with a contoured plantar region to reduce tensile stress on tendons.
Best Hiking Insoles for Metatarsal Pain
Our Winner: Pedag Viva Sport Insoles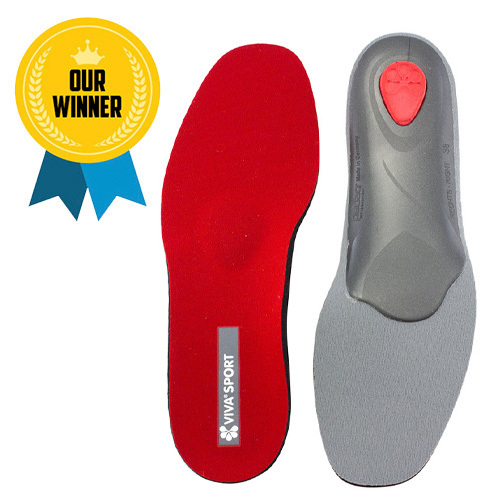 Why We Love Them...
✔ Micro-air chambers reduce impact to prevent pain as you hike
✔ Dedicated metatarsal pad provides support and cushioning to the forefoot
✔ Natural curvature provides strong arch support for an even gait
Ideal For...
✔ Footwear that can leave you with pain in the forefoot
✔ Intense hikes that can cause heel and arch pain
✔ Reducing the strain and impact that can exacerbate foot fatigue
Not the Best For...
✘ Especially tight-fitting sports footwear (see our solution)
Editor's Verdict: Primarily designed as a running insole, the Peda Viva Sport Insoles are great for reducing the forefoot metatarsal pain that can result from intense hikes. A dedicated metatarsal pad cushions and supports the area, while micro-air chambers provide a unique cushioning effect that's great for longer journeys.
Best Hiking Insoles for Blisters
Our Winner: Sidas Outdoor 3D Insoles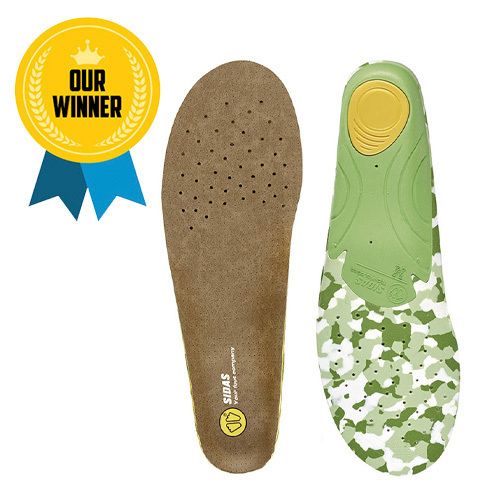 Why We Love Them...
✔ Designed to protect feet against rough and uneven terrain
✔ Help to prevent blisters during long treks in hiking boots
✔ Robust arch support helps to maintain a healthy gait
Ideal For...
✔ Use in hiking boots and footwear designed for unpredictable footing
✔ Maintaining stability and balance on the trail
✔ Managing sweat and moisture than can otherwise lead to blisters and odour
Not the Best For...
✘ Use during particularly intense sports (see our solution)
Editor's Verdict: When you're out on the trail, terrain can get rough, and the right pair of insoles can help to protect you while making it easier to maintain stability and a secure footing. The Sidas 3D Outdoor Insoles are designed to help with everything your hike can throw at you, absorbing shock and keeping your feet fresh to prevent blisters and odour.
Best Hiking Insoles for Low-Cost Cushioning
Our Winner: Sorbothane Shock Stopper Double Strike Insoles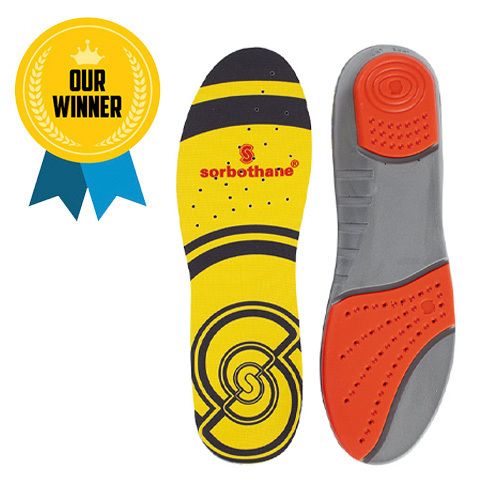 Why We Love Them...
✔ One of our thickest insoles for powerful impact protection
✔ Great for filling up larger hiking boots with comfortable cushioning
✔ Built-in contour and heel cup provide good stability during hikes
Ideal For...
✔ Those experiencing pain at multiple areas of the foot
✔ Improving the comfort of your footwear on a budget
✔ Replacing underperforming stock hiking boot footbeds
Not the Best For...
✘ Tight-fitting trainers or casual shoes (see our solution)
Editor's Verdict: If you're looking for cushioning and can handle a bit of extra bulk in your shoes, the Sorbothane Shock Stopper Double Strike Insoles are a great option that won't break the bank. These insoles are made with a cushioning compound that mimics human skin, providing a nice feel in the shoe and a responsive bounce-back with every step.
Blaze Your Own Trail
We're confident that these are some of the best hiking insoles around, but it's important to give some thought to your specific needs before making your decision. What types of discomfort do you usually run into, and what sorts of issues tend to slow you down on your hikes? If you haven't found exactly what you're looking for here, feel free to browse our full selection of Hiking Insoles, packed with all of our selections to keep your feet supported and pain-free out on the trail.
If you have any thoughts on the best hiking insoles, or an opinion on our choices, let us know in the comments below, or find us on Twitter and Facebook.