Which Superfeet Insoles Do I Need?
1 Comment
Monday, 22 November 2021 |
Eugene
You may have heard that Superfeet insoles are the best around when it comes to improving the comfort of your shoes and providing support, but the story doesn't end there. Superfeet have taken their advanced insole design and adapted it to a number of different users and uses, and now the range includes an insole for virtually anyone. But which Superfeet insole is right for you? We've had our insole experts break down the differences, hopefully helping you find the perfect insole for your needs.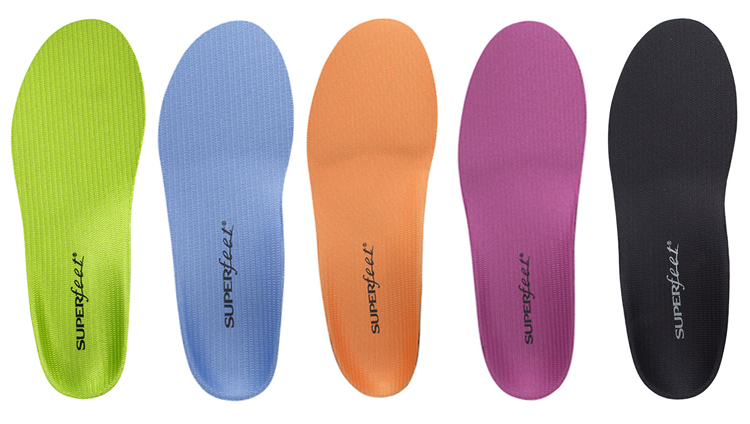 Superfeet's insoles are all designed for different needs, and feature an advanced design for support and odour-control
Which Superfeet Insole is Right for Me?
While all Superfeet insoles share a common design, they're actually each specifically adapted for a certain user, type of footwear, or activity. Your perfect insole choice will depend on what you intend to use them for, the kinds of stress you put on your feet, and the problems you're looking to combat. Whatever your choice, Superfeet insoles all share a few characteristics that set them apart from other footbeds:
Anatomical Heel Cupping: Each Superfeet insole is built with a deep heel cup to stabilise the foot, while providing shock absorption to lessen stress on the ankles, knees and back.
Biomechanical Shape: Superfeet insoles are designed to contour to the shape of the foot, providing support where it's needed most. This shape helps to align the foot with the body to create a healthy gait, working together with the heel cupping to reduce stress on the feet, ankles and knees.
Odour-Control: All Superfeet insoles feature an organic odour-control coating that eliminates odour-causing bacteria. This helps keep your shoes fresh, and can also help combat issues like athletes foot and other infections.
Our Best Everyday Insoles
Superfeet Green Performance Insoles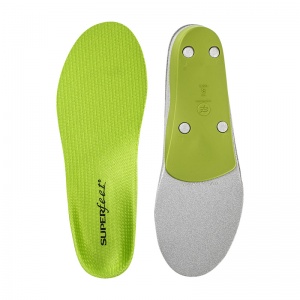 We'll start off by mentioning the original pair of Superfeet insoles, designed to solve common foot and joint issues, and fit into almost any type of footwear. Superfeet Green Performance Insoles are best described as the all-round insole in Superfeet's range, which is what has made them one of the world's most popular orthotics. Designed to provide extra comfort and support, these insoles are an ideal choice for use at work, while out on a hike or for those who spend long stretches on their feet. For those of us with wider feet, the're also available in a wide version.
Slim Insoles for Sports and Exercise
Superfeet Blue Active Insoles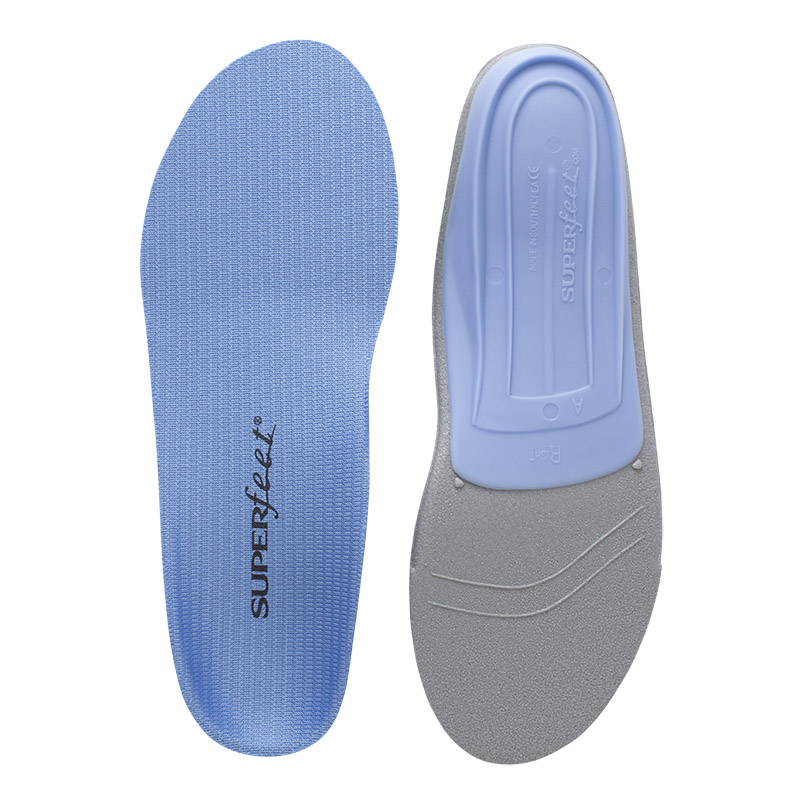 If you're someone who frequently takes part in sports and intense physical exercise, you're going to need shock absorption in an insole that's flexible and thin enough to fit into athletic footwear. The Superfeet Blue Active Insoles are designed for this purpose exactly, providing the classic Superfeet support in an insole that's thin and flexible to fit inside any shoe. With a contoured shape that allows all regions of the foot to rest fully supported, these insoles are an ideal choice if you're looking to reduce knee pain or fatigue during your workouts or competition.
Extra Cushioning for Men's Feet
Superfeet Orange Insoles for Men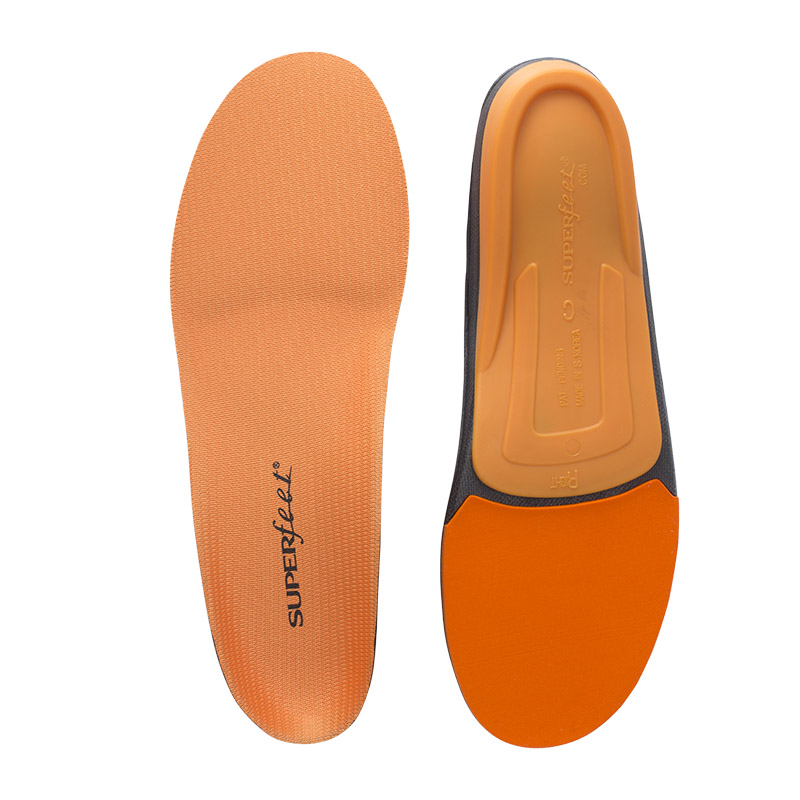 While most of Superfeet's insoles are designed to work for everyone, some foot problems are mainly associated with men's footwear and feet, meaning a bespoke insole is often the best option. Superfeet Orange Insoles for Men are designed for men who walk or stand for extended periods of time, and feature an added forefoot shock pad that provides extra cushioning for high-impact activities. Designed to improve the comfort and fit of men's footwear, these insoles are ideal for those who tend to put extra stress on their feet, whether in day-to-day life or during more intense physical activity and sports.
Cushioning and Support for Women's Feet
Superfeet Berry Insoles for Women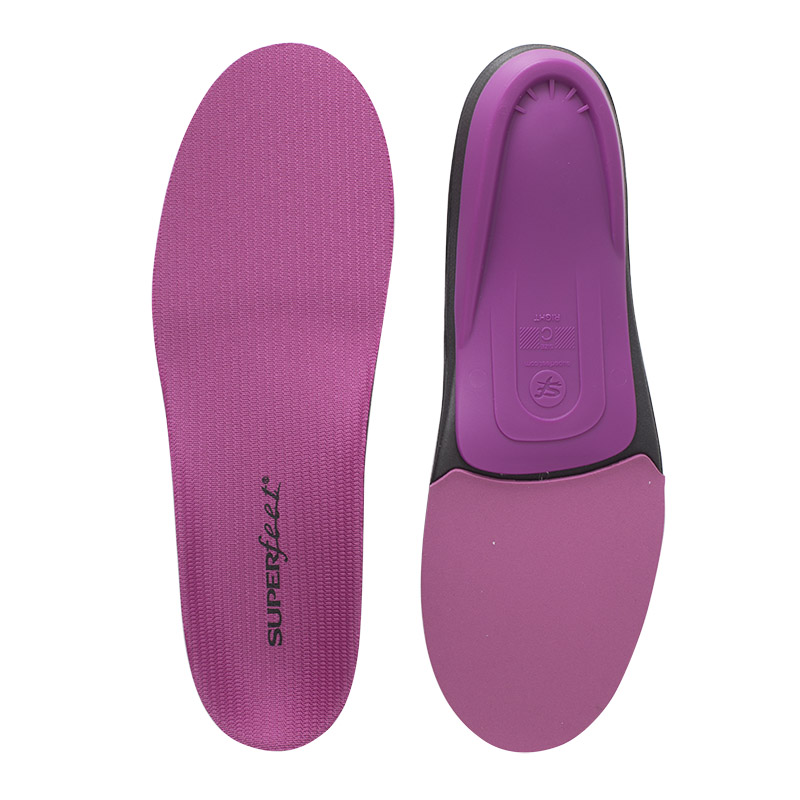 Just as the insoles above are designed for men's feet, our next Superfeet insole is designed to combat the problems that women's footwear commonly cause. Superfeet Berry Insoles for Women are designed to contour to the shape of women's feet, and feature an added forefoot shock pad for extra shock absorption during high-impact activities. These insoles are an ideal choice for women who will frequently spend long hours on their feet, and are also a great option for use as a sports insole.
Comfort for Sensitive Feet and Tight Footwear
Superfeet Black Insoles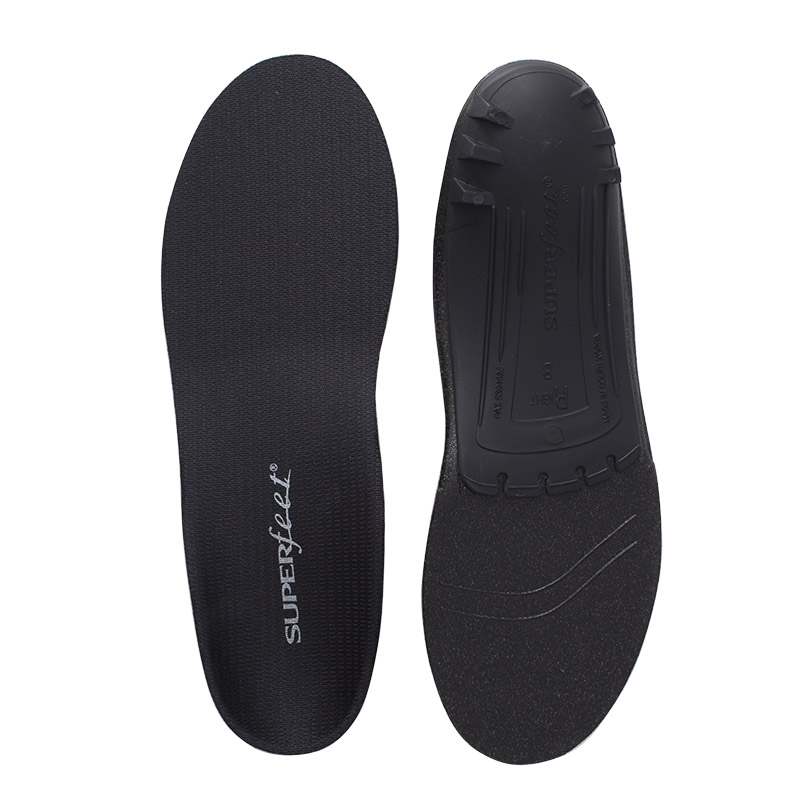 If your feet are especially sensitive, you may have found it difficult to wear supportive orthotics in the past. Superfeet Black Insoles are designed to combat this issue, and are built with sensitive feet in mind. They are made with a low-profile shape, making them ideal for use in slim, tighter-fitting footwear, providing a subtle yet high-performing level of support that can greatly improve the comfort of your shoes. With the most accommodating heel cup in the Superfeet range, these insoles provide a great deal of stabilisation and support without taking up a significant amount of room in your shoes.
A Superfeet Insole for Every Need
While the above insoles are the most popular in the Superfeet range, there are a number of other options for other more specific needs. These include:
These are some of the highlights of the Superfeet range, but there are plenty of other options suited to different needs. If you haven't found quite what you're looking for in this article, take a look at our Superfeet section, filled with our entire selection of Superfeet insoles!
Do you have a question about Superfeet insoles, or something to add? Why not let us know in the comments, or find us on Twitter and Facebook!
Shop Related Products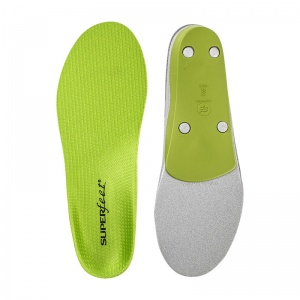 Heel cup technology contours to the foot for total support
Crafted from shock absorbing foam for complete comfort
Ideal for use within any sports shoe
Superfeet 60 day money back guarantee
| | | |
| --- | --- | --- |
| | | In stock now |
£26.92
---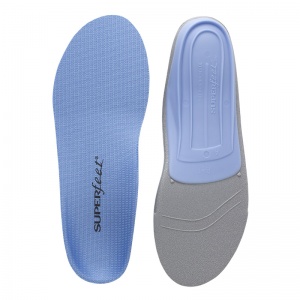 Superfeet's most versatile and easy-to-fit insole
Thin, high-performing and flexible, can fit almost any shoe
agION antimicrobial finish keeps insoles clean and fresh
Available in both adult and junior sizes
| | | |
| --- | --- | --- |
| | | In stock now |
£26.56
---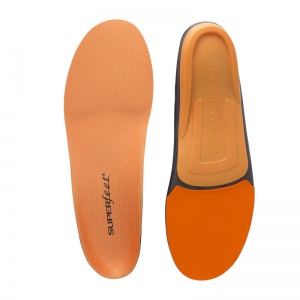 Contoured comfort and support exclusively for male feet and footwear
Patented heel cup provides shock absorption, ideal for high-impact sports
Helps align the body, combating back pain and knee aches
agION technology keeps insoles continuously clean and fresh
| | | |
| --- | --- | --- |
| | | In stock now |
£30.99
---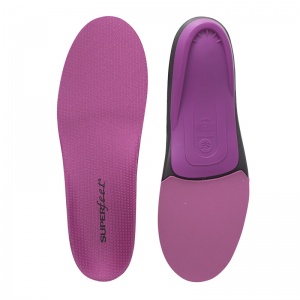 Contoured comfort and support exclusively for female feet and footwear
Patented heel cup provides comfort and absorption during impact activities
Helps align the body, combating back pain and knee aches
agION technology keeps insoles continuously clean and fresh
| | | |
| --- | --- | --- |
| | | In stock now |
£28.99
---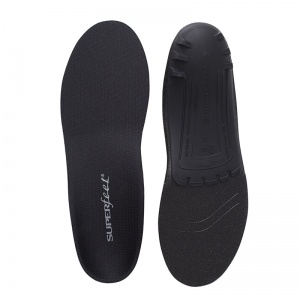 Ideal for extra sensitive feet and those with difficulty wearing orthotic devices
Patented heel cup provides optimum support for the foot and lower body
agION technology keeps insoles clean and fresh
Easily trimmed to your size for a personal fit
| | | |
| --- | --- | --- |
| | | In stock now |
£27.42
---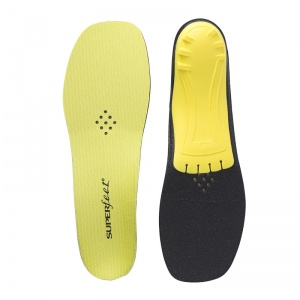 Ventilating insoles designed for athletes
Ideal for skate, hockey and cycling shoes
Patented heel cup and contoured support for optimum comfort
Superfeet 60 day money back guarantee
| | | |
| --- | --- | --- |
| | | In stock now |
£24.61