What is Ball of Foot Pain?
8 July 2015
Ball of foot pain is a foot condition generally associated with Metatarsalgia, and is, as the name suggests, a pain or discomfort originating in the ball of the foot.
Ball of Foot Pain can be caused, unsurprisingly, by a sudden injury dealt to the area, or by minor strains being placed on it over a long period of time such as by forcing feet into high-heels or tight-fitting shoes. Other conditions of the feet such as Supination or Pronation causing uneven strain on the arch and forefoot can also result in Ball of Foot Pain.
Bawling feet
Pain in the ball of the foot can range from mild to intense, presenting constantly or from time to time — in any case it can be difficult to ignore as you go about your daily life. A suitable insole can help take care of the Ball of Foot Pain while you get on with more important things and orthotics are available in a vast variety of shapes, sizes, materials and styles.
Half length, Medium Density, Low Arched...Fully Confused?
The range of insoles for Ball of Foot Pain is notably more varied than those designed for other foot conditions and this is purely due to the fact that the metatarsal area can be treated in a number of ways. With options such as by supporting the arch, cushioning the ball or providing enhanced support of the entire foot, insoles for ball of the foot pain fight pain on a number of different fronts.
Full Length Insoles can provide stabilizing support and cushioning from heel to toe, and are effective for not only managing Ball of Foot Pain but for preventing a range of other conditions as well. With optional extras such as wedges and postings available to customise your insoles, certain full length insoles are a great investment not only for foot recovery but for enhanced future performance as well.

3/4 Length Insoles offer similar features to full length insoles without crowding the toes and offering a more versatile fit suitable for many shoes. The common choice for those looking to concentrate on relieving the heel and ball of foot pain, these insoles are a good choice for those who want to wear their insoles in a larger variety of shoes.
Cushions and Pads are a great way of exactly targeting the area that is giving you grief and allow you to control precisely where you want your feet to be comforted. Often self-adhesive and low-profile to be worn in any shoe, you can place and adjust these small but effective cushioning pads until they're right where you want them. For a more structured comfort, metatarsal domes are soft foam domes placed under the metatarsal to support the arch and lessen pressure and strain on the ball of the foot.
Seeing is Ball-ieving
As with any treatment tailored to your personal needs, only you can decide which insole suits you best. It may be that a cushion is too small, or a full length is too big and that a gel pad is just right, but with all our insoles you can be certain that high-performance and durability is guaranteed, whatever you decide. It is always advisable that you discuss your options with a foot-care professional before purchasing an insole, especially if you are unsure about the type of insole you need.
Please visit the Shoe Insoles website for a number of Insoles for Ball of Foot Pain.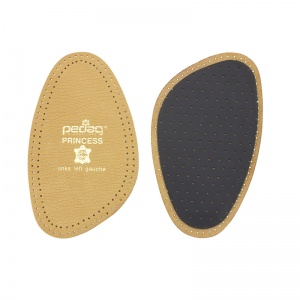 Improves fit of intermediate sizes
Cushions the forefoot
Genuine sheepskin for better comfort
With Active Carbon to prevent bad odours
| | | |
| --- | --- | --- |
| | | In stock now |
£6.29