What is Back Pain?
Thursday, 9 July 2015 | Admin
The wonderfully self-explanatory Back Pain is the less than wonderful condition that involves any type of pain or discomfort originating from the back or lower back area. Back Pain can be directly caused by a number of different things: lifting something incorrectly, twisting it or falling on your back. But on top of all of these problems, back pain can be caused by your feet -- an unbalanced gait adds stress to your back and can be the cause of unexplained back pain. Back Pain is a common by-product of other foot conditions such as Leg Length Discrepancy, Supination and Flat Feet.
Back Off, Back Pain
The symptoms of Back Pain can be relieved through the usual home treatments for any aching body part. Heat and cold are both your friends when it comes to comforting a bad back, an ice pack or hot water bottle will suffice, and gentle massage can also help relieve any Back Pain. Notably, it is healthier to battle through Back Pain by keeping moderately active rather than taking yourself out of action completely, as this may lead to the back becoming stiff and requiring a longer recovery period. Keeping on your feet during Back Pain can be a gruelling experience, so giving yourself as much support as possible is absolutely essential and a suitable shoe insole can allow you to do that.

We've Got Your Back
Here at Shoe Insoles, all our insoles are high-performing and durable. Able to combat a vast range of conditions, you can be sure they've got you covered.
Full Length Insoles will go a long way (all the way to your toes and back) to fix any feet problems you may have. Not only relieving pain in the arch, ball and heel of the foot, they also help properly position your foot, aligning your whole body better. For those suffering Back Pain, full length insoles give shock absorption along the entire foot, and with many able to contour to your personal shape, you and your back will be back in shape in no time.
3/4 Length Insoles can offer similar support to their full-length counterparts but have enhanced versatility, being able to fit into many slim-style shoes. For those who are gluttons for punishment, there are even 3/4 insoles that are designed to fit perfectly into high heels – although these are not shoes we recommend for any poorly feet or backs!
Inserts and cushions provide more targeted relief inside the shoe and can be made from foam or gel. Gel is often found in sports-friendly insoles and provides a longer-wearing cushioning and support, while foam is the go-to material for insoles and can come in a variety of densities and types, the final decision about which suits you best is entirely your own.
Back to Normal
Back Pain is a common and not terribly serious condition that you hopefully will be rid off within a matter of days, and we guarantee that with our insoles you can not only see the back of Back Pain, you can make sure it never returns. A combination of technology, comfort and supreme support (as well as our own discerning eye) means that our insoles are up for the challenge of making your feet the best they can be.
Please visit the Shoe Insoles website for a full range of Insoles for Back Pain.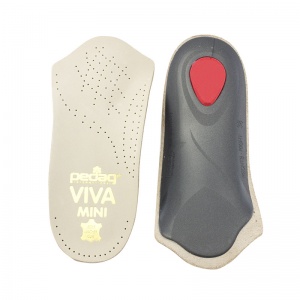 Three-quarter-length insoles for arch, foot and heel support
Ideal for every day use, preventing pain and encouraging comfort
Suitable for flat feet, arch pain, over pronation pain, splayfoot and more
Made with fine leather and adapts to the foot shape for natural comfort
| | | |
| --- | --- | --- |
| | | In stock now |
£10.99
---
Encourages a more propulsive gait
Slim profile insoles for optimised fit in shoes
For normal arch support
Relieves pressure on metatarsal heads
| | | |
| --- | --- | --- |
| | | In stock now |
£49.99