What Are Rugby Insoles?
2 November 2015 | John
Rugby insoles, as the name might suggest, are insoles which are made to help improve your performance on the rugby pitch. They have a variety of features specifically designed to benefit rugby players where and when they need it.
Shock Absorption
One of the biggest stresses of your feet when you play rugby is the constant shocks your feet get when you run. These shocks have to be absorbed by the muscles and ligaments in your legs and feet, which also have the job of, well, making you run.
This continuous strain not only contributes to the fatigue you can experience on the pitch, but over time can cause ligament injuries like plantar fasciitis and Achilles tendinitis to develop. These conditions are incredibly painful and can put you out of the game for a long period of time (over a year, in some cases).
Foot Stabilisation
Another big contributor to ligament injuries is poor foot stabilisation. Over-pronation and supination (excess rolling of your foot inwards and outwards) can contribute to ligament injuries, but they can also give you an uneven gait, which is no good for the precision and accuracy rugby players need to be at their best.

The right rugby insole can stabilise your foot into its optimum position and allow you to perfect your stride on the pitch.
Prevent Stud Impacts
Some rugby insoles, like the Shock Doctor Turf Insoles, are specifically designed to absorb the impacts the studs on rugby boots can cause. The repeated impacts of these studs can become very painful over time, which distracts you from your game and can't be good for you.
By absorbing the stud pressure, these insoles can reduce the pain the studs can cause, making your rugby boots more comfortable and natural-feeling.
Invisible Support
The last thing you need when you're in the middle of a rugby match is to be totally aware of what's in your shoe (and not in a good way). This is why most rugby insoles are designed to be as discreet and as unnoticeable as possible, while still delivering an exceptional level of comfort and support.
In fact, a lot of rugby insoles are thinner than most standard shoe inserts, so you can be even closer to the ground and feel more of what's happening on the pitch.
All Shapes and Sizes
Rugby insoles come in a variety of designs and shapes to suit your needs. If you're only looking for heel protection, then there are heel pads for you. Or if you want to give your whole foot protection, then you can get some full length rugby insoles for maximum benefit.
All of these things come together to provide the best possible boost to your game.
If you're interested in getting your hands on some rugby insoles, head on over to Shoe Insoles and check out our full range of Rugby Insoles.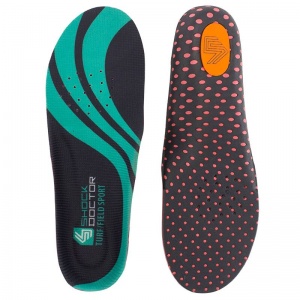 Designed for footballers
Made specifically for athletics pitches and turfs
Lets you move quicker and sharper
Incredibly discreet: weighs less than 50g and is 3mm thick
| | | |
| --- | --- | --- |
| | | Currently unavailable. Please check back soon |
£24.99 £17.99