What Are Basketball Insoles?
30 October 2015 | John
Basketball insoles are insoles which have been specifically designed to help improve your performance on the court. The solid and smooth playing surface means that, to provide the best possible boost to your game, the insoles have to be made with the hardwood in mind.
Foot Support
One of the most important aspects of being a good basketball player is to be able to make sharp turns and changes of direction at a moment's notice. This can put significant strain on your feet, and without correct stabilisation and support can leave your susceptible to ankle sprains and ligament injuries such as Achilles tendonitis and plantar fasciitis.

A basketball insole provides extra support and stability to your foot, preventing over-pronation and supination and making your stride more sturdy and reliable, so you can perfect your sprint on the court.
Shock Absorption
Running on the hardwood puts enormous strain on your feet and legs. The repeated shocks from your feet hitting the solid floor have to be absorbed by your muscles and ligaments, putting them under intense strain. This can lead to your feet and legs feeling tired quickly. The consistent stress over a long period of time can also lead to issues like plantar fasciitis and Achilles tendonitis developing.
One of the main things a basketball insole will do to improve your performance is absorb the shocks of running, reducing the strain on your ligaments and muscles and freeing them up so you can play harder and for longer. This also helps reduce the chance of ligament injuries developing over time.
Added Comfort
Being comfortable is one of the most important things you can do to improve your game. A good pair of basketball insoles can help make your feet feel more at home in your shoes, reducing rubbing and friction. This not only helps lower the chance of blisters developing on your feet, but also takes your mind off your feet and onto the ball.
Invisible Support
Basketball insoles are made to be as discreet and as unnoticeable as possible, because the last thing you need when you're on the court is the distraction of being continually aware of what's in your shoes. In fact, a lot of basketball insoles are slimmer than the inserts your shoes normally come with, which allows you to be closer to the ground and get a better feeling for what you're doing out there.
All of these things come together for one express purpose: to make your game on the court as good as it possibly can be.
If you're interested in getting your hands on some basketball insoles, head on over to Shoe Insoles and check out our full range of Basketball Insoles.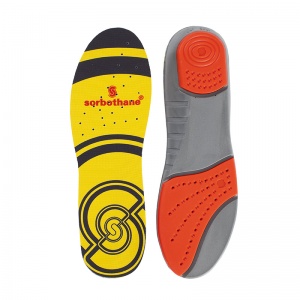 Targeted Sorbothane protection with moulded heel cups and arch support
Ideal for any activity where the forefoot and heel are subjected to impact
Suitable for all sports, hiking, walking, leisure activities and everyday use
In-built arch support prevents and alleviates arch pain and fallen arches
| | | |
| --- | --- | --- |
| | | In stock now |
£15.19