Treatments for Hammer Toe
7 August 2015 | John
Hammer Toe is where one or both joints of the lesser toes (toes which aren't the big toe) bend; hammer toes usually start off mild but get worse over time. They're usually caused by a muscle or tendon imbalance, and can cause pain and discomfort. However, there are a few things you can do to help with the condition.
Change Your Shoes
While poor shoe shapes are not an overtly common cause of hammer toe, they can contribute towards it and can aggravate an existing condition. To be safe, you should switch to shoes that are high and broad across the toes to reduce the rubbing against the inside of the shoe, which can be caused by hammer toes.
There should be at least 1.5cm between your longest toe and the tip of the shoe and, if you suffer from hammer toes, it's time to ditch the high heels! High heels are a leading contributor towards hammer toes and will definitely aggravate an existing condition. To be safe, only wear heels less than 5cm long.
Massage and Ice Your Toes
By massaging your toes you can help to soothe the pain caused by hammer toes. While this probably won't do anything to help the underlying condition, relieving pain is generally a good idea. Ice packs wrapped in cloth can also help reduce the pain, and it'll also help reduce any swelling around the toes, reducing the pain further.

Padding Your Feet
Padding your feet where corns and calluses can or have developed can also help reduce the pain they can cause by absorbing the shocks they experience while walking.
You can do this simply by placing some extra cloth over the important areas of your foot while it's in a shoe, or you can use special corn or callous pads. However, you should be sure to use unmedicated pads, as these tend to contain acids that can be harmful to you.
Wear Shoe Insoles
A shoe insole designed for hammer toes do something similar as feet padding, but on a whole other level. A shoe insole will not only cushion the parts of the sole of your foot which are likely to develop corns and calluses but will also help spread the weight of the foot more evenly, taking pressure off the metatarsal area and the toes.
This reduces the strain both on hammer toes and on the area where the tendon that can cause hammer toes is. By doing this, a shoe insole can help prevent the issue getting worse and can even help readdress the tendon imbalance.
If you're interested in getting some shoe insoles to help with hammer toes, head on over to Shoe Insoles and check out our full range of Insoles for Hammer Toes.
Helps maintain position of the soft tissues of the toes
Made from comfortable soft cotton and elastic
Washable and reusable
Includes four adjustable lesser toe straps and one larger big toe strap
| | | |
| --- | --- | --- |
| | | In stock now |
£18.90
---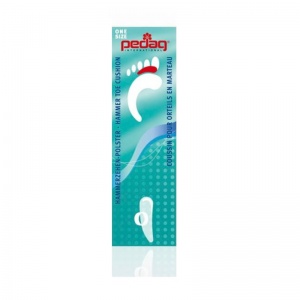 Soft cushion for the prevention of toe irritation
Essential wear for hammer toes and toe deformities
Flexible and tear resistant design alleviates pain when walking
Secure fitting wraps around the middle toe
| | | |
| --- | --- | --- |
| | | In stock now |
£4.99