Superfeet: Patented Protection
9 July 2015
At Shoe Insoles, we don't settle for just any old insoles because we know we aren't looking after just any old feet. Feet suffering from pains, aches, difficult conditions, or feet which are just naturally different deserve more attention than those flimsy insoles of old. They deserve the new, the technology and performance of now - they deserve Superfeet.
Super Brains for Super Feet
The fact that Superfeet are proud makers of the World's Most Popular Insole probably says more than we ever could about the quality and performance of the entire Superfeet range, but we're still going to try.
With the Superfeet story starting all the way back in 1962, professional, specialised knowledge has always been at the core of its brand. After the meeting of Dennis Brown and Dr. Bill Pozer at the California College of Podiatric Medicine, the two men joined in knowledge and vision to start creating custom orthotics. This would serve as a crucial period where Brown was educated in the dynamics of function, which are still the driving force of Superfeet today. Bringing previously unknown comfort to sports shoes and setting the standard for orthotic education and awareness are just two of the notable successes Brown can now count as part of a prolific career.
An international fanbase, constant game-changing improvements in their specialised foot technology and being ranked as one of the best places to work in the whole U.S.A — Superfeet is dedicated to every detail of their business, not just the bottom line.
Fashionably Great
As eye-catching as they are foot-comforting, foot care has never looked so stylish. Available in a range of vivid colours to suit the full spectrum of lifestyles, Superfeet insoles all offer the same indispensable features: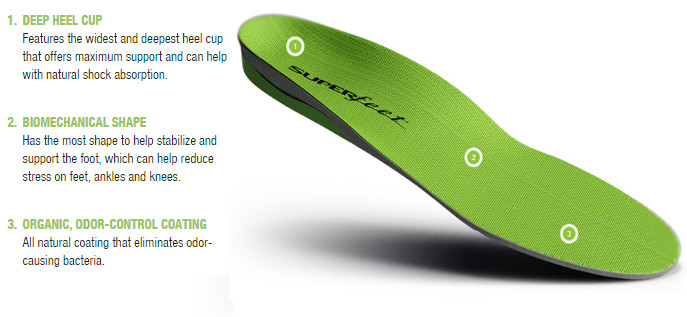 Patent Protected Foot Protection
Knowing movement adds upwards of 3x to 5x your body weight in impact forces, or that people on average take 8,000 – 13,000 steps per day provide just some of the basis of Superfeet's specially created and scientifically designed insoles.
With over 40 U.S and international patents, Superfeet insoles are head, shoulders and feet above the crowd when it comes to giving the best to you from heel to toe.
A Spectrum of Comfort
The rainbow selection of Superfeet insoles will never be the wrong choice for feet looking for some in-shoe TLC. From the athlete to the casual walker, for hard-core running shoes or your favourite high heels, Superfeet understands that while every foot might be different, the level of support and comfort they deserve is always the same.
Please visit the Shoe Insoles website for more Superfeet Insoles.