Superfeet Green vs Superfeet Orange Insoles
6 January 2023 | Eugene
Once you've realised that the insoles that came with your shoes aren't cutting it, and you could be enjoying a whole lot more comfort with a new pair of footbeds or inserts, you'd hope there isn't much more work to do. The reality is that deciding between the vast range of insoles can be difficult, so we've had our experts tackle a few of the most common insole questions around. Today we're here to settle the score between a few of the best insoles out there: Superfeet Green Insoles and Superfeet Orange Insoles.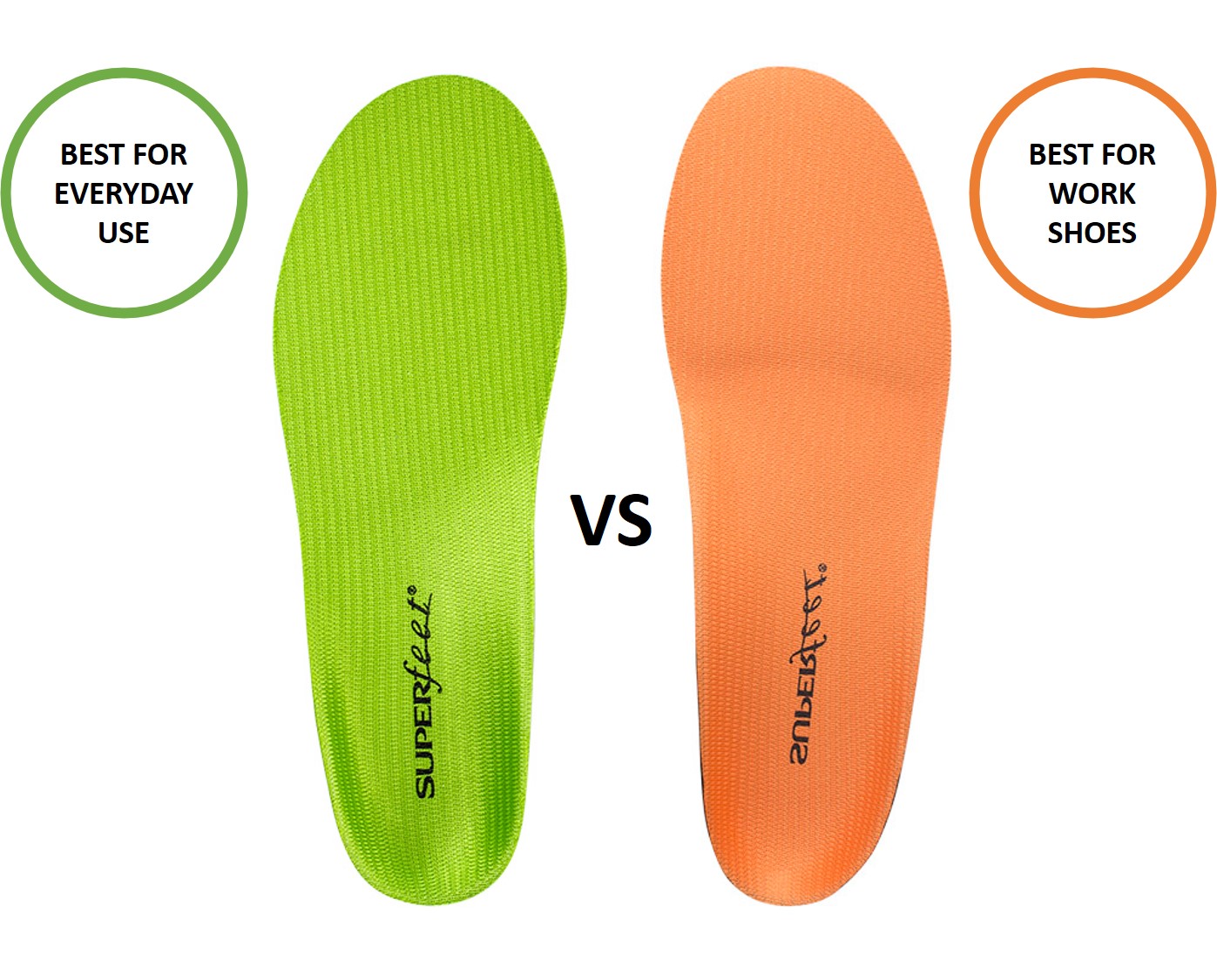 Superfeet Green and Superfeet Orange Insoles are similar in design, with slightly different benefits for different users
Superfeet Green vs Superfeet Orange
Superfeet insoles are one of the most trusted brands around when it comes to boosting the comfort of your shoes, so we're used to our customers narrowing it down to these two choices. Whether recommended by your podiatrist or a friend, both of these are excellent choices, but which is best really depends on how you'll be using them.
To make it as simple as possible: Superfeet Green are designed to be a versatile pair of everyday insoles that are great for work and casual shoes. Superfeet Orange Insoles are designed specifically to address the traits of male feet and footwear, and are better for high-impact activities and sporting use. We'll break it down a little more below, where we'll also mention a similar pair of insoles designed for the female foot: the Superfeet Berry Insoles.
| | | |
| --- | --- | --- |
| | Superfeet Green | Superfeet Orange |
| For everyday wear | ✔ | ✗ |
| For sports shoes | ✗ | ✔ |
| Unisex design | ✔ | ✗ |
| Odour controlling | ✔ | ✔ |
| Shock absorption | ✔ | ✔ |
| Stabilising heel cup | ✔ | ✔ |
| Wide version available | ✔ | ✗ |
Superfeet Green Insoles: The Ideal Everyday Shoe Insole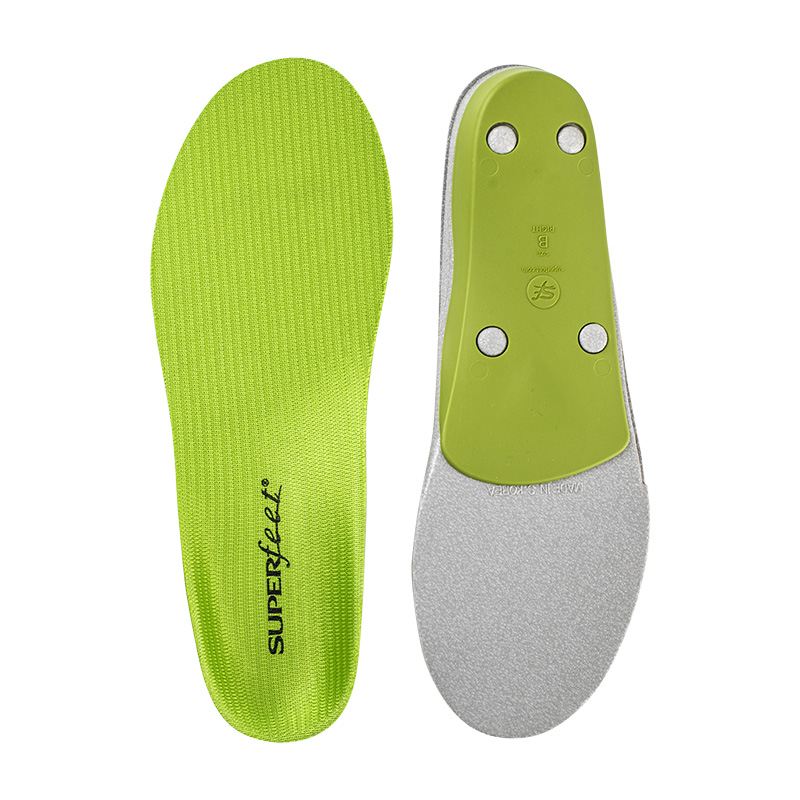 Superfeet Green Performance Insoles are one of the world's most popular shoe insoles – and for good reason. These insoles are made with cushioning materials while remaining slim, allowing them to boost the comfort of just about any shoes. Helping to provide a proper gait to align the body while walking, these insoles feature a patented heel cup for stability and shock absorption, making them perfect for everyday use at work, while running errands or anything else.
Made with an odour-control coating and available in a wide version for those of us with wider feet, these supportive insoles are a great all-round option. Here's a quick breakdown of their main benefits:
Benefits of the Superfeet Green Insoles
Designed as an all-round option for almost all footwear
Help to cushion the heel and align the body while walking
Odour-control coating helps keep your shoes fresh
Deep heel cup for stability and control
Available in a wide version to accommodate wider feet
Recommended for arch strain, flat feet, heel pain, back pain and much more
Superfeet Orange Insoles: Extra Shock Absorption for Men's Feet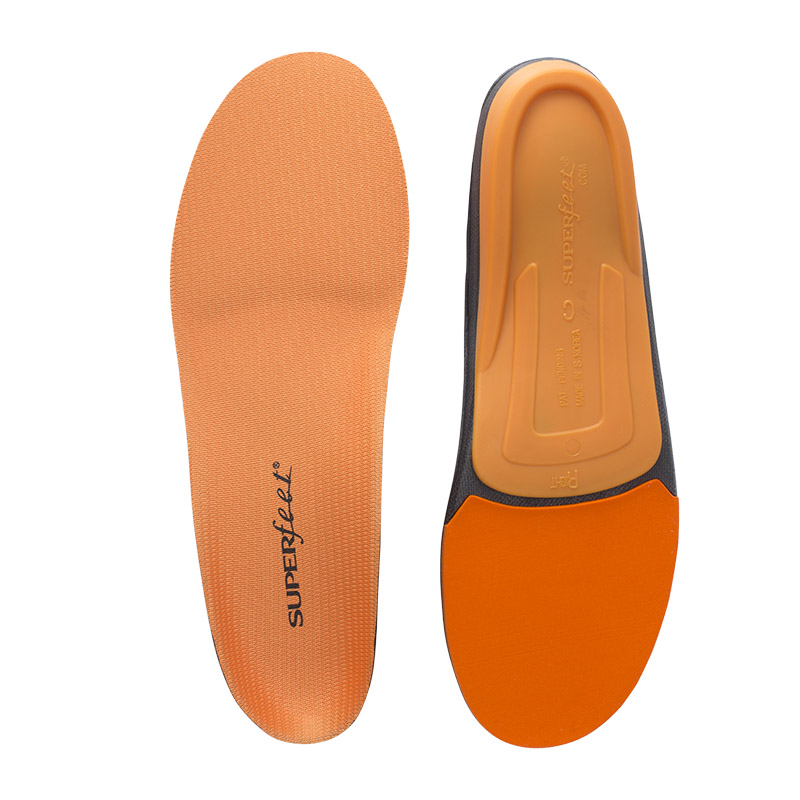 Every foot is different, so it makes sense that Superfeet have designed an insole specifically for male feet, and the unique challenges that male-specific footwear can pose. Superfeet Orange Insoles for Men are designed to provide maximum comfort, featuring an added forefoot shock pad to provide great shock absorption. The extra cushioning these insoles provide make them ideal for high-impact activities, and those that are particularly hard on their feet.
Made with the same general shape and design as the Superfeet Green, these insoles include a few added benefits that make them particularly useful for men's feet. With antimicrobial benefits to keep feet and shoes clean and bacteria-free, these insoles are a perfect choice for workboots as well as athletic footwear.
Benefits of the Superfeet Orange Insoles
Designed specifically to support the male foot
Ideal for use in men's work boots and athletic footwear
Provide extra shock absorption for high-impact activities
Perfect choice for those who are harder on their feet
Help to prevent knee, ankle and back pain while running
The same antimicrobial coating helps prevent odour and bacteria
Superfeet Berry Insoles: Comfort and Support for Women's Feet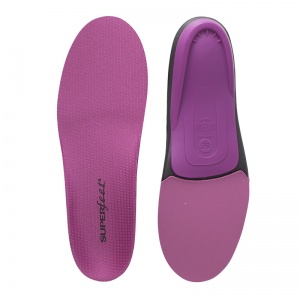 Since we've gone over a male-specific insole, we thought it only fair to include a similar option designed for women. The Superfeet Berry Insoles are an excellent alternative to Superfeet Green Insoles, and are made to provide contoured comfort and support for female feet and female footwear. Ideal for women who spend long hours of the day on their feet, Superfeet Berry provide shock absorption targeted to the heel to suit women's shoes. Including a similar forefoot crashpad to the one in the Superfeet Orange Insoles, these insoles are designed to do for women what the Orange Insoles do for men.
Benefits of the Superfeet Berry Insoles
Designed specifically to support the female foot
Provide stability and comfort for women's footwear
Heel cup provides targeted shock absorption for added comfort
Ideal choice for women who spend long hours on their feet
Antimicrobial coating keeps shoes fresh for longer
Superfeet Insoles for Comfort in Any Shoe
Whether you choose the green, orange or berry insoles, if you've narrowed your choice down to Superfeet, you can't go wrong. Each of these insoles can go a long way to improving the comfort of your shoes, reducing pain and improving your gait, and by matching the right insole colour to your needs, you'll be able to enjoy the best footbeds possible for you.
If you'd like to take a look at all of the insole options that Superfeet have to offer, take a look at our entire range in the Superfeet Brand Section!
Do you have a question, or something to add? Why not let us know in the comments, or find us on Twitter and Facebook!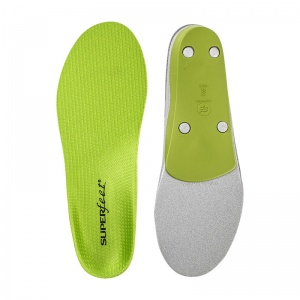 The world's most popular insoles with a deep heel cup
Crafted from shock absorbent foam for complete comfort
Can be used in sports shoes, boots, flat shoes and more
Superfeet 60 day money back guarantee
| | | |
| --- | --- | --- |
| | | In stock now |
£29.95
---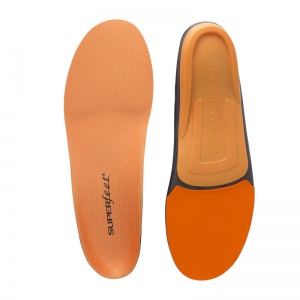 Contoured comfort and support exclusively for male feet and footwear
Patented heel cup provides shock absorption, ideal for high-impact sports
Helps align the body, combating back pain and knee aches
| | | |
| --- | --- | --- |
| | | In stock now |
£31.99
---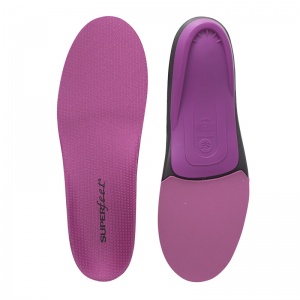 Contoured comfort and support exclusively for female feet and footwear
Patented heel cup provides comfort and absorption during impact activities
Helps align the body, combating back pain and knee aches
agION technology keeps insoles continuously clean and fresh
| | | |
| --- | --- | --- |
| | | In stock now |
£35.30