Superfeet Blue vs Superfeet Green Insoles
Saturday, 20 November 2021 | Eugene
Superfeet provide some of the world's most popular shoe insoles and it is a difficult choice knowing which insoles of Superfeet's range are the best insoles for you. This guide has been written by our experts to help make one of the hardest choices easy: Superfeet Green or Superfeet Blue?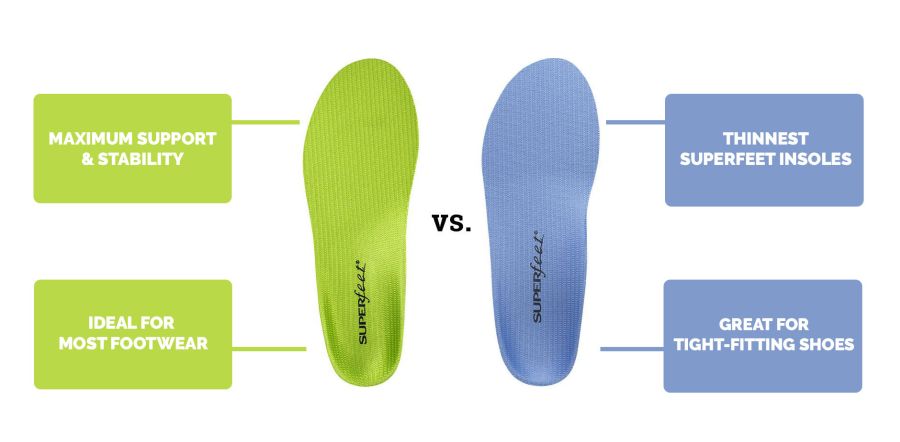 Superfeet Green and Blue Insoles are similar in design, but each is made with slightly different users in mind
Head to Head: The Facts
| | | |
| --- | --- | --- |
| | Superfeet Green | Superfeet Blue |
| For everyday wear | ✔ | ✔ |
| For sports shoes | ✗ | ✔ |
| For tight footwear | ✗ | ✔ |
| Odour controlling | ✔ | ✔ |
| Shock absorption | ✔ | ✔ |
| Stabilising heel cup | ✔ | ✔ |
| Wide version available | ✔ | ✗ |
Key Points
Superfeet Green
Superfeet Blue

Heel cup technology provides total heel support
Crafted from shock absorbing foam for comfort
Thin and flexible for fitting most shoes
Stabilise the foot to reduce stress
Perfect for all day use indoors and outdoors

Superfeet's most versatile and easy-to-fit insoles
High performing for use on the move
Heel cup can absorb most kinds of impact
Thin design for fitting into sports shoes
Prevent foot, ankle and knee pain
Where Can I Use These Insoles?
Superfeet Green
Superfeet Blue

Can fit into most shoes
For walking and every day use
Suitable for workers who spend all day on their feet

Can fit into most shoes
Can fit into cleated, thin sports shoes
Ideal for running and other forms of exercise
What Can These Insoles Prevent?
Superfeet Green
Superfeet Blue

Misalignment: Aligns the body while walking
Stability: Heel cup provides stability and control
Conditions: For arch strain, flat feet, heel pain, back pain and more

Shock Injuries: Prevent injuries during sports by absorbing shock
Running Injuries: Knee, ankle and back pain
Stability: Heel cup provides stability and control
Superfeet Green vs Superfeet Blue: In Detail
Superfeet Green Insoles: The Ideal Everyday Shoe Insole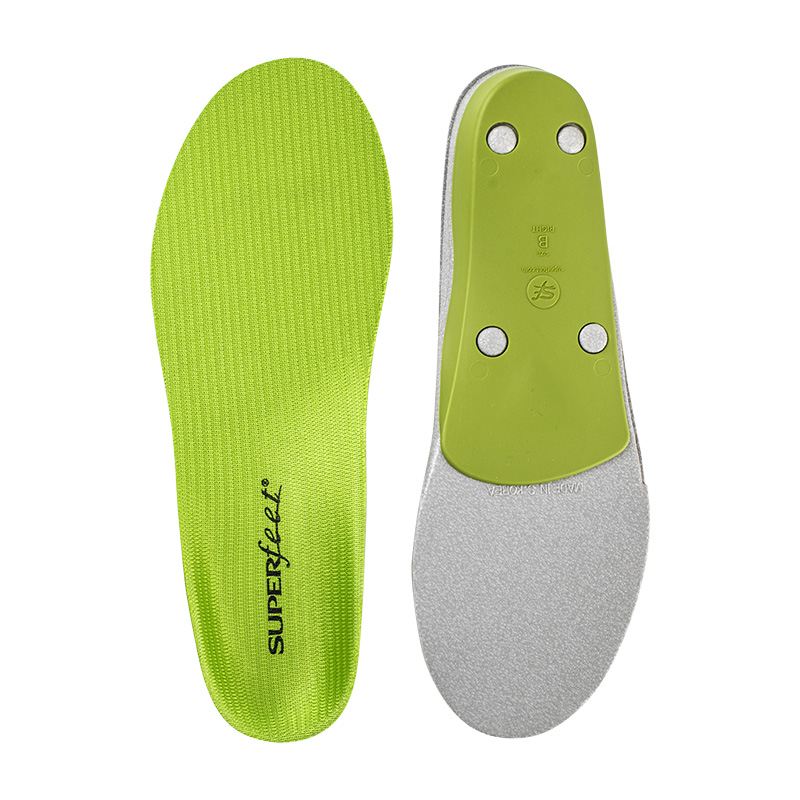 Superfeet Green Performance Insoles are one of the world's most popular shoe insoles – and for good reason. These insoles are made with cushioning materials while remaining slim, allowing them to boost the comfort of just about any shoes. Helping to provide a proper gait to align the body while walking, these insoles feature a patented heel cup for stability and shock absorption, making them perfect for everyday use at work, while running errands or anything else.
Made with an odour-control coating and available in a wide version for those of us with wider feet, these supportive insoles are a great all-round option. Here's a quick breakdown of their main benefits:
Benefits of the Superfeet Green Insoles
Designed as an all-round option for almost all footwear
Help to cushion the heel and align the body while walking
Odour-control coating helps keep your shoes fresh
Deep heel cup for stability and control
Available in a wide version to accommodate wider feet
Recommended for arch strain, flat feet, heel pain, back pain and much more
Superfeet Blue Insoles: The Ideal Sports and Running Insole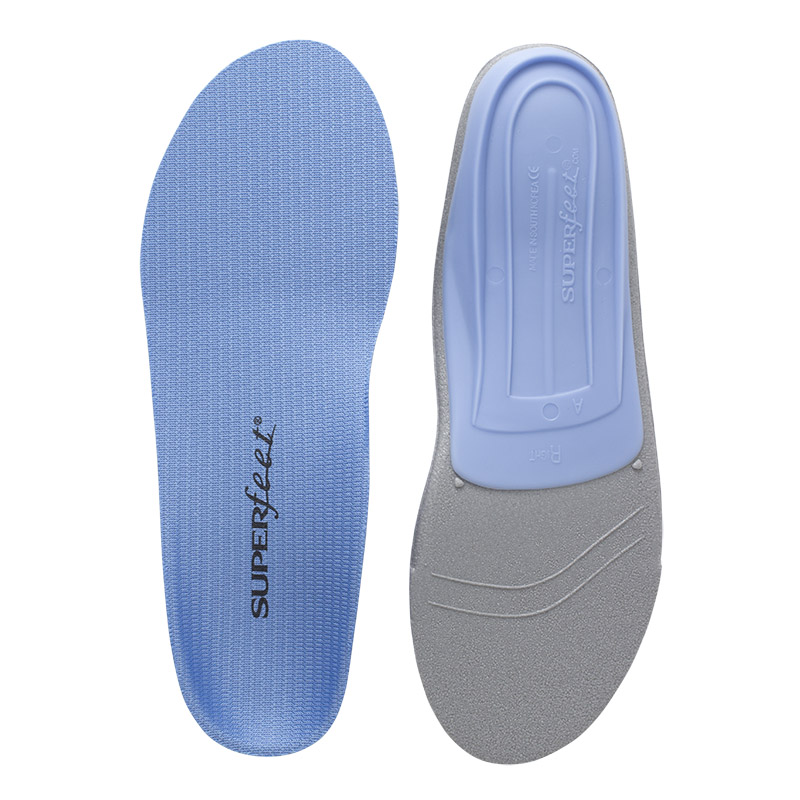 While everyday tasks like working and doing chores put plenty of extended strain on our feet, sports and exercise present a more immediate and high-impact risk. Superfeet Blue Active Insoles are designed to provide similar benefits to the Superfeet Green, but in a version more suited to intense physical activity.
These insoles will help to cushion the impact that running and jumping can have on your feet, making exercise easier on your ankles, knees and back. These insoles feature a similar heel cup to stabilise the foot and cushion the heel, and are made with a slightly thinner and more flexible design that's ideal for fitting into running shoes, football boots and other sporting footwear. Here are some of the key benefits:
Benefits of the Superfeet Blue Insoles
Designed for running, sports and physical activity
Slim and flexible design to fit athletic footwear
Help to absorb the harsh impacts that exercise presents
Ideal for preventing knee, ankle and back pain while running
The same antimicrobial coating helps prevent odour and bacteria
Ideal option for athletes from casual to serious
Enjoy All the Comfort, Whatever the Colour
We can't stress enough that if you've already narrowed down your search to these two pairs of insoles, most of your work is already done. Both of these insoles are some of our favourites for comfort, cushioning and support, and they've both received some great feedback from our customers. We think the Superfeet Blue Insoles edge the Greens in terms of sports performance with their slim profile, while the Superfeet Green Insoles can't be beaten as everyday work or leisure insoles. Whatever your choice, you can't go wrong with either of these insoles!
If you'd like to take a look at all of the insoles options that Superfeet have to offer, take a look at our entire range in the Superfeet Brand Section!
Do you have a question, or something to add? Why not let us know in the comments, or find us on Twitter and Facebook!
Shop Related Products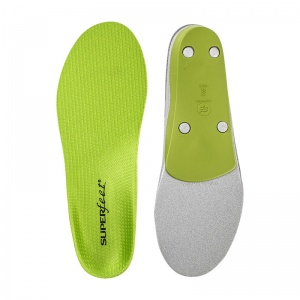 Heel cup technology contours to the foot for total support
Crafted from shock absorbing foam for complete comfort
Ideal for use within any sports shoe
Superfeet 60 day money back guarantee
| | | |
| --- | --- | --- |
| | | In stock now |
£26.92
---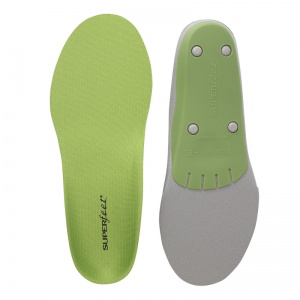 The world's most popular shoe insole, now with wider fit
Heel cup technology contours to the foot for total support
Crafted from Shock absorbing foam for complete comfort
Ideal for any wide-fitting shoe
| | | |
| --- | --- | --- |
| | | In stock now |
£26.95
---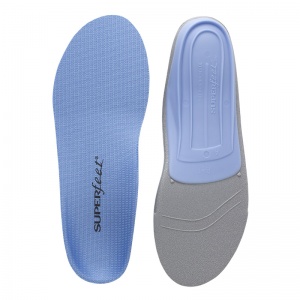 Superfeet's most versatile and easy-to-fit insole
Thin, high-performing and flexible, can fit almost any shoe
agION antimicrobial finish keeps insoles clean and fresh
Available in both adult and junior sizes
| | | |
| --- | --- | --- |
| | | In stock now |
£26.56