Managing Mortonís Neuroma
Tuesday, 10 September 2019 | Eugene
Often causing a burning pain in the ball of your foot, Morton's neuroma is a condition that occurs when a nerve in your foot expands, leading it to rub against a ligament in between your metatarsal bones. Most often, this pain is located between your middle toes.
If you are concerned you have Morton's neuroma, you should visit a GP to examine your foot. In addition to this, there are things you can do at home that can help with the symptoms of the condition. In this article, we'll go over some of the easiest solutions.
Change Your Shoes
Wearing ill-fitting shoes can be a big contributor towards the development of Morton's neuroma, so one of the first things you should do is find a pair of shoes that fits better. If you frequently wear high-heeled shoes, stop. High heels put extra pressure on your metatarsal bones, and are thought to be the biggest reason why Morton's Neuroma is more common in women than men.

What Kind of Shoes Should I Wear?
When choosing your new footwear, you should look for shoes with plenty of room for your toes as well as a flat heel. This extra room and reduced pressure on the front of the foot can help decrease the strain on the swollen nerve, reduce pain, and could even help to solve your Morton's neuroma completely.
Massage and Ice
For some people, massaging the affected area can help reduce the pain by spreading the pressure on the swollen nerve. If the pain has recently begun after time on your feet, icing the area can also help reduce the pain. As with most injuries, the acronym RICE should be followed, and should be your first port of call:
Rest
Ice
Compression
Elevation
These simple steps should be followed as a key part of your first aid routine, and if employed once the pain of Morton's Neuroma starts to flare up for the first time, can help manage your pain and stop the condition from worsening.
Shoe Insoles for Cushioning and Relief
A good shoe insole can help greatly with Morton's neuroma in more ways than one:
Arch Support: By supporting the arch of the foot, the right shoe insoles can relieve the pressure on your swollen nerve, thereby reducing pain and giving your tendons a break.
Reducing Strain: A pair of insoles with a supportive cushioning material can take much of the strain off your feet that's regularly caused by walking.
Absorbing Shocks: Shoe insoles can absorb the shock that your feet have to deal with during their day-to-day activities. These subtle knocks and bashes can aggravate Morton's Neuroma, and by minimising them you can help keep the condition under control.
Which Insoles Should I Choose?
There are plenty of insole options that can help with your Morton's neuroma, but each will provide relief in slightly differing ways. To make things a little easier, we'll suggest some of our top top picks for Morton's neuroma.
Best All Round Morton's Neuroma Insoles (Support and Cushioning)
Best Morton's Neuroma Insoles for Arch Support
Strong pair of insoles featuring medical-grade support
Deep heel cradle supports collapsed or weak arches
Double layer and low profile casing ensures long lasting support
Friction reducing top fabric enhances comfort
| | | |
| --- | --- | --- |
| | | In stock now |
£23.99
Best Morton's Neuroma Insoles for Forefoot Cushioning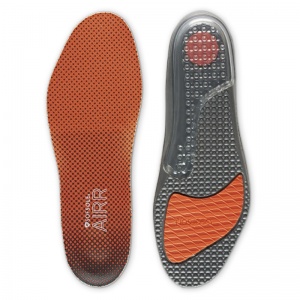 Pair of shoe insoles with gel forefoot
Designed to reduce impact and improve comfort
Shock absorption provided by a polymer gel layer
Keeps feet fresh with COOLMAX moisture-wicking layer
| | | |
| --- | --- | --- |
| | | In stock now |
£18.99
Find the Right Solution for You
If you are interested in getting an insole to help with Morton's neuroma, feel free to browse our entire range of Insoles for Morton's Neuroma. Remember, if you find your Morton's neuroma gets worse despite your best efforts, visit a GP for help and information.
If you have any questions about Morton's neuroma, or want to point out something we've missed, let us know in the comments below, or find us on Twitter and Facebook.