Best Toe Separators, Bunion Correctors and Toe Guards 2023
30 January 2023 | Tania
Bunions, overlapping toes, hammer toes and claw toes are all foot problems that can cause pain, inhibit everyday tasks, and limit the choice of shoes you can comfortably wear. Fortunately, there are a number of different products that can alleviate pain caused by these foot conditions, and space out your toes to enable you to be more active. Read on to find out more.
What's Covered in This Guide?
What Are Bunions?
Bunions are bony lumps that form on the sides of the big toes (called hallux valgus) or the little toes (called a bunionette or tailor's bunion). Bunions typically cause pain on the side or bottom of the foot, and this is usually worse when you wear shoes – especially high heels, tight shoes and shoes with pointed toes. Over time, pressure placed on bunions by shoes can force the toes to bend inwards, causing friction, blisters and calluses. Below are the top recommendations from our insole experts:
Best Bunion Relief Socks
Editor's Verdict: Traditional bunion guards can provide lots of protection, but they tend to be rigid and uncomfortable. By incorporating bunion protection into the socks themselves, the cleverly-designed OrthoSleeve BR4 Bunion Relief Sleeve Socks help to eliminate the pain associated with bunions without requiring any additional guards, separators or toe crests.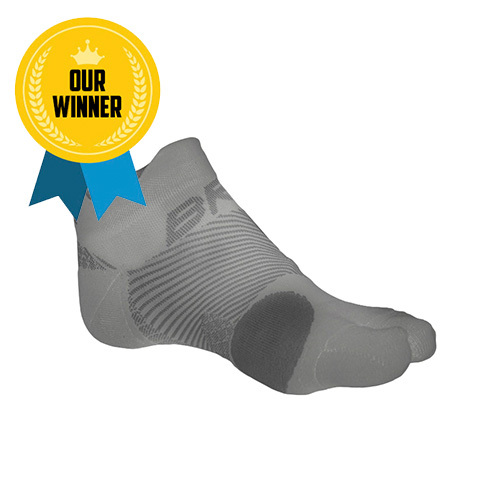 Why We Love Them...
✔ Effective pain relief therapy for symptoms associated with bunions
✔ Split-toe design gets rid of any friction or rubbing
✔ Cushioned, padded fabric wicks away moisture while protecting toes
✔ Easy to wear without the need to use underlying guards or separators
Not the Best For...
✘ Severe bunion issues requiring extra support under the toe
Customer Verdict: "Have been wearing these relief socks since I got them, eased the pain and are helping with walking. Definitely recommend will be buying more." ★★★★★ Beverley
Best Bunion Guard for Severe Hallux Bunions
Editor's Verdict: For more severe hallux valgus bunions, you'll most likely need targeted support and protection on the inner side of your big toe. The Silipos All Gel Hallux Bunion Cushion guard provides exactly that, and is made with medical-grade and dermatologically-tested materials to cushion the area and avoid irritation.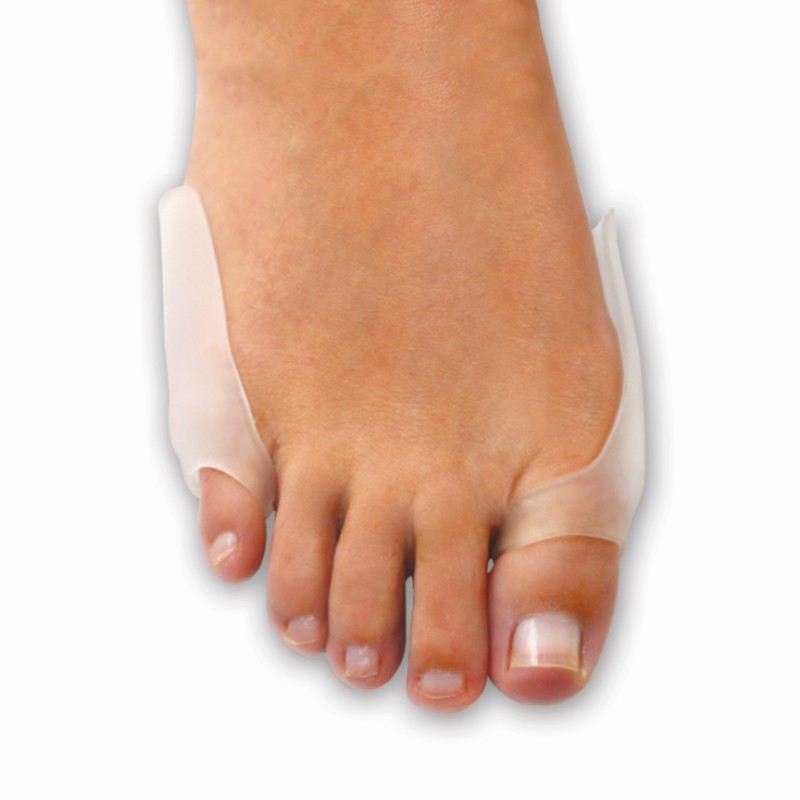 Why We Love Them...
✔ Soft gel sleeve cushions, protects, and reduces pressure on bunions
✔ Made from medical-grade viscoelastic compound to avoid irritation
✔ Can be trimmed to provide the ideal amount of coverage for each user
✔ Protects the area from pressure and friction to avoid 'hot spots'
Not the Best For...
✘ Those suffering from tailor's bunions or bunionettes (See our solution)
Customer Verdict: "Silipos All Gel Bunion Cushion...Comfortable to wear, no chance of it coming off, eases pressure on bunion." ★★★★ Rosemary
Best Toe Separators for Bunions
Editor's Verdict: While most bunion sleeves and guards will focus on pain relief for a single area of the foot, the Pro11 Big and Little Toe Straighteners for Bunions are separators suitable for both hallux and tailor's bunions. Instead of only focusing on pain relief, these separators will help to keep the toes straight to prevent any further deformity from occurring while additional treatment is sought.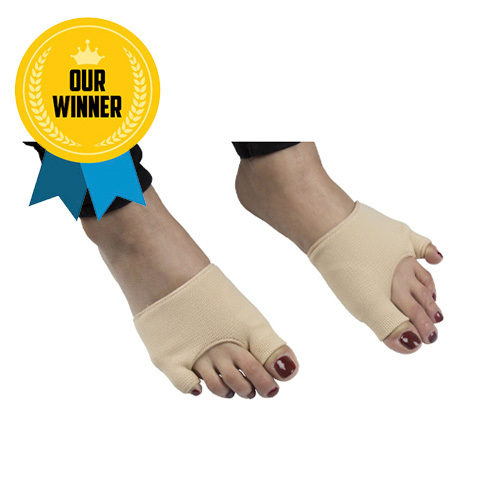 Why We Love Them...
✔ Helps to straighten out bent toes to prevent any further deformity
✔ Provides pain relief from bunion pain by cushioning joints
✔ Gel pads cushion the outsides of both the big and little toes
✔ Thin, lightweight and breathable fabric is comfortable in most shoes
Not the Best For...
✘ Those suffering from minor bunions on only one area of the foot
Runner Up: Pro11 Bunion Toe Corrector and Spreader (Pair)
What Are Overlapping Toes, Claw Toes and Hammer Toes?
Overlapping toes are common and self-explanatory, but what are claw and hammer toes? Simply put, a hammer toe is a deformity where the first joint of the toe bends upwards and the middle joint bends downwards, while a claw toe refers to a deformity where the first joint cocks upwards and the middle and end joints of the toe curl downwards.
Best Toe Spreader for Claw Toes
Editor's Verdict: Claw toes aren't only painful, they can negatively affect your balance, walking stride and even posture. By spreading out the toes, the Pro11 Yoga Toes Spreader and Corrector provides a more natural contact with the ground, and can even help to correct certain foot deformities.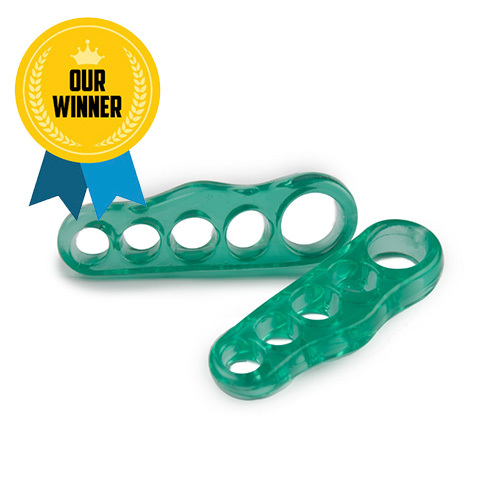 Why We Love Them...
✔ Spreads out the toes with soft gel to alleviate symptoms of claw toes
✔ Helps to reduce pain and fatigue in toe while walking or running
✔ Can be safely worn at any time – whether during exercise or while relaxing
✔ Available in green, red, and blue
Not the Best For...
✘ Hammer toes only affecting only one or two toes

Customer Verdict: "Very pleased with these and I think they are helping, although I realise correct toes is probably a lengthy process. Recommended." ★★★★★ Christine
Runner Up: Pro11 Double-Looped Gel Toe Spreaders
Best Toe Crest for Hammer Toes
Editor's Verdict: The Pro11 Triple Loop Toe Crest is designed specifically to relieve the pain in the ball of the foot and blisters caused by hammer toes. Using soft silicone to reduce pressure without adding any extra friction, this product has actually been found to help straighten out hammer toes over time. Keep in mind that it's supplied as a single crest for one foot.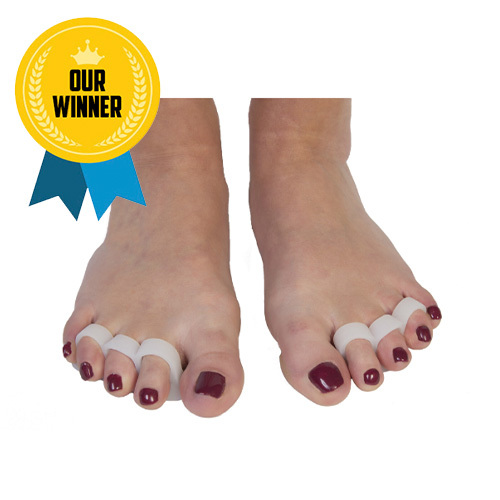 Why We Love Them...
✔ Straightens hammer toes to both relieve pain and help to improve balance
✔ Alleviates pressure on second, third and fourth toe
✔ Made with a soft silicone material that's easy on the skin
✔ Washable and re-usable for better value
Not the Best For...
✘ Claw toes affecting all of your toes
Customer Verdict: "Doing the job nicely. Delivery and service excellent. Thanks..." ★★★★★ Arthur
Runner Up: Pro11 Gel Hammer Toe Support Crests
Best Toe Separators for Blisters
Editor's Verdict: While the other items we've listed are a better choice for conditions affecting multiple toes, the Pro11 Stay-Put Toe Separators are ideal for when one toe in particular is giving you a blister problem.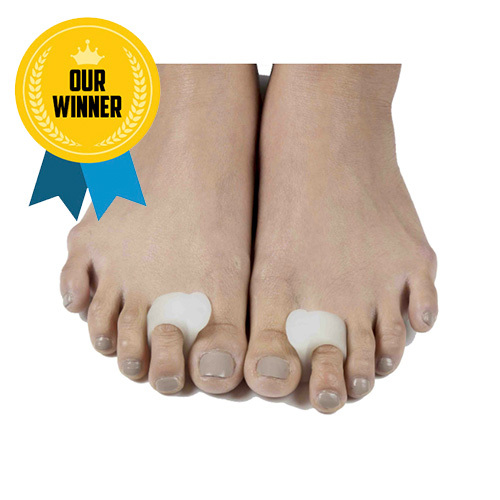 Why We Love Them...
✔ Reduces friction and irritation between selected toes
✔ Spaces out any single toe for a blister-prevention solution
✔ Separates overlapping toes and promotes proper joint alignment
✔ Soft silicone helps reduce pressure, irritation and blisters
Not the Best For...
✘ Blisters that affect multiple gaps between toes
Customer Verdict: "Really easy to put on and they've made a huge difference to my crossed toes. You don't feel them and I no longer get pain from one toenail rubbing against the next one." ★★★★★ Joyce
Runner Up: Silipos Full Gel Toe Caps
Found What You're Looking For?
These are the top recommendations from our insole experts, but at ShoeInsoles.co.uk, we stock a huge range of solutions for all sorts of foot problems. If you'd like to see all of the options we have available, feel free to browse our:
Do you have a question, or something to add? Why not let us know in the comments, or find us on Twitter and Facebook!
Shop Related Products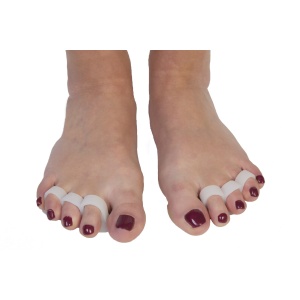 Toe crest for the second, third and fourth toes
Reduces pressure caused by hammer toes
Straightens hammer toes to relieve pain
Washable for better hygiene
| | | |
| --- | --- | --- |
| | | In stock now |
£4.99
---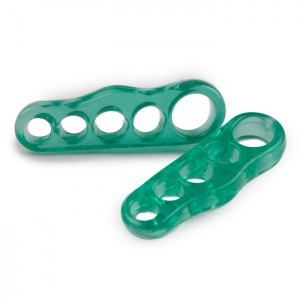 Device to spread out the toes
Relieves foot pain and fatigue
Corrects various foot deformities
Available in red, green or blue
| | | |
| --- | --- | --- |
| | | In stock now |
£5.99
---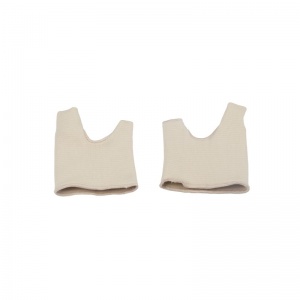 Lightweight and breathable bunion sleeves
Gently straightens toes to prevent further deformity
Guard the big and little toes to prevent rubbing
Soft material cushions both toes to relieve pain
| | | |
| --- | --- | --- |
| | | In stock now |
£7.99