Best Insoles for Winter
Thursday, 27 October 2016 | Admin
As the seasons change, so does our attire. Why shouldn't this general rule apply equally to our shoe insoles? Indeed, insoles that provide fantastic support and protection during the summer months can become little more than an annoyance if they are forced into protecting us against the weather instead.
This is where our Insoles for Winter come in. Specially developed with extra-thick materials, thermal lining or active heating elements, these insoles are the ultimate tool for achieving that most simple yet satisfying of pleasures: toasty warm feet. What's more, many of these insoles are suitable for use with winter sportswear such as ski or snowboard boots. If that's got you excited, continue reading for our Top 5 Guide to the Best Insoles for Winter.
Superfeet Merino Grey Performance Insoles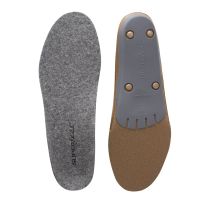 The most popular shoe insole in the world - improved. The Superfeet Merino Grey Performance Insoles feature all the comfort and protection of the bestselling Superfeet Green, now with an added upper layer of soft merino wool. The Superfeet Greys can fit into any daily or sports shoe. They are suitable for all-season use, providing shock protection and biomechanical correction.
The Superfeet Greys' upper layer of Merino wool provides great thermal insulation, making them suitable for all seasons - including the height of winter. This luxury material is supremely effective at regulating temperature, warming the feet without overheating them, and is also one of the softest wools available on the market. In addition, Merino wool naturally wicks away moisture, helping to avoid the sensation of wet feet, and, unlike cotton, also retains its warmth when wet.
Pedag Viva Winter Insoles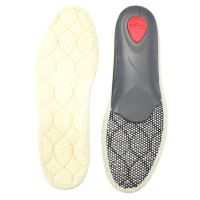 Like the Superfeet Grey, the Pedag Viva Winter Insoles feature a woollen upper layer – as is often the case, completely natural materials can be relied on to provide great comfort and warmth. In addition to this, however, the Pedag Viva Winter Insoles also feature an underside made of special aluminium foil which works to shield the feet from the cold ground.
The intermediate layer is composed of a special high-tech foam with thousands of closed air cells that insulates the foot and retains warmth inside the shoe. This three-layer thermal insole is highly efficient, keeping your feet warm whilst correcting and protecting against several common foot conditions.
ThermicSole Classic Heated Insoles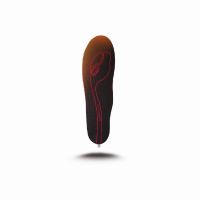 In some situations, passive thermal insulation is not sufficient on its own to keep your feet warm. For skiing, mountaineering, and other intense winter activities, shoe insoles with active heating elements will often be called for. One such product is the ThermicSole Classic Heated Insoles, our best selling heated insole.
Due to their flat design, the ThermicSole Classics can fit to any ski boot without affecting the overall fit. The heating elements and high quality insole material ensure that the whole of the foot is warmed whilst avoiding overheating. All heated insoles require charging via battery packs (also available from ShoeInsoles.co.uk) before they can be used. They can provide up to 22 hours of continuous use once charged.
Superfeet Red Hot Insoles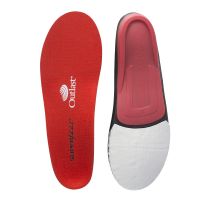 The Superfeet Red Hot Insoles may sound like they are designed to deal with the desert heat, but it's the freezing temperatures of midwinter for which they are truly equipped. Again building on the basic strengths of the Superfeet Green Insole, the Red Hot additionally feature responsive temperature control technology, which absorbs, stores and releases warmth to all areas of the foot.
The wider forefoot region is specifically designed to accommodate cold weather and winter sports footwear for an intimate fit. They are ideal for snowboard, ski and mountaineering footwear. Please note that the Superfeet Red are designed specifically for men. For a version tailored to feminine feet, see the Superfeet Hot Pink Insoles.
Woly Exquisit Lambswool Insoles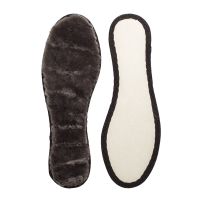 The Woly Exquisit Lambswool Insoles rely on natural materials to provide warmth and comfort to your feet. The fluffy top coat is made from genuine lambswool and provides fantastic levels of warmth and comfort with a super-soft touch. Thin and flexible, this insole also features an anti-slip bottom coat which keeps it firmly in place inside your shoe.
The Woly Exquisit insoles are ideal for use with winter shoes or boots or as a replacement for an original fluffy lining which has worn away over time. They offer truly "Exquisit" levels of comfort and represent fantastic value for a genuine wool insole.
Winter Warmers
Keeping your feet warm with winter insoles is not only a great pleasure, it can also make taking part in winter sports like skiing far easier whilst protecting you from common foot conditions.
Though the insoles featured above are our top picks, they represent merely a sneak peek of the entire range of winter insoles, socks and accessories we have available for purchase. To find the perfect insole for you, view the full range of Insoles for Winter at ShoeInsoles.co.uk.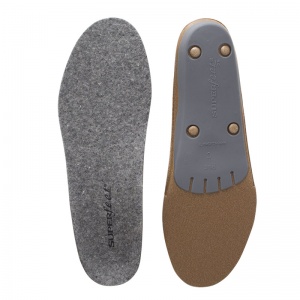 The world's most popular shoe insole, improved
Extra layer of soft Marino wool for all-season comfort
Crafted from Shock absorbing foam for complete support
Ideal for any sports shoe
Superfeet 60 day money back guarantee
£32.49
---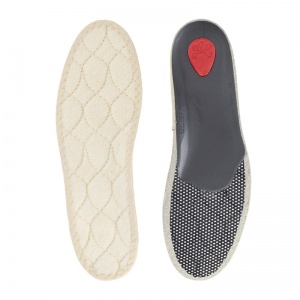 Foot support with 3 layer thermal shield
Relieves forefoot, arches and heels
Aluminium underside to aid in heat retention
Super soft pure wool for comfort and warmth
£12.99
---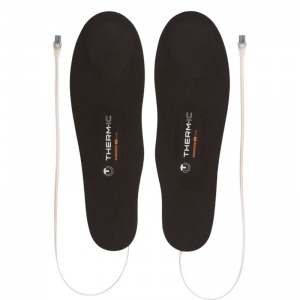 Thin heated insoles for discreet heating
Keep your feet at ideal temperatures
Easily fits into most shoes, including snow and ski boots
Universal size – trimmable for perfect fit
£27.99
---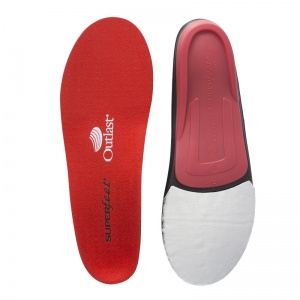 Thermal insoles ideal for ski and cold weather sports
Anti-blister fabric and anti-bacterial top coat
Heel cup and contoured shape fully support your foot during high-impact activities
Wide forefoot ideal for cold weather shoes
Superfeet 60 day money back guarantee
£32.99
---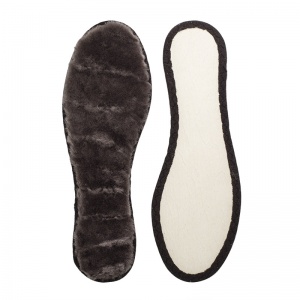 Fluffy lamb's wool insole
Indulgent in-shoe comfort
Perfect for winter wear
Anti-slip bottom coat
Available in dual sizes 3 - 12
Sold in convenient pairs
£7.49