Best Insoles for Shin Splints
Tuesday, 16 January 2018 | Eugene
Mustering up the motivation to exercise can be difficult at the best of times, so the last thing you need is debilitating pain to make the process even harder. One of the most common causes of pain upon starting a new workout routine is shin splints: a condition that tends to affect those who are beginning a new type of exercise, or stepping up the intensity of their current workout cycle. Luckily, with the right preparation and footwear, shin splints can be avoided, and at ShoeInsoles.co.uk, we're uniquely placed to lend a hand.
What Are Shin Splints?
Simply put, shin splints it the term used to describe a deep pain in the shins or front of the legs that occurs during or as a result of exercise. They are most common in those who are beginning a new workout, such as running, walking or another activity that can place constant stress on the legs. They are also commonly caused by the use of footwear that doesn't properly cushion the impact of the ground on the legs, so shock-absorbing insoles provide the best and easiest method of reducing the pain and helping you get on with your exercise.
At ShoeInsoles.co.uk, we know our insoles, and have hand picked some of our favourites for shock-absorption and running. Read on the learn about the Best Insoles for Shin Splints, and hopefully you'll come across the perfect option for you.
Sorbothane Shock Stopper Full Strike Insoles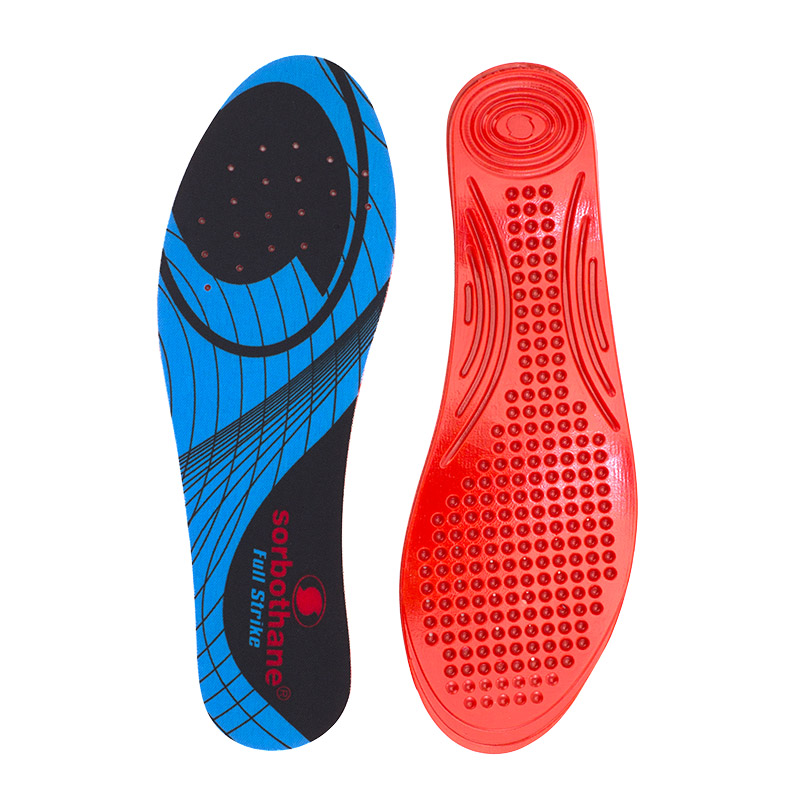 To start off our list, we've chosen a tough pair of insoles made to protect your feet and legs from anything your workout will throw at them. The Sorbothane Shock Stopper Full Strike Insoles are ideal for any activity that will subject your entire foot to repetitive impact, such as running or tennis.
Made entirely of Sorbothane's viscoelastic material, these insoles will cushion the blow of the hard ground on your feet, sparing your knees and preventing the effects of shin splints from ruining your stride. As an added bonus, these insoles are anti-bacterial with an anti-odour top sheet, preventing your shoes from smelling or becoming damaged from sweat.
Superfeet Blue Active Insoles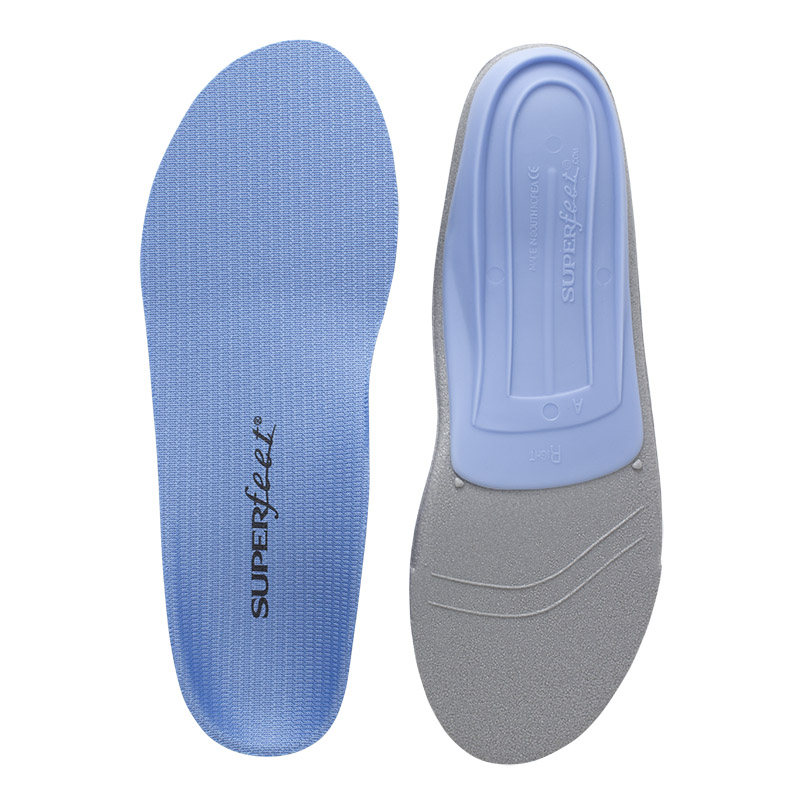 Our list continues with one of our most advanced pairs of insoles for shin splint prevention: the Superfeet Blue Active Insoles. Working to align the body and maximise shoe comfort, they are ideal for anyone suffering from, or seeking to avoid, common conditions like shin splints that can exacerbate knee and joint pain.
The secret behind the remarkable pain relieving properties of these insoles is the multi-faceted approach they take toward boosting your comfort. Firstly, to reduce the impact associated with walking and running, a patented heel cup is placed at the rear for full shock protection. Next, the Superfeet Blue Active Insoles use an advanced biomechanical shape to fully support the entirety of your foot. This means that you'll feel less pain, have greater control, and enjoy your exercise a whole lot more.
Pedag Viva Sport Insoles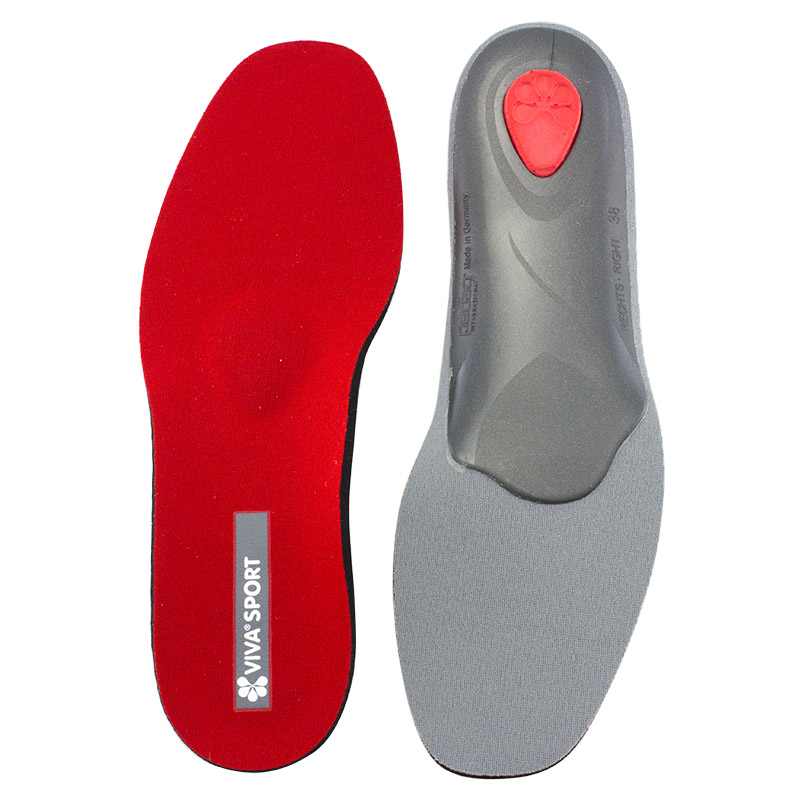 Sports shoes often have different shapes and designs than standard casual footwear, so you may need an insole specifically designed for that style. The Pedag Viva Sport Insoles will do the trick, as they are made to offer excellent support and shock absorption in even the slimmest of athletic footwear.
These insoles are made with thousands of micro-air chambers, each contributing to comfort and cushioning with every step. They provide high levels of arch support, reducing the risk of fatigue, and making shin splint development much less likely. With additional metatarsal support, these insoles will guard your feet against a number of fatigue-related conditions.
Pedag Viva Mini Insoles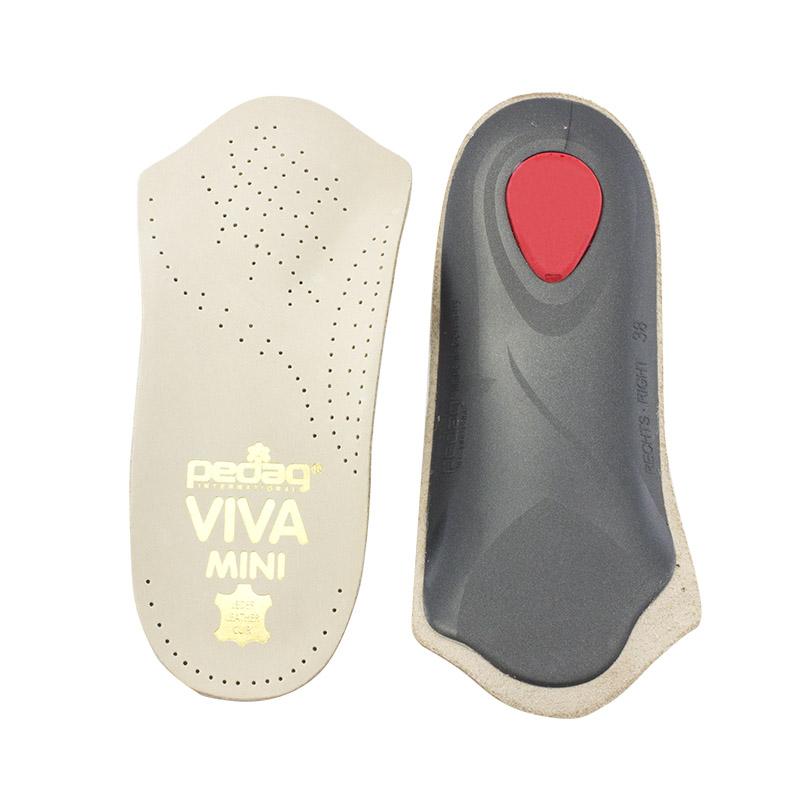 For some cases of shin splints, an entire insole may not be entirely necessary, and a three-quarter length insole or heel cup may do the trick instead. The Pedag Viva Mini Insoles are an excellent option, supporting the heels and arches while leaving the toes and forefoot unobstructed.
A shock absorbing heel pad cushions the heel, allowing the majority of the impact associated with running to be avoided, thereby reducing the effects of shin splints and fatigue. The shape of these insoles mean they will fit easily into virtually any footwear, while the fine leather construction allows them to regulate temperature for comfortable long-term wear.
Say Goodbye to Your Shin Splints
Now that we've gone over some of our favourite insoles to cushion your feet and prevent shin splints, we hope you have a better idea of which insoles will be right for you. We believe all of these insoles can be a formidable tool in the battle against shin splints, helping you to alleviate your pain and stiffness so you can enjoy your exercise and activities like never before. If you're still undecided, feel free to visit us at ShoeInsoles.co.uk today to view our full range of Insoles for Shin Splints.
Do you have a question, or something to add? Why not let us know in the comments, or find us on Twitter and Facebook!