Best Insoles for Overpronation 2023
5 April 2023 | Eugene
Extremely common in the UK and around the world, overpronation is a relatively harmless condition that can develop into something much more painful and debilitating if left untreated. It can differ from person to person – some find it easily manageable while others find it impossibly painful. Even worse, most of the people with it don't know that they have it, or that it is what is causing their pain.
What Is Overpronation?
In simple terms, overpronation is the over-rolling of the ankle inward as you walk. A slight inward rolling of the ankle is a perfectly natural part of walking, but a surprisingly large number of people have too much of a roll. This puts you at risk of a range of instability-related injuries, and can cause pain in your ankles, feet and heels.
Luckily, the right pair of insoles can help to stabilise your feet, correct your gait and prevent the inward-roll of overpronation. Our ShoeInsoles.co.uk experts are here to make your decision as easy as possible, so we've put together a short list of the best shoe insoles for overpronation:
Our Top Pick for Overpronation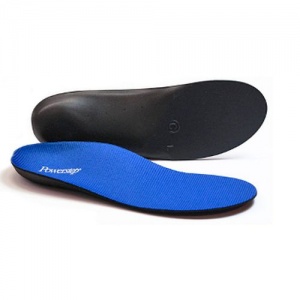 These are some of our most popular insoles, and for good reason. The Powerstep Original Full Length Orthotic Insoles have been developed for stabilisation, helping your feet stay in a more natural position as you walk. A heel cradle keeps the feet securely in place to prevent rolling and a semi-rigid arch support gives your feet even more support to ensure a healthy gait, which is why they're our top pick for overpronation.
Why They're Our Top Pick: Align the feet to correct gait; cushioning for foot comfort; antibacterial for odour reduction
Our Best Value Overpronation Insoles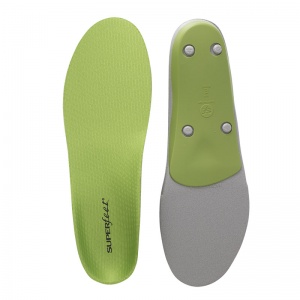 Representing ultimate value for money, the Superfeet Green Performance Insoles have been developed to last as long as possible while still providing the support you need throughout their lifetime. They're made using highly cushioning foam to give feet an exceptional level of comfort alongside effective stabilisation. They also help to provide biomechanical control to the feet for excellent alignment, and their materials flex to fit all sorts of footwear.
Why They're a Great Choice: Robust support to last the life of your shoes; biomechanical control for a comfortable and stable gait without rolling.
Our Best 3/4 Length Insoles for Overpronation
Unlike the rest of these insoles, the Vionic 3/4 Length Orthotic Insoles feature a 3/4 length design with a lateral cutaway. This makes it much easier to fit them into tight-fitting or irregular shoes, with no trimming or modification necessary. Using foot motion technology to keep feet aligned, these insoles feature a built-in 4° rearfoot wedge to provide the necessary control to support feet and help reduce overpronation. This gives the insoles a more natural shape and feel so you can go about your day confident that overpronation is being dealt with.
Why They're Our Top 3/4 Length Insoles: Shorter design for more comfort in tight footwear; heel strike zone for maximum shock-absorption

Best Overpronation Insoles for Sports Shoes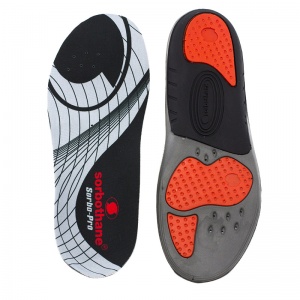 For anyone who's looking for serious shock absorption as well as overpronation reduction, the Sorbothane Sorbo Pro Total Control Insoles are the answer. Designed for professional athletes to ensure that feet stay performance-ready for longer, the Sorbo Pro Total Control insoles feature a unique overpronation control and arch support system which stops feet from misaligning and overpronating.
Why They're Our Pick for Sports: Absorb impacts for maximum comfort while running; overpronation control to prevent misalignment
How Can I Fight Overpronation?
Insoles can help by providing your feet with stability and control, preventing them from over-rolling and keeping them in the correct position as you walk or run. That brings us to the familiar problem of choice, as with so many insoles out there, how are you to decide which insoles are best for overpronation?
The benefits of a good pair of insoles can be the difference between painful feet and free and natural foot movement, so it's vital that you can get the insoles you need to help you say goodbye to overpronation! If you've gotten to the end of this list and are still looking for the best insoles for overpronation that meet your needs, head on over to our full range of Insoles for Overpronation, where we're confident we'll have the perfect insoles for your feet.
Strong pair of insoles featuring medical-grade support
Deep heel cradle supports collapsed or weak arches
Double layer and low profile casing ensures long lasting support
Friction reducing top fabric enhances comfort
| | | |
| --- | --- | --- |
| | | In stock now |
£25.95
---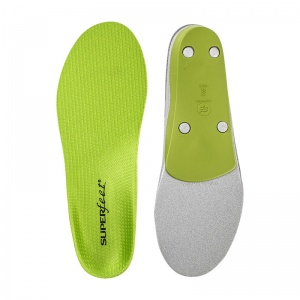 The world's most popular insoles with a deep heel cup
Crafted from shock absorbent foam for complete comfort
Can be used in sports shoes, boots, flat shoes and more
Superfeet 60 day money back guarantee
| | | |
| --- | --- | --- |
| | | In stock now |
£29.95
---
Premium 3/4 length insoles supplier in pairs
For general, everyday use in a range of different shoes
Realigns the feet and lower body to prevent conditions worsening
Fit for use in most types of low heeled footwear
| | | |
| --- | --- | --- |
| | | In stock now |
£29.98
---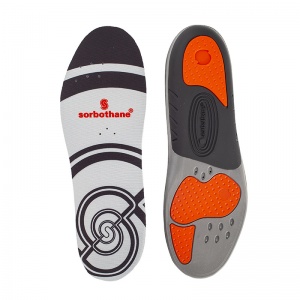 The professional's choice of insole for preventing foot and leg discomfort
Ensures that feet are correctly supported, aligned and cushioned
Combines mild arch support with unrivalled shock impact protection
Features a heel cup and stabilising arch which together cradle the foot
| | | |
| --- | --- | --- |
| | | In stock now |
£21.31