Best Insoles for Knee Pain
Wednesday, 30 November 2016
Knee pain is extremely common, and can be caused by a number of different factors. Whether it's from over use, poor exercise habits, improper walking technique or a separate condition like arthritis, knee pain can be very debilitating, taking much of the enjoyment out of walking and overall movement. If you are a sufferer of knee pain though, you're probably tired of hearing all this, and just want to hear about some solutions. Luckily, you've come to the right place. Here at ShoeInsoles.co.uk, we have plenty of insoles that are specially designed to combat knee pain, helping you to walk properly, and reducing the impact that can exacerbate your problems.
Now that you've decided to start fighting back against your knee pain, and that knee pain shoe insoles are for you, the next step is figuring out which ones to choose. With so many knee pain insoles here at Shoe Insoles, all claiming different benefits and strengths, selecting the perfect insole to meet your needs may seem like a daunting task. We've heard your prayers, so we've used our insole expertise to come up with a list of our Top 5 Knee Pain Insoles to alleviate knee pain to help you start you enjoying your walking and movement again. We know what you're looking for in an insole, so if you're interested in getting rid of that pesky knee pain, feel free to read on.
Superfeet Blue Active Insoles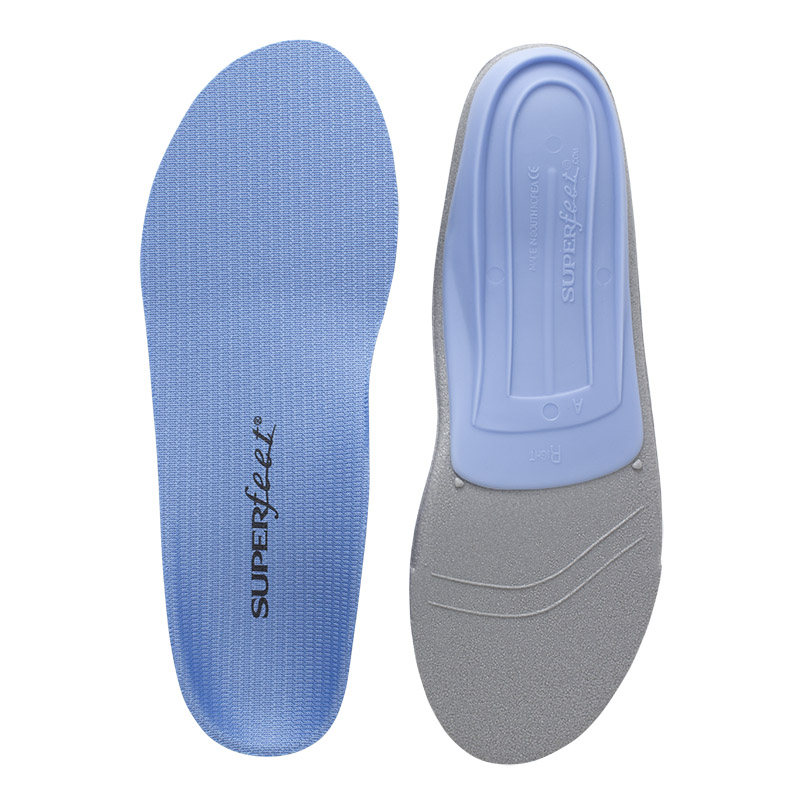 One of our most advanced knee pain insoles, the Superfeet Blue Active Insoles have been designed to let you move with comfort, while alleviating knee and back pain that can be caused by a lack of support and constant stress on your joints. Working to align the body and maximise shoe comfort, they are ideal for anyone suffering from, or seeking to avoid, common foot conditions that can exacerbate knee and joint pain. The thinnest insoles in the superfeet range, the Blue Actives can fit into any shoe, keeping you pain free and moving well through any situation or activity. What's more, if you order these insoles from ShoeInsoles.co.uk, you'll benefit from free delivery, not available with any other insoles priced under £40. In fact, we're so confident that you'll love these insoles, that if you're unsatisfied within the first 60 days, you can send them straight back for a full refund, so the only thing you risk losing with these insoles is your knee pain.
The secret behind the remarkable knee and joint pain relieving properties of these insoles is the multi-faceted approach they take toward boosting your comfort. Firstly, to reduce the impact associated with walking and running, a patented heel cup is placed at the rear for full shock protection. This heel cup also helps to position your heel, ensuring it's always in the perfect position. Next, the Superfeet Blue Active Insoles use an advanced biomechanical shape to fully support the entirety of your foot. This medium-profile shape puts biomechanical support under your foot, taking up less space in your shoe, and providing amazing levels of stability and comfort. Finally, an antimicrobial coating inhibits the growth of odour causing bacteria, completing this high tech and complete knee pain solution. Lastly, while these insoles are great for any type of feet, for a distinctly feminine foot shape, Superfeet have released the Superfeet Blueberry Active Insoles for Women, providing the same benefits as the blue in a package designed specifically for women.
Powerstep Original Full Length Orthotic Insoles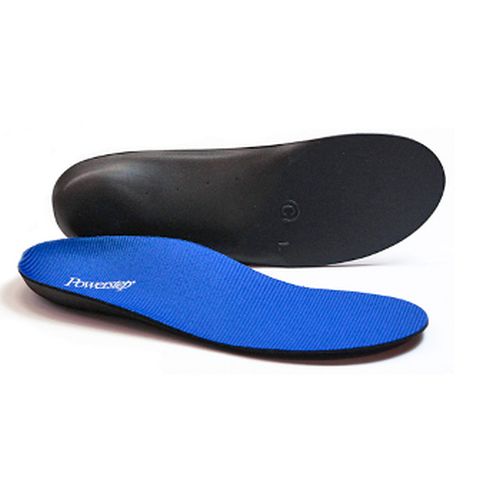 Another pain-reducing option are the Powerstep Original Full Length Orthotic Insoles. These insoles offer excellent comfort and effective arch support, both to the medial and lateral sides of the arches. This support works to alleviate your knee pain, improving the way you walk in a way that your legs with thank you for. Perfect for the workplace, as well as everyday life, the Powerstep Originals provide the wearer with many different beneficial features, helping with both stability and support. Whether you're a man or woman, these insoles will help your knees feel great during both casual and sporting activities, helping you to get on with your day and enjoy life. Great for patellar tendinitis and knee pain, along with a range of other conditions, these insoles will blow you away with the comfort they can provide.
The Powerstep Original Full Length Orthotic Insoles were designed by podiatrists who aimed to give the ultimate off-the-shelf comfort to their customers and patients. Featuring a semi-rigid arch support and heel cradle, along with total, full length contact, these insoles provide excellent support and stability, giving you peace of mind that your knees will stay feeling great. A targeted dual-layer EVA foam cushion provides a soft and comfortable feel, and works together with an anti-microbial top fabric to keep your feet cool, odour free and feeling fresh. What's more, these insoles can be transferred between shoes of any type with no trimming needed, so all you have to worry about is where you'll walk, or run to next.
Sorbothane Shock Stopper Double Strike Insoles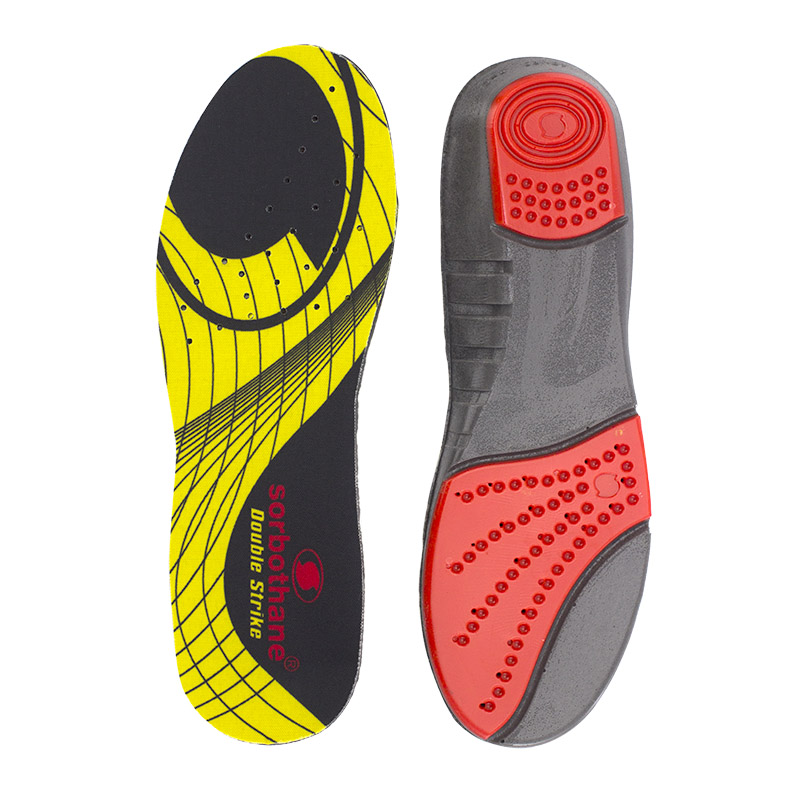 Next up on our list are the Sorbothane Shock Stopper Double Strike Insoles, designed to be ideal for any activity where the forefoot and heel are subject to the most impact. Since shocks from impact that run up your leg are one of the most common, and dangerous causes of knee pain, these insoles were made to combat impact shockwaves at the source. Manufactured to help your knees in sports like netball, basketball, running or tennis, but also great for leisure activities and everyday use, these insoles can help a wide range of people, in a wide range of ways. Both men and women will love the protection they can provide, aiding in the control and prevention of knee pain, keeping you healthier for longer and letting you enjoy your activities more.
These insoles work by combining many popular insole designs to produce a versatile and useful insole that can be used for virtually any activity. Featuring a targeted Sorbothane protection layer, along with a moulded heel cup, these insoles use the patented Sorbothane viscoelastic compact to shield and protect your heel and forefoot, providing a formidable shock relief system that your knees will love. Sorbothane Shock Stopper Double Strike Insoles' total control top sheet contains advanced, antibacterial Nano Silver technology to keep feet fresh by wicking away moisture for optimal hygiene and comfort. So replace your original insole with these advanced alternatives and experience the whole body benefit of Sorbothane for yourself.
Pedag Viva Sport Insoles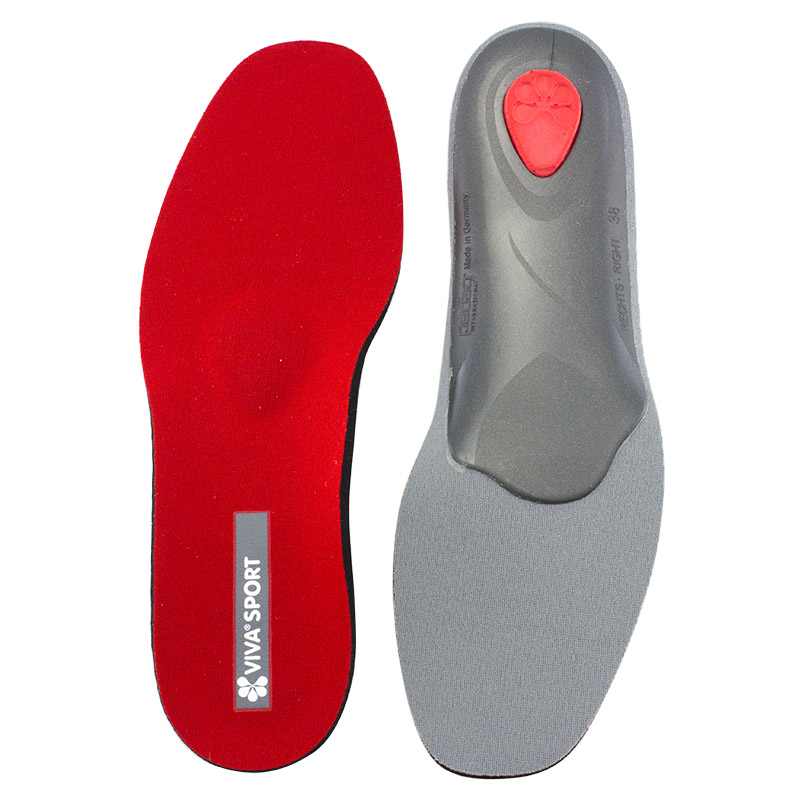 For the sportiest among us, the Pedag Viva Sport Insoles are an ideal solution, perfect for combating knee and joint pain in those that love to get up and move with intensity. Designed especially for sporty users, these insoles offer great arch support, and are suited for use as a running insole, and can fit easily within your sports shoe to absorb impact, reduce stress on your knees and protect your feet. These insoles aren't only useful for sufferers of knee pain though, as their versatile design allows them to relieve symptoms of a wide range of foot conditions, many of which can lead to exacerbation of knee problems themselves. Made to fit into virtually any type of sports shoe, as well as your everyday casual shoes, these insoles can benefit virtually anyone, no matter what they like to get up to.
The reason the Pedag Viva Sport insoles are good for such a wide variety of uses is the multiplicity of ways in which they support and cushion the foot. Featuring a foam that incorporates thousands of micro-air chambers which constantly absorb shock and impact, these insoles lessen the stress on your feet, while alleviating pain across the knee, back and heel. Next, the anatomical shape of these insoles supports the longitudinal arch, preventing issues such as fatigue from affecting feet and hurting your walking posture. Finally, with the use of a shock relieving heel and metatarsal pad, impact is lessened and the metatarsals are supported, leading to an overall boost of comfort in your walking and movement. Available in 13 sizes, these insoles represent one of the most versatile foot relief products on the market.
Langer Bio Mex High Density Medium Arch Insoles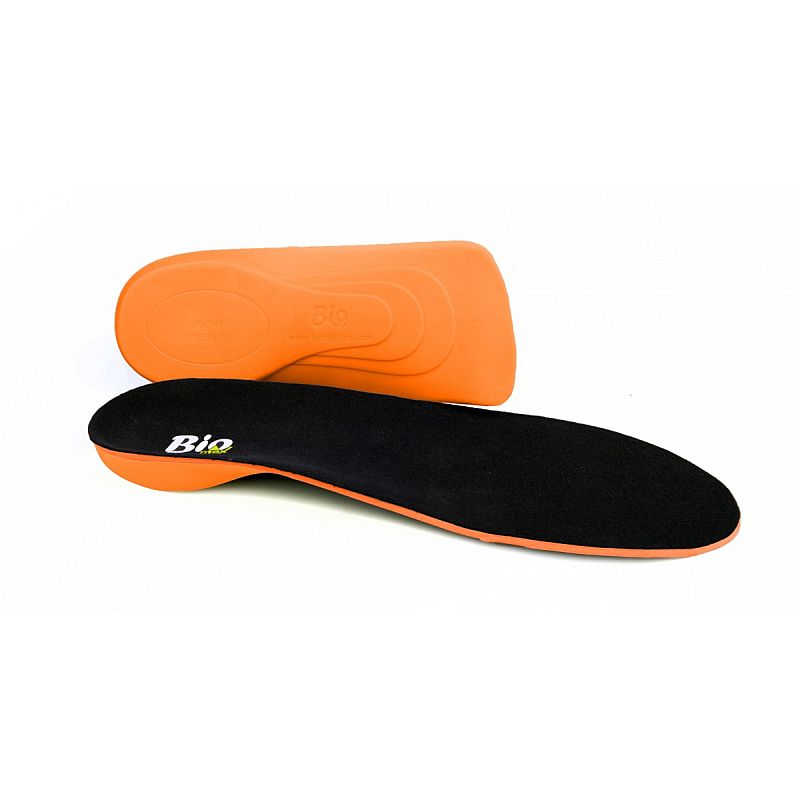 Last, but certainly not least on our list are the Langer Bio Mex High Density Medium Arch Insoles, a highly customisable and versatile solution to many foot conditions, most importantly: knee pain. Since we all have different feet, and require different types of support, it's only natural that our shoe insoles be as customisable and versatile as possible. These insoles were made with this in mind, and are able to cater to a variety of different needs, making them a great knee pain solution for almost anyone. Easily customised through a variety of methods, including the addition of the included, self-adhesive top-cover, these insoles were designed specially to put the power to alleviate knee pain in your hands. They let you move without pain, and get on with your day with peace of mind and comfort.
The Langer Bio Mex High Density Medium Arch Insoles are made from a high tech, high quality polypropylene, making them slender, flexible, and able to provide support that is both strong and reliable. These insoles provide excellent biomechanical control to your foot, preventing supination and pronation, and helping you to move in a way that takes the pressure and pain away from your knees and back. The high density, supportive material is easily customised through heat moulding and grinding, making these insoles a pain solution for all types. Available in five dynamic sizes, covering UK sizes 3 - 12.5, these orthotics can provide knee pain relief to almost anyone.
Get a Leg Up on Knee Pain
Now that we've reviewed some of our favourite insoles, we hope you've gained some perspective as to which ones are right for you. We believe all of these insoles can be a formidable tool, helping you to alleviate your knee pain and enjoy walking again. From insoles perfect for leisure, to insoles that will stand up to any intensity of activity, these insoles represent a full range of benefits for your knees and joints, so now it's up to you to try a pair out, and experience the benefits for yourself. If you're still undecided, feel free to visit ShoeInsoles.co.uk today to view our full range of Insoles for Knee Pain.