Best Insoles for Arch Pain 2023
1 January 2023
Arch pain can strike in any place and at any time. Whether it's the result of a twinge, strain, or muscle tear, or you've been suffering over an extended period, you need to wear orthotics that suit your unique needs and circumstances. Thankfully, our guide on the Best Insoles for Arch Pain has solutions for all eventualities, whether you're active, inactive, in extreme pain or after something to combat that dull ache in the midfoot.
What Will This Guide Cover?
This guide will expand on the causes of arch pain and how best you can treat it using our select range of insoles and orthotics. Using our orthotic expertise, we've carefully selected a range that's sure to provide the correct level of support and cushioning for your feet.
What Are the Causes of Arch Pain?
Whilst arch pain can arise from a number of conditions, injuries and inherent issues, there are a number of common factors that can contribute to this nasty issue. Take a look below to see a few examples:
Fatigue
Lack of Support
Ligament Sprains
Plantar Fasciitis
Postural Issues
Overworked and Tired Feet
Stress Fractured
Tendonitis
Combatting Plantar Fasciitis and Relieving Arch Pain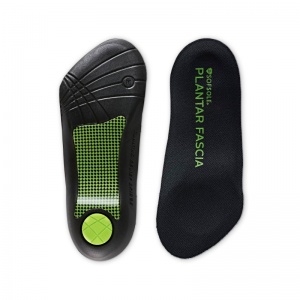 An inflamed fibrous band can result in plantar fasciitis, which is one of the leading causes of arch pain in adults. Sof Sole Plantar Fasciitis Orthotic Insoles allow the fibrous band to relax, reducing irritation, swelling and providing relief from that horrible stabbing feeling.
What We Love:
✔ Incredibly comfy, soft brand of arch support
✔ Lets you get back to walking, running and exercising right away
✔ Also available in a female specific design
Not the Best for:
✔ Those also suffering with pain across the entire foot (see our solution)
Our Customers Say... "The pain has eased a lot and I find that I can run without any problems. I will be recommending this product to friends who suffer similar problems" - Richard
Editors Verdict: With plantar fasciitis affecting so many, insoles that are specifically designed to cushion and support the fibrous band are incredibly popular. As one of our most popular pairs of insoles, they are tried, tested and loved by customers because of their unrivalled level of arch support.
Orthotics for Playing Sport With Arch Pain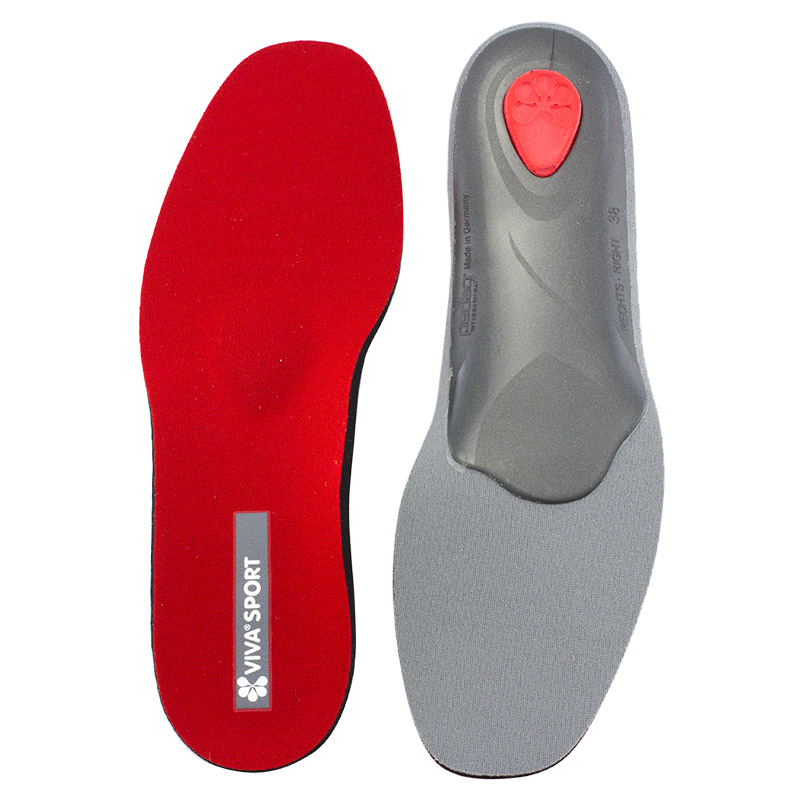 Don't let arch pain slow you down. Whether you're a walker, runner or cyclist, arch pain can strike at any time. When it does, be ready. Pedag Viva Sport Insoles are designed and manufactured with a robust and rigid profile thermoplastic baseplate that allows you to continue exercising when midfoot pain persists.
What We Love:
✔ Specifically designed for sporting application
✔ Impact padding supports natural curvature at the arch
✔ Thermoplastic baseplate provides a robust and rigid brand of support
Not the Best for:
✔ Those after a more cushioned brand of arch support (see our solution)
Our Customers Say... "Used them as a last attempt to improve the comfort on my strained feet. Amazing results. My foot arch no longer feels like its going to snap". - Jill
Editors Verdict: Nobody wants pain interrupting their exercise routine. Whilst it's important to rest when injuries stick around, if you're looking for a pair of insoles that let you exercise with low to medium intensity arch pain, look no further.
Our Pick for Over-Pronation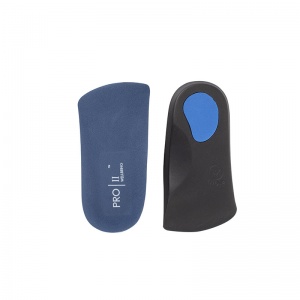 People prefer different things, we get it. Feet are much the same. If your feet like the unique brand of support that 3/4 insoles give them, then look no further. Pro11 3/4 Insoles for Plantar Fasciitis and Over-Pronation work tirelessly to combat two of the leading causes of arch pain in plantar fasciitis and over-pronation.
What We Love:
✔ Perfect if your feet over-pronate (roll to inwards during instep)
✔ Ideal for users preferring a 3/4 design
✔ The best option if you're concerned about fit inside tight shoes
Not the Best for:
✔ Those preferring a full-length style insole (see our solution)
Our Customers Say... "These have enabled me to walk without developing pain in my heels and arches. An excellent product". - Maggy
Editors Verdict: If your feet roll inwards when you walk, you're overpronating. This means you're lacking support and your arches are working overtime to compensate. Three quarter length insoles are perfect for use inside tighter style shoes like boots, certain trainer styles and smart work shoes.
Insoles for Cushioning the Entire Foot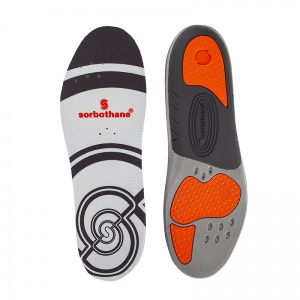 Whilst arch pain concentrates around the centre of the foot, cushioning the entire foot is vital for relieving pain because the fibrous band runs from the heel all the way into the forefoot. Sorbothane Total Control Insoles fit seamlessly inside your shoes, providing a thin, slender layer that works overtime to absorb shock and impact.
What We Love:
✔ Directly addresses the source of arch pain throughout the foot
✔ Perfect if you're after a simple cushioned layer for minimising midfoot pain
✔ Unrivalled shock, impact and stress absorption up and down the foot
Not the Best for:
✔ Dedicated raised-style arch support (see our solution)
Our Customers Say... "So good. Was advised I didn't need much arch support, if none at all so bought these for comfort and to reduce impact when walking due to bad foot pain". - Rosemarie
Editors Verdict: Arch pain is naturally felt in the arch area, however the origin could be anywhere from the heel all the way up to the toes. Perfect for providing cushioning across the entire foot and addressing the root cause of heel pain, Sorbothane Total Control Insoles do exactly what it says on the tin.
The Final Word on Arch Pain
As we've covered, arch pain can have a number of root causes that can manifest in a number of different ways. We hope we've covered the most common ones and provided a range of solutions to help you combat arch pain no matter what your environment, activity level, application or preference.
Other Useful Pages
If you've got something to add or would like to get in contact, please don't hesitate to drop us a message on our Twitter and Facebook pages!