Best Foot Massagers 2022
Saturday, 9 October 2021 | Admin
Foot massages are a great way of maintaining strong and healthy feet. A regular foot massage improves blood circulation, stimulates the muscles and reduces tension between all those tiny joints, muscles and tendons. All of this works to reduce pain and swelling across the foot, allowing you to walk pain-free.
Here at Shoe Insoles, we stock a range of Foot Massagers. Using data from our team of experts and suppliers, we have compiled a list of the Best Foot Massagers to help you get the jump on your painful feet. If you're looking for something in particular, here's what we're going to cover:

Best Foot Massager for Plantar Fasciitis
Winner: Pediroller Foot Massager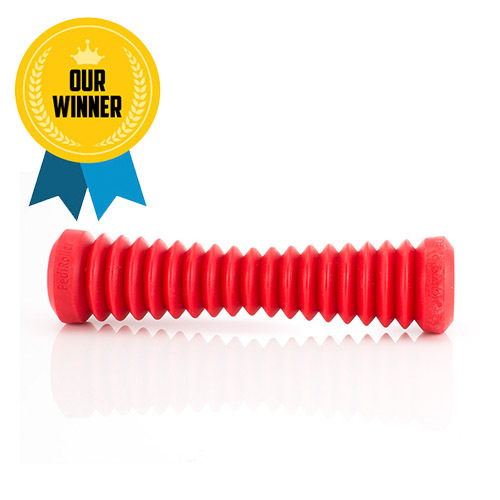 Why We Love It...
✔ Effective ridged design targets the arches like nothing else
✔ Can be stored in the fridge or freezer for added cold therapy
✔ Tensile rubber provides a firm yet comfortable massage
Ideal For...
✔ Sufferers of arch pain or plantar fasciitis
✔ Hot, painful feet after a long day of walking
✔ An affordable quick source of pain relief
Not the Best For...
✘ Rehabilitation from sporting injuries (See our solution)
✘ Neuropathy resulting from diabetes (See our solution)
Editor's Verdict: With a simple contoured design, the Pediroller Foot Massager is an excellent source of quick pain-relief for sufferers of plantar fascitiis or arch pain. There's nothing quite like coming home after a long at work, taking the Pediroller from the freezer and applying it straight to your painful arches. Affordable and portable, the Pediroller is a great choice for day-to-day management of PF pain.

Best Foot Massager for Training and Rehabilitation
Winner: Pulseroll 4 Speed Vibrating Foam Roller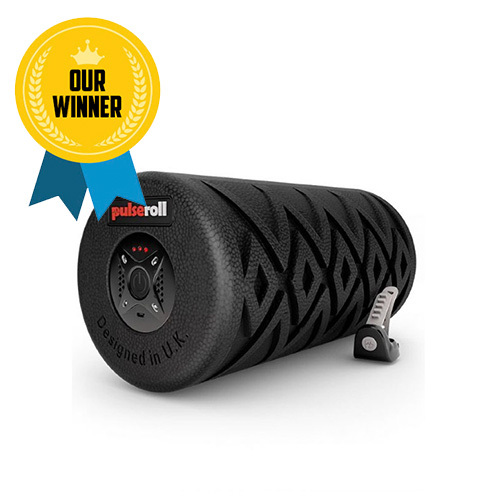 Why We Love It...
✔ Widely used as a therapeutic tool by athletes
✔ Four distinct power options for tailored massage
✔ Vibrations reduce tightness and pain in the foot
Ideal For...
✔ Rehabilitation from sports-related foot injuries
✔ Preventing foot strain and pain
✔ Applying to any part of your body, such as legs or back
Not the Best For...
✘ Elderly users suffering from arthritis (See our solution)
✘ Targeting hard-to-reach areas (See our solution)
Editor's Verdict: The Pulseroll 4 Speed Vibrating Roller is a popular form of physiotherapy with our more active customers whose regular pains and strains get in the way of their fitness. On the higher end of massagers, the Pulseroll Roller eliminates the need for further therapies by directly stimulating the muscles with a vibrating deep tissue massage. With a selection of four distinct massage options and a six-hour battery life, the Pulseroll 4 Speed Roller provides users with the blissful benefit of a sports massage in the comfort of their own home.

Best Foot Massager for Arthritis
Winner: Physioworx Massage Ball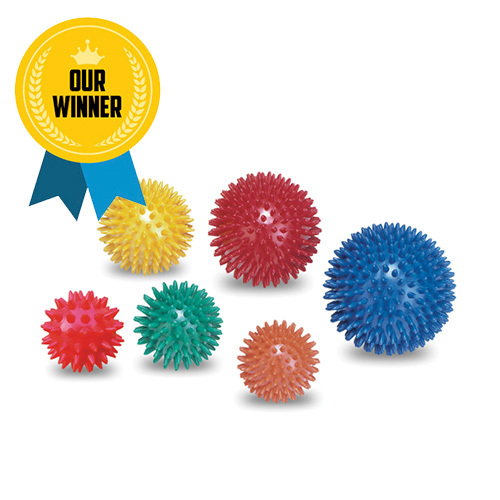 Why We Love It...
✔ Compact and easy-to-use for sufferers of arthritis
✔ Pressure from spines stimulates pressure points
✔ Perfect for eliminating first-step pain
Ideal For...
✔ Stimulating sleepy feet in the morning
✔ Soothing aching feet in the evening
✔ Senior users who want no-nonsense relief
Not the Best For...
✘ Rehabilitation for training and sports (See our solution)
✘ Sufferers of poor blood circulation (See our solution)
Editor's Verdict: Many of our more senior customers often request a massager that requires little to no work to soothe their arthritic feet. The Physioworx Massage Ball provides all of this in a design that is both compact and comfortable. In the mornings when the first step is usually the stiffest, the Physioworx stimulates the feet for the day ahead, whilst in the evenings the massage ball will relax and soothe away the aches and pains of the day.

Best Foot Massager for Diabetes
Winner: Pulseroll 4 Speed Vibrating Foot Massage Peanut Ball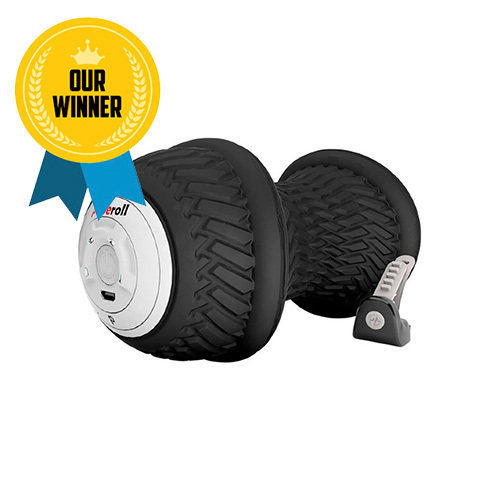 Why We Love It...
✔ Peanut-shaped design allows for full stimulation
✔ Vibrations and geometric design boost blood circulation
✔ Four power options for different neuropathy needs
Ideal For...
✔ Sufferers of neuropathy as a result of diabetes
✔ Targeting hard-to-reach areas where other massagers fail
✔ Providing a deep tissue massage wherever, whenever
Not the Best For...
✘ Elderly sufferers of arthritis (See our solution)

Editor's Verdict: A peanut-shaped massager might sound crazy to some, but there's a reason to this madness. The anatomically designed Pulseroll 4 Speed Massage Peanut Ball allows users with numb tingling feet to slot their foot between the two appendages and experience a revitalizing deep tissue massage. The ball's energising thrum is an excellent way to combat neuropathy, a symptom of diabetes, as the vibrations encourage fresh blood to circulate around the muscles.

Best Lotion for Foot Massages
Winner: GEHWOL Emulsion for Foot Massage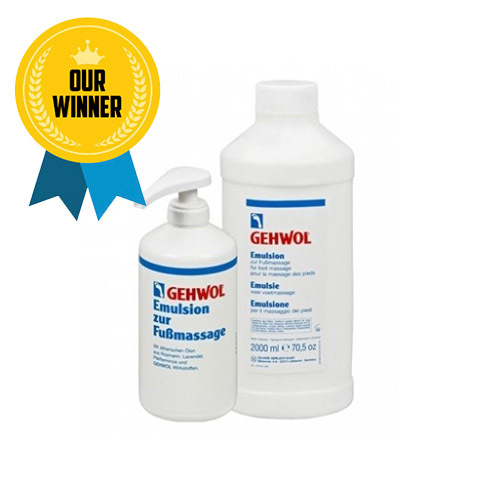 Why We Love It...
✔ Invigorates a foot massage for maximum pain relief
✔ Cooling menthol dispels lingering aches and tingles
✔ Protects against fungal infections
Ideal For...
✔ Therapists and masseuses looking to enhance their work
✔ Combating chronic and acute foot pain
✔ Diabetics, vegans and sufferers of coeliac disease
Not the Best For...
✘ Users who don't have time for lotion (See our solution)

Editor's Verdict: If you want to capitalise on your foot massage, there's no better choice than GEHWOL Emulsion. Developed using natural oils and ingredients that are friendly to diabetics, vegans and those with gluten intolerance, the cooling gel stimulates foot muscles in a way that is both invigorating and pleasurable. Available in two sizes, the GEHWOL Emulsion is the number one way to compliment a massage from any of our other listed foot massagers.

Conclusion
Our feet contain more than 50 bones, more than 60 joints and 200 muscles, tendons, all working together to stabilise and support movement or stationary positions. You would think that was a heck of a lot of upkeep – and you'd be right. This makes it difficult to make specific foot massage recommendations, as not one pair of feet are the same. All of our massagers listed, however, are tried and tested by customers with glowing feedback.
If you're looking for more foot massagers, please take a look around our Massagers and Stretchers category. We have something there for everyone.
Do you suffer from sore feet? Let us know about which massagers you have tried and whether they helped below. Alternatively, why not reach out to us on Twitter or Facebook?