Welcome to ShoeInsoles.co.uk, a one-stop shop for all foot conditions and issues. Our mission is to help all of our customers to find a pair of insoles that give them the support and cushioning that they require. With such a wide selection of insoles, however, sometimes it can be a little difficult to navigate your way around our site.
That's where our guide to making the most of your insoles comes in! This guide has been designed to help you to find your perfect insoles on our site and is broken down into seven sections:
Finding insoles by your condition
Finding insoles by your desired style of insoles
Finding insoles by the use of the insole
Finding insoles by the brand of the insole
How to use our refine feature to narrow your search
Our knowledge centre and guides
Other key information about ShoeInsoles.co.uk

If you have been diagnosed with a foot condition or already know the condition from which you are suffering, we have a number of categories with insoles that have been specified for your issue. See our full list of condition categories here.
Popular Condition Categories
At ShoeInsoles.co.uk, we have years of experience when it comes to helping customers find their perfect insoles and we know which conditions are most common. Our most popular categories are:
If your condition isn't one of the ones listed, don't worry! You can see our full selection by visiting our Insoles by Condition area.
I'm Not Sure About My Condition
If you are suffering from discomfort and foot pain, we may still be able to help. See our interactive guide on how to find your foot condition.

Insoles are available in a number of shapes and sizes to help relieve foot pain. Our most common shapes are:
Alternatively, if you haven't found the style of insole that you are looking for, check out our full list of Shoe Insoles by Shape.

Sometimes you may want insoles not for any specific foot condition but for a specific use. For example, if you play a lot of sports, you may find that you feel as though you need additional support for your feet. If you are looking for insoles for a specific sport, please click here.
Alternatively, you might be looking for some insoles to improve the fit of your shoes, or to help avoid bad odours. To see our full list of insoles by use, please click here.
Popular Categories
Our most popular categories for use are:

We work with top manufacturers of insoles and have a wide selection of top quality brands available at the best possible prices. If you already know the brand that you are looking for, you can see our full list of available brands by clicking here.
Our Most Popular Brands
These brands are the most popular with our customers, many of whom find themselves returning to find the same great-quality insoles:
While these are our most popular brands, we are always expanding our selection. Click here to see our full range of brands.

Sometimes, due to the huge selection of insoles that we sell, you can be overwhelmed with choice when visiting a category. In order to make it easier for customers to find what they are looking for, ShoeInsoles.co.uk features a handy refine feature that allows you to narrow your search to find the perfect solution.
Where Can I Find the Refine Feature?
The refine block can be found on the left hand side of any category and is under the heading "Refine Your Search". Please see the image below for an indication of where to find the refine block.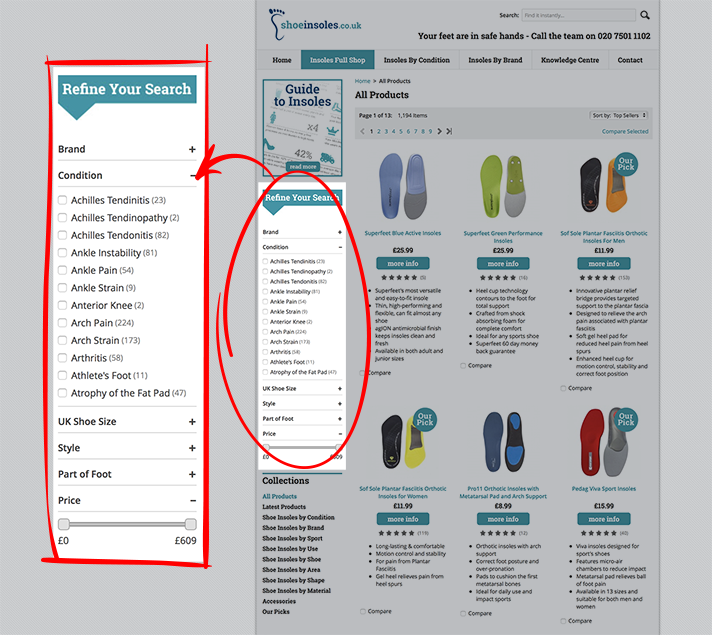 The refine block is located on the left hand side of all category pages
How Can I Refine My Search?
There are a number of options for refining your search in order to help you find products that are ideally suited for your needs:
Brand: Find insoles from your favourite insole brand or brands
Condition: Filter results to find insoles that have been specified for your specific condition
UK Shoe Size: You can select insoles that are available in a size that suits your needs
Style: The style of your insoles (e.g. full length, metatarsal pad, heel cup, et cetera)
Part of Foot: Which part of your foot you are looking to support (e.g. heel, ball, ankle, toes, et cetera)
Price: Find an insole that works for you at a price point that is right

Our product experts at ShoeInsoles.co.uk have years of experience when it comes to insoles, and in that time they have written a vast library of guides designed to help you find the correct insoles.
Top 5 Recommendations
One thing that many of our customers find helpful is Top 5 Insole Recommendations. We have written a number of guides designed to help our customers find the perfect insoles for their needs. Our customers have found the following guides the most helpful:
If none of these guides meet your needs, why not check out our full list of recommendations by clicking here?
General Guides
As well as specific recommendations for products, we also have a number of guides to help you make the most from your insoles. Our most read guides include:
Learn About Conditions
Sometimes you might not be sure if you are suffering from a condition and want to read up on your issue before buying an orthotic to tackle the problem. With our vast experience in all things foot-related, we have written a number of helpful guides on most common conditions.
Our most widely-read condition guides include:
While these are our most popular condition guides, our experts have written dozens of articles about a vast array of conditions. For a full list of our condition guides, click here.

If you are looking for information about our service, rather than the products we offer, the following pages might be able to help:

If you've scoured our site and still can't find what you are looking for, there is no need to panic! One of our highly trained customer services operatives is waiting to answer your questions.
You can call us on 020 7501 1102 on Monday to Friday, 9.00am - 5.00pm (excluding bank holidays) or you can email us at helpdesk@shoeinsoles.co.uk. We hope that you find the perfect pair of insoles for your needs!