Top 6 Insoles for Sweaty Feet
1 Comment
Thursday, 2 May 2019 |
Admin
Whilst the condition is laughed off by many, sweaty feet and excessive perspiration are incredibly common. Foot odour, profuse sweating and a build up of odour in your shoes can cause and increase the development of a range of different, more harmful conditions if left untreated.
We've put together this selection to highlight a range of our most breathable insoles, designed to filter out odour and release perspiration before it becomes a problem.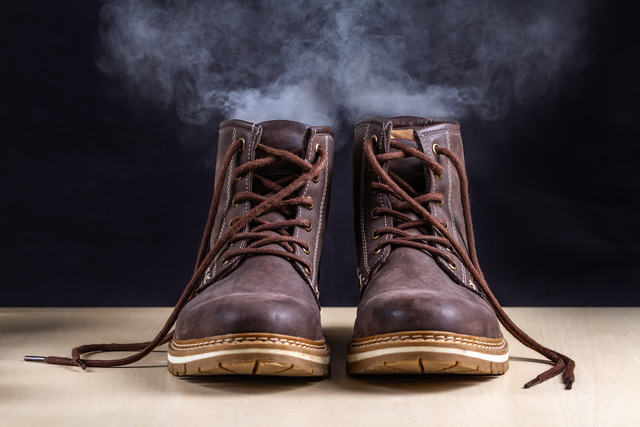 Excess-perspiration can lead to a range of nasty conditions
A variety of different things can cause sweaty feet, including wearing the wrong socks, the wrong shoes, hyperhidrosis and a build-up of fungus. Preventing sweaty feet is easy too, and there are a wide range of shoe insoles out there that are designed to tackle sweaty feet. This blog showcases our Top 6 Insoles for Sweaty Feet, giving you plenty of options to combat excessive odour and perspiration.
See below for a range of informative pages found here on our website, or continue reading to see which products made our list!
Zederna Original Natural Cedarsoles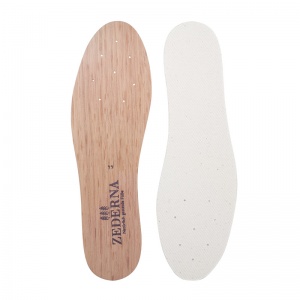 Our first option are the Zederna Original Natural Cedarsoles. Designed using 100% cedarwood and cotton, Zederna Insoles have been designed with sweaty feet in mind. They use 100% cedarwood and cotton, which are included to absorb moisture and prevent odour from spreading.
All of this is 100% natural. Their lightweight and flexible nature is easy on your feet, while they work to manage your shoes micro-climate keeping your shoes dry and fresh. The end result is fresh feet, which are fungus- and bacteria-free.
100% natural cedarwood and cotton that absorbs sweat and odour
Manages your shoes micro-climate to keep feet dry and cool
Pedag Viva Insoles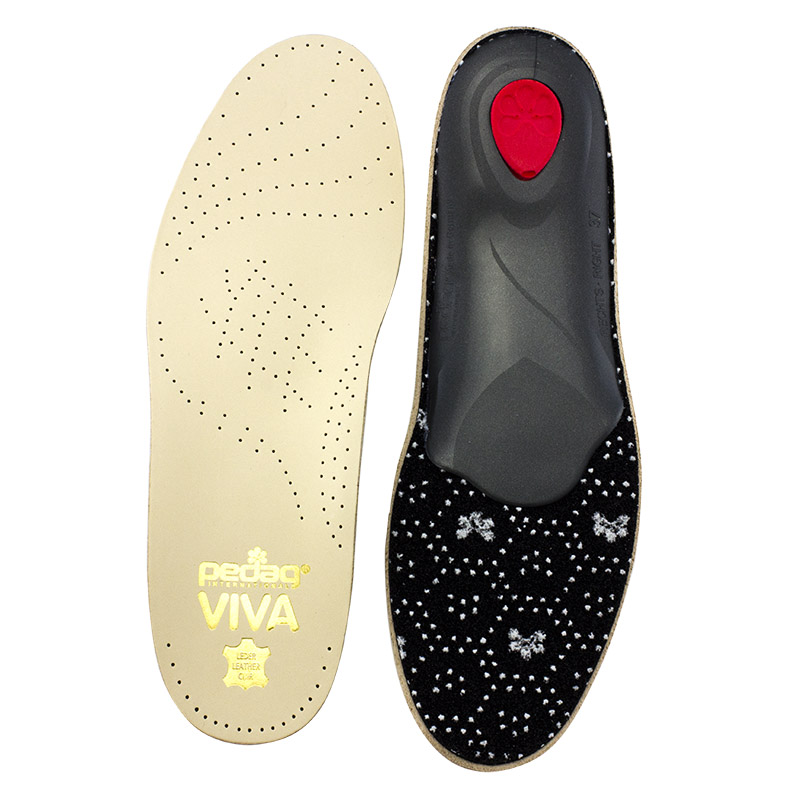 Pedag Viva Insoles are one of our most popular products. They use an active carbon filter that is designed to reduce odour by actively removing bad smells and odour throughout the day. These insoles are particularly well suited for general use throughout the day, as they are built to tackle a wide range of other foot conditions like plantar fasciitis, Morton's neuroma and Achilles tendinitis.
Active carbon filter removes odour and smell as you perspire throughout the day
Lack of odour build-up means your feet don't overheat
Suitable for treating a wide range of common foot conditions
Tried and tested by customers as one of our most popular products
Superfeet Blue Active Insoles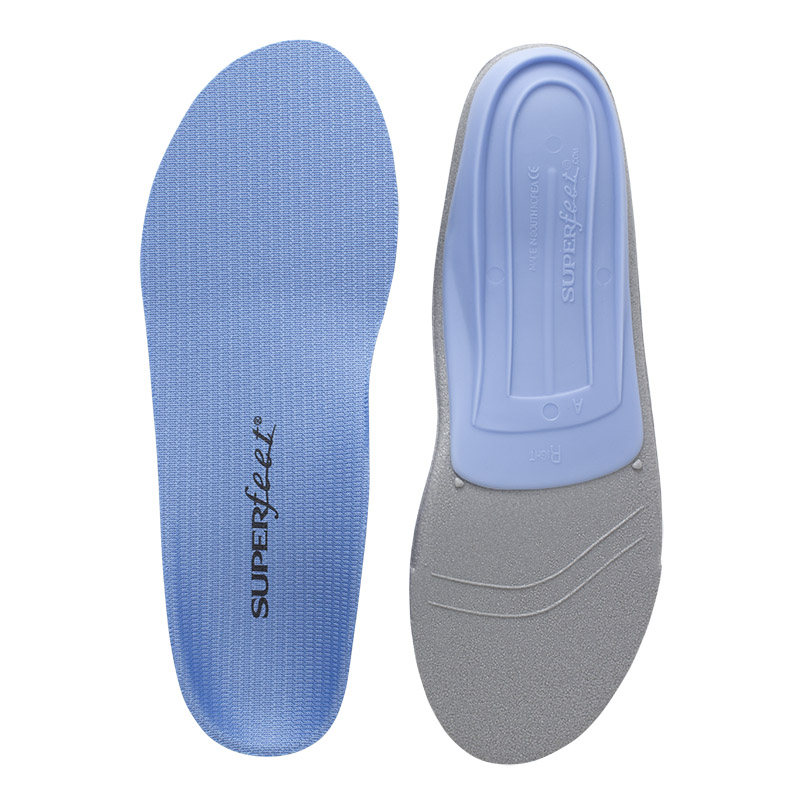 Sweaty feet can not just make your feet hot and smelly. They can make your shoes uncomfortable too. Superfeet Blue Active Insoles have been designed to tackle both discomfort and sweaty feet. With a biomechanical shape, heel cup and antimicrobial coating all working together, the end result is fresh feet and a high level of comfort.
Versatility makes them ideal for sports and active users
agION antimicrobial finish ensures your feet continue to remain fresh and clean wear after wear
Biomechanical shape enhances comfort during use
Superfeet brand is tried and trusted worldwide
Sidas 3Feet Outdoor Insoles for High Arches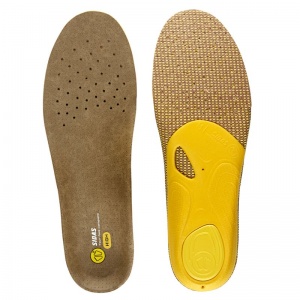 Our pick for the more outdoorsy among you are the Sidas 3Feet Outdoor Insoles for High Arches. 3Feet Outdoor Insoles are available in three different variations depending on our arch height as shown below.
These insoles are manufactured with breathable perforation holes indented into the base to provide breathability and aid with the circulation of air.
Indentations promote healthy air flow when outdoors
TOETOE Cotton Toe Separator Socks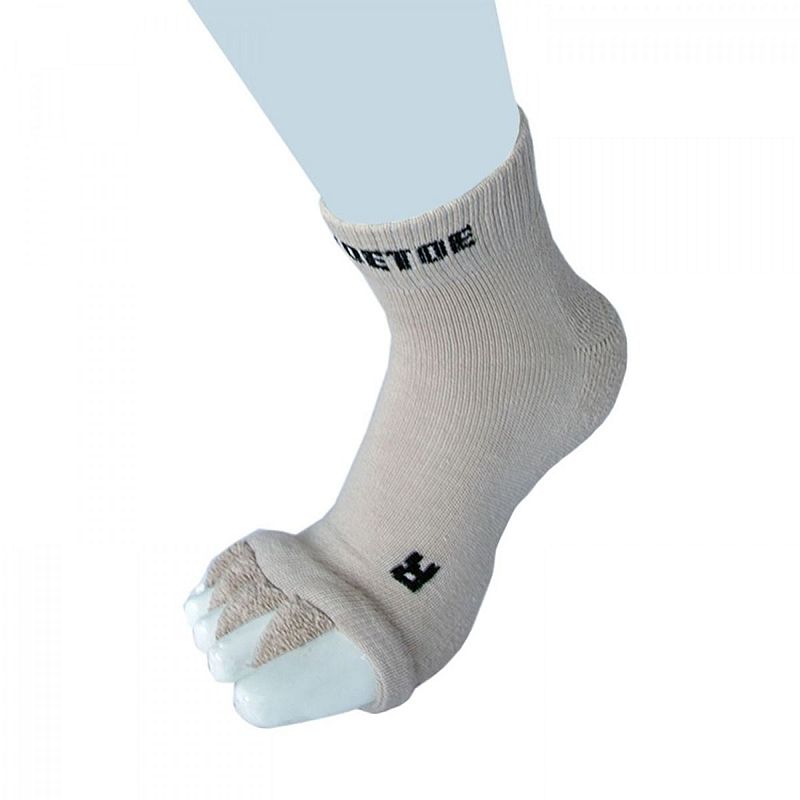 Choosing the right pair of insoles is often not enough if the socks you're wearing aren't up to the job. Our pick for a user wanting to double-down on their perspiration resistance are the TOETOE Cotton Toe Separator Socks. They separate the toes to reduce friction and warmth while you are out and about. As friction has been eliminated, foot odour has been eliminated too, helping to reduce any smell and infection from developing.
Reduced friction at the toes prevents moisture build-up and dampness
Proven to prevent blisters and calluses developing due to sweat accumulation
Their comfortable design prevents a range of existing problems that regular socks can cause
Anti-Odour Copper Insoles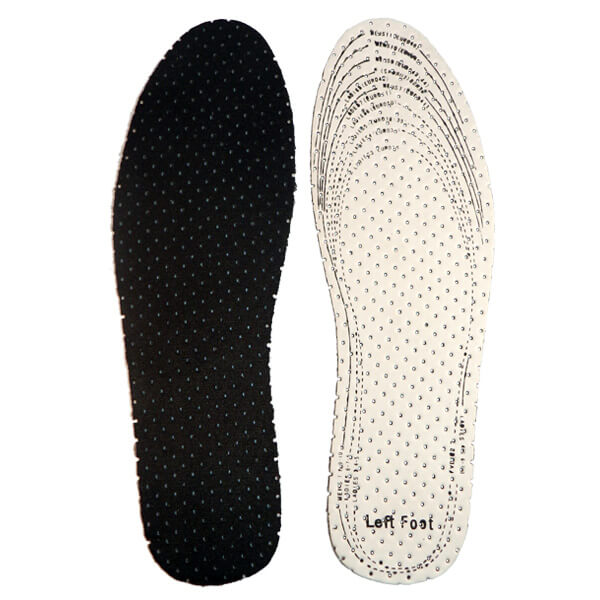 Finally, let us introduce our Anti-Odour Copper Insoles. Designed using 100% pure natural copper, they are super soft, breathable and moisture wicking, ensuring dryness is maintained throughout the day.
The copper in these insoles is scientifically proven to rupture and penetrate the harmful and odour producing pathogenic microbes that are contained in sweat. Once the copper ions are inside, they will start to attack the microbe's DNA, killing them and preventing them from spreading.
Pure natural copper prevents odour and fungus from spreading
Chemical-free design is comfortable and healthy on your feet
Beat Sweaty Feet!
If you do have sweaty feet and haven't found what you are looking for here, try viewing our Insoles for Sweaty Feet category, where we have the rest of our range.
Do you have a question, or something to add? Why not let us know in the comments, or find us on Twitter and Facebook!