Best Running Insoles 2022
1 Comment
Wednesday, 22 December 2021 |
Eugene
Running is one of the best things you can do for your health, both mentally and physically, but it can take its toll on your body if you aren't using the right gear. If your shoes aren't providing you with the stability, support and cushioning that you need, you could end up with a host of joint and foot problems. Aside from buying the right shoes to match your gait, the next most important thing is making sure your insoles, footbeds or inserts are giving your feet what they need. Below, we've had our insole experts lay out some things to look for, as well as their top picks.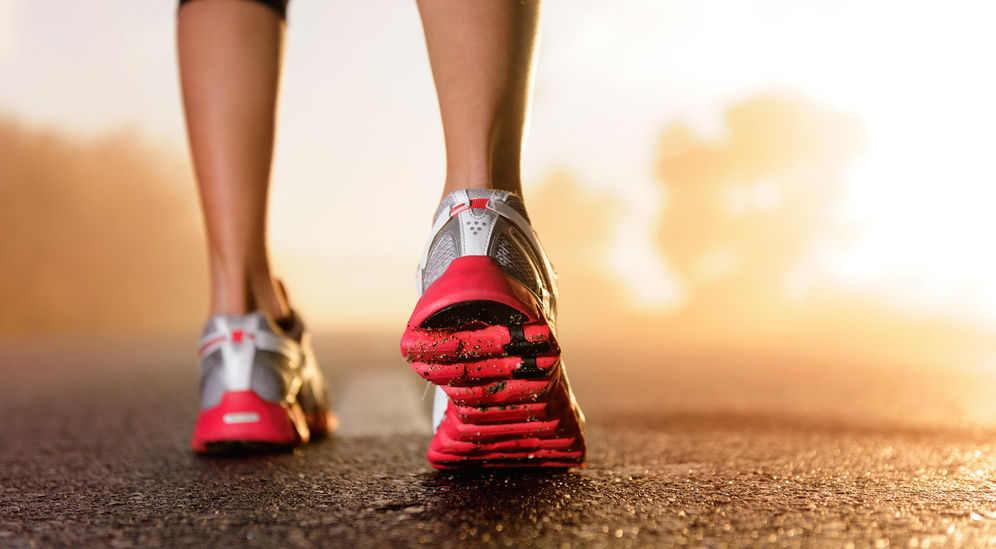 Aside from buying the right shoes to match your gait, the next most important thing is making sure your insoles, footbeds or inserts are giving your feet what they need. Below, we've had our insole experts lay out some things to look for, as well as their top picks.
How Should I Choose My Running Insoles?
If you have a specific condition (plantar fasciitis, high arches, flat feet, etc.), choosing insoles that solve these issues should be your first priority. More generally, here's what our insole experts list as the top three things to look for:
Stability – A lack of stability in your shoes and insoles can lead to problems developing over time, or some grisly injuries happening in an instant. Insoles with a heel cup and biomechanical shape will go a long way to providing you with a healthy, comfortable stride.
Cushioning – Repeated impacts can really detract from endurance, and can cause plenty of pain as well. Look for good shock-absorbing materials to keep your feet energetic and comfortable over your run.
Support – While your insoles can support your feet in a number of ways, this generally refers to a sturdy support under the arch. Good arch support will help to keep your feet in the right position for better comfort and less fatigue.
Our Best Cushioning Running Insoles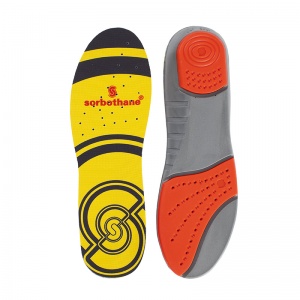 When it comes to cushioning your feet as you run, the Sorbothane Shock Stopper Double Strike Insoles are our top choice. Made with the Sorbothane's remarkable shock-absorbing compound, these are an ideal option for cushioning impacts to reduce pain and fatigue during long and short runs alike.
Heel cups and arch support make these insoles extremely well-rounded
Our Top Pick for Cushioning to keep you running for longer
Con: The thickest insoles on the list; not ideal for tight-fitting footwear
Our Best Running Insoles for Stability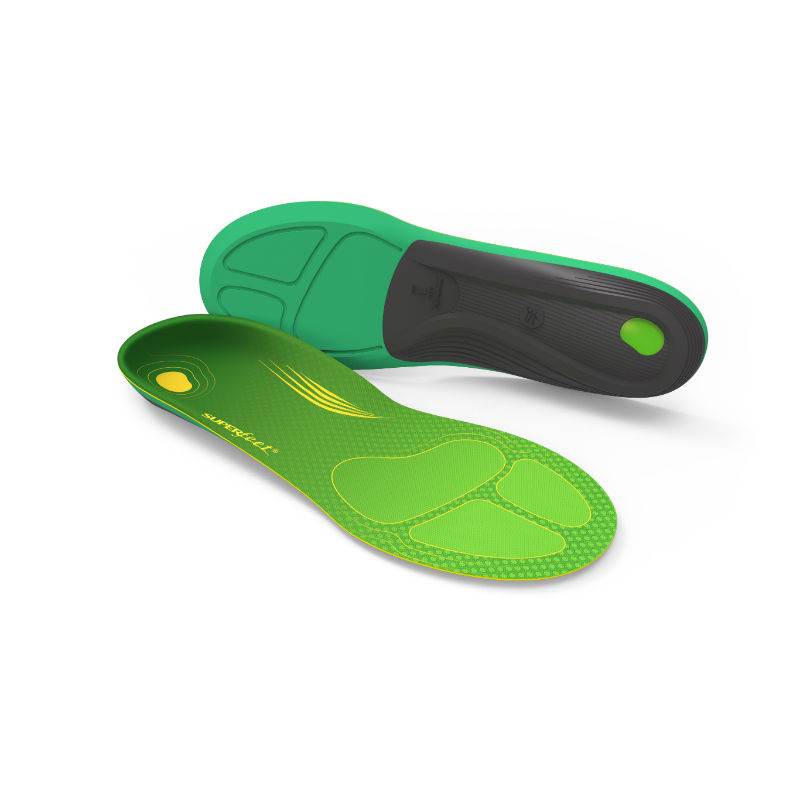 Superfeet are at the top of their class in terms of anatomical shaping and stability, so we had to include the new Superfeet RUN Comfort Insoles. Ideal for serious runners, these long-lasting insoles feature Heel Impact Technology, Aerospring foam at the forefoot and an advanced biomechanical shape for one of the best running experiences we've seen.
Long-lasting and cushioning materials make these a great choice for serious runners
Our Top Pick for Stability with an EVOLyte stabiliser cap and advanced shape
Con: The most expensive option on our list
Our Best Running Insoles for Plantar Fasciitis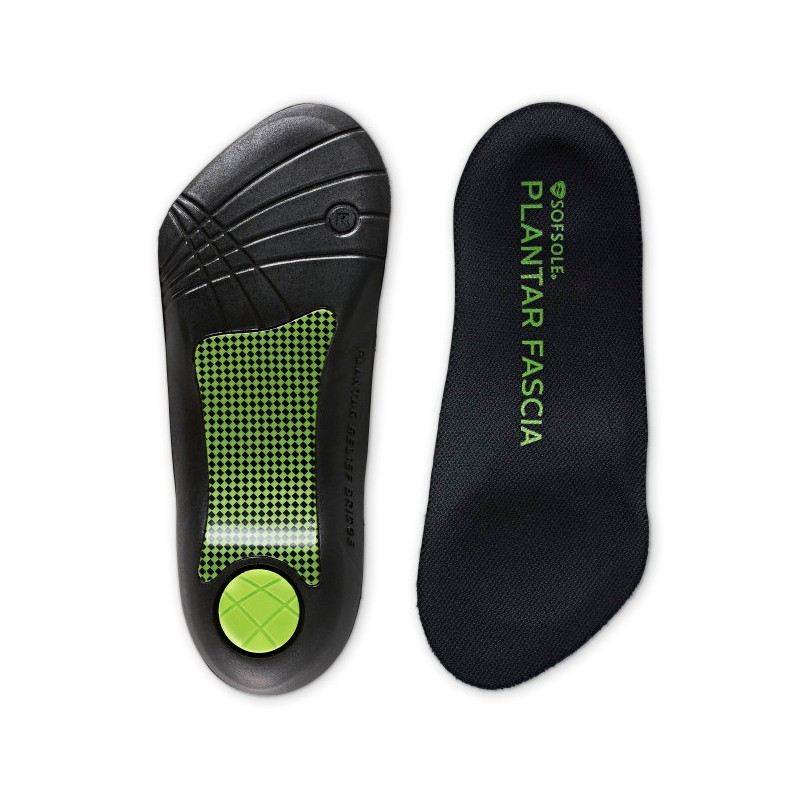 Plantar fasciitis is one of the most common complaints we hear among runners, and no running insoles are better for this than the Sof Sole Plantar Fasciitis Orthotic Insoles, available for both Men and Women. These insoles provide excellent relief to the plantar fascia, and feature a deep heel cup for motion control and stability.
Combine support, stability and cushioning for an easy-fit running experience
Our Top Pick for Plantar Fasciitis for pain relief that's second-to-none
Con: Not the best choice for those not suffering from plantar fasciitis

Our Best Running Insoles for High Arches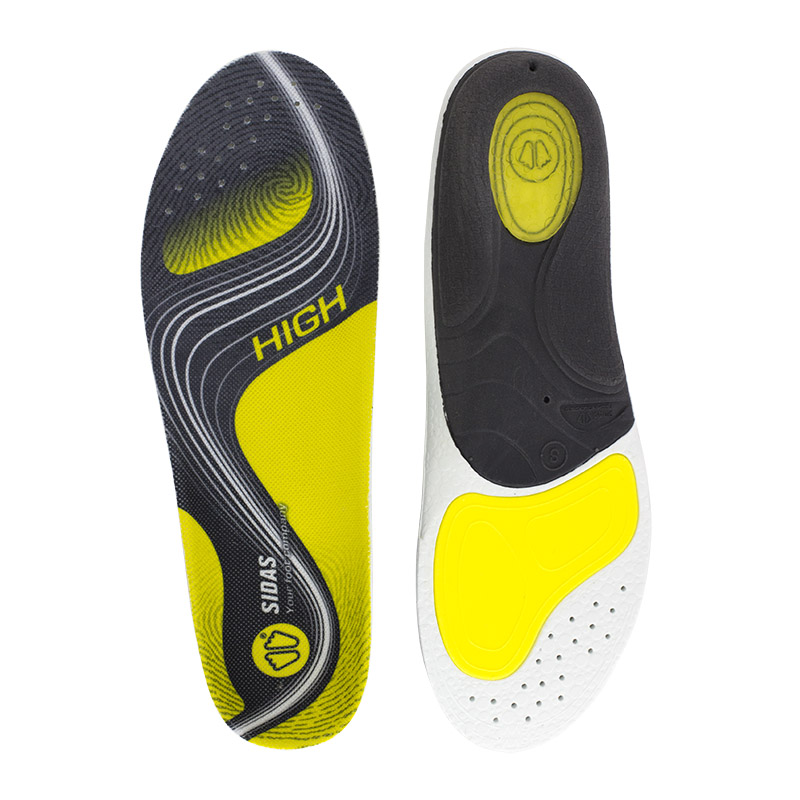 High arches can lead runners to problems like shin splints, plantar fasciitis and even stress fractures, and the Sidas 3Feet Activ Insoles for High Arches are our top pick to set your feet straight. As high-arched runners tend to supinate, these insoles combine shock-absorption with flexible arch support and heel stability to ensure a healthy gait while avoiding arch strain.
Flexible arch support and stability at the heel to prevent supination and arch strain
Our Top Pick for High Arches with an anatomical shape to promote a healthy gait
Con: May cause metatarsal or plantar fascia pain in those with low or normal arches
Our Best Running Insoles for Forefoot Pain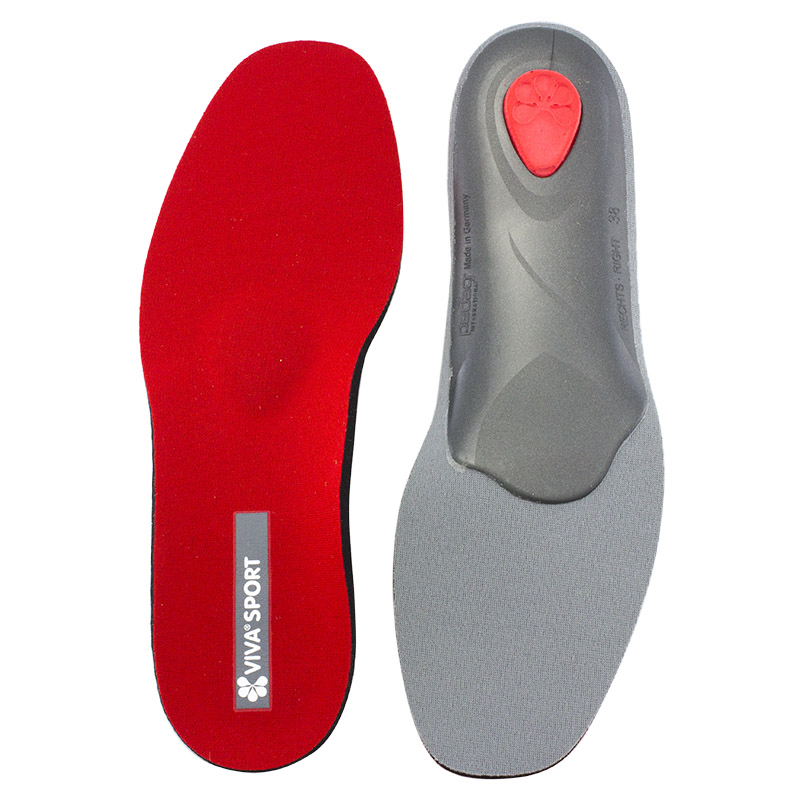 Forefoot and metatarsal pain are common among runners, and the Pedag Viva Sport Insoles are ideal for protecting this vulnerable area. Combining sturdy arch support with a metatarsal pad filled with cushioning micro-air chambers, these insoles provide an excellent heel-to-toe movement for an extremely comfortable stride.
Designed to fit easily into all types sporting footwear for a comfort boost
Our Top Pick for Forefoot Pain with a dedicated metatarsal pad
Con: Arch support may be too rigid for those with especially low arches
Improve Your Run with Insoles
Whether you're looking to improve your fancy running shoes, or trying to extend the length of some older ones, we're confident these insoles can improve comfort, reduce pain and help boost your running performance. While these are the top picks from our experts, nothing will replace insoles designed for your specific condition, so if you have a chronic foot problem we recommend browsing our Insoles by Condition to find the perfect option for your feet.
Not convinced by our choices? Feel free to browse our massive range of Running Insoles to choose your favourite.
If you have any thoughts on the best insoles for running, or an opinion on our choices, let us know in the comments below, or find us on Twitter and Facebook.
Shop Our Best Insoles for Running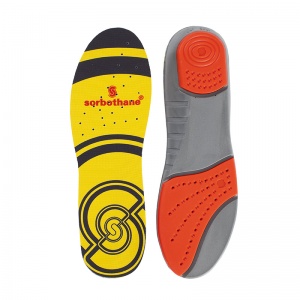 Targeted Sorbothane protection with moulded heel cups and arch support
Ideal for any activity where the forefoot and heel are subjected to impact
Suitable for all sports, hiking, walking, leisure activities and everyday use
In-built arch support prevents and alleviates arch pain and fallen arches
| | | |
| --- | --- | --- |
| | | In stock now |
£13.99
---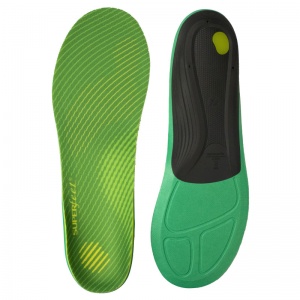 Running insoles which maximise comfort
Boost performance while targeting discomfort
Long-lasting and durable construction
Featuring hi-tech impact reduction
| | | |
| --- | --- | --- |
| | | In stock now |
£29.99
---
Pair of insoles for plantar fasciitis pain relief
Comfortable solution for men with plantar fascia pain
Relieves heel spur pain thanks to gel in the heel
Fits most footwear types thanks to a ¾ length design
| | | |
| --- | --- | --- |
| | | In stock now |
£13.99
---
Pair of insoles for plantar fasciitis pain relief
Comfortable solution for women with plantar fascia pain
Relieves heel spur pain thanks to gel in the heel
Fits most footwear types thanks to a ¾ length design
| | | |
| --- | --- | --- |
| | | In stock now |
£12.99
---
Flexible arch support designed especially for high arches
Soft gel heel pad to give optimal cushioning and shock absorption
Can help to combat heel pain, rolling of the ankles and over-pronation
Also available in Low and Medium Arch varieties
| | | |
| --- | --- | --- |
| | | In stock now |
£26.99
---
Viva insoles designed for sport's shoes
Features micro-air chambers to reduce impact
Metatarsal pad relieves ball of foot pain
Available in 13 sizes and suitable for both men and women
| | | |
| --- | --- | --- |
| | | In stock now |
£16.99