Sole: The Sole of Excellence
Wednesday, 6 January 2016 | Admin
Eye-catching design? Check. Environmentally friendly manufacture? Check. Unbeatable support? Check. It's no wonder Sole, a Canadian company started in 2001, have 5 million happy customers to their name – that's a lot of satisfied soles!
Just a glance at Sole's range proves this company is all about quality, and these sharply designed, hard-working insoles are just as good as they look, from ultra thin to ultra insulated, sporting ready to every day comfort. Sole insoles have become the go-to insole for runners, cyclists, mountaineers, skiers and soldiers alike.
Ab-sole-utley Fabulous
Sole has come a long way since its conception in 2001, with a growing team based in China, South Korea, America, the UK and its native Canada, not to mention ever more millions of happy feet! While the company, as well as the amount of loyal customers, has grown, Sole's vision has always remained the same: to allow users to live pain-free. More than merely a hopeful theory, research at the Running Injury Clinic in Calgary found that Sole's highly supportive insoles have achieved just that, and actively reduce strain placed on the plantar fascia by 34% - that's a reduction of a third!

The promise of pain-free shoes that can take on running, cycling or even mountain climbing isn't at the cost of value for money, either. Sole insoles have helped users run 350 miles non-stop, conquer Mount Everest multiple times and protect feet through even the most arduous of tasks, including military deployments. When you step into a pair of Sole insoles, you can be sure that they'll see you to your goals long before they'll need replacing. This hardy nature is just why ultra marathon runner Dean Karnazes, world class mountaineer Ed Viesturs and downhill skier Chris Davenport all have their own signature models under the Sole name!
Heart and Sole
Here at Shoe Insoles we're proud to add Sole to our great range of high quality insoles. Not only have Sole achieved what they set out to do – to give customers healthy, pain-free feet - the company is committed to bettering itself, and doing as much good for the world at large as they are doing for your feet every day! Since starting, Sole has donated over $335,000 to charities, provided 8000 pairs of insoles for people in need and support many more non-profit youth organisations which encourage active lifestyles and environmental awareness in young people.
Ready to find your Sole-mate? Check out the whole range at our online store!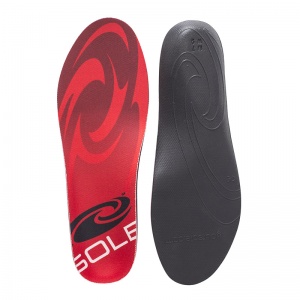 Extra cushioning for athletics
Vegan-friendly design and manufacture
Moisture-wicking top sheet for better hygiene
Mouldable custom support allows customised fit
| | | |
| --- | --- | --- |
| | | In stock now |
£37.99
---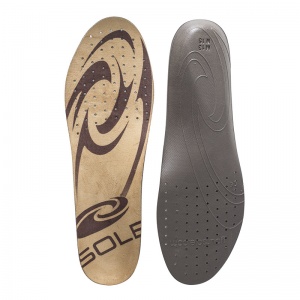 Minimal insoles for tight-fitting shoes
Vegan-friendly constructions
Moisture-wicking top sheet provides better hygiene
Mouldable custom support for customised fit
| | | |
| --- | --- | --- |
| | | In stock now |
£37.99