Showcasing Enertor Performance Shoe Insoles
27 January 2022
Enertor are an industry leader in the shoe insoles game. Formed in 1998, they've been relieving stress, preventing harmful conditions and increasing performance on the track and road for nearly 25 years. Endorsed and used by the worlds best athletes (including athletic champion Usain Bolt), Enertor understand athletes better than anyone else in the industry.
Check out our Enertor Performance Enhancing Shoe Insoles showcase below!
What Sets Enertor Apart From the Crowd?
First and foremost, Enertor are a sports brand. That's what they do best. Due to the nature of rapid movement and impact related activity, customers trust Enertor to manufacture seriously durable garments. That hasn't changed. As they branch out into multifunctional leisure wear, expect the impeccable, long-lasting standards Enertor are known for to be reflected in your purchase.
What Conditions Can Enertor Insoles Help Alleviate?
Shoe insoles are about reducing pain and discomfort, right? Enertor strive to create insoles you can use in a whole host of different environments, because they treat pain and issues better than anyone else. Please view the list below to see if Enertor can help with your condition:
Worldwide Enertor Endorsements
Enertor are historically a closed shop brand, supplying orthotics, gear, insoles and performance enhancing clothing directly to athletes and organisations. These direct supply endorsements include the British Army, Usain Bolt and the NHS. If that wasn't enough, Enertor were also voted "best overall insoles" by the Independent in 2021. It's safe to say, you're in good company.
Are Enertor Insoles Scientifically Proven to Work?
One of the most important things for any shoe insole is backing up the claims you make. Enertor Insoles are designed, manufactured and produced in line with cutting edge, industry leading scientific advice from podiatrists. As soon as you try an Enertor Insole, you'll understand that thousands of hours of meticulous research, design alterations and on-the-road testing have gone into every single product.
The Egg Test
Not convinced that these insoles absorb and dissipate unrivalled levels of shock? Take a look at this video for a demonstration.
See Some of Our Favourite Enertor Professional Grade Insoles
Now we've told you a little bit about what they're all about, take a look at some of our favourite Enertor Insoles!
Enertor Comfort 3/4 Length Shock Absorbing Insoles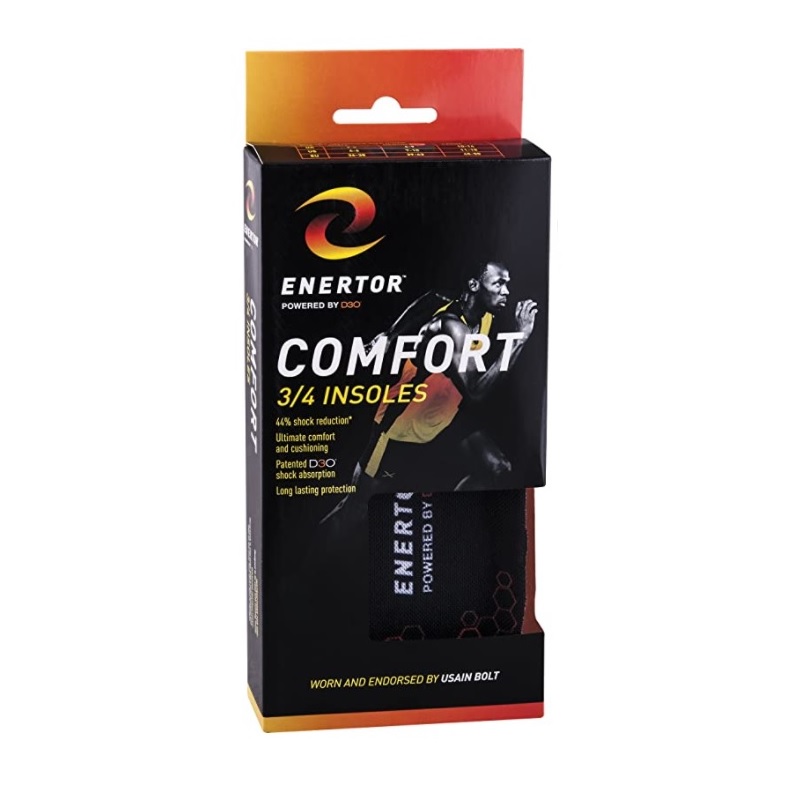 For some, a three-quarter length insole just works better. That feel of the foot sloping slightly downward and the heel rising up does something special to some runners. The Enertor Comfort 3/4 Length Insoles are designed to mitigate the impact generated by each stride and to create a bouncy, fluid frame for your foot to rebound against again and again and again.
What We Love:
3/4 design is the optimum shape for shock-absorption, arch pain and heel misalignment
Proven to reduce shock by 44%
The perfect option for tighter fitting shoes
Sticks to the shoe and can be easily removed or transferred
Our Verdict: The only real choice for runners, footballers, rugby players and athletes preferring a 3/4 length size insole.
Enertor Full Length Shock Absorbing Insoles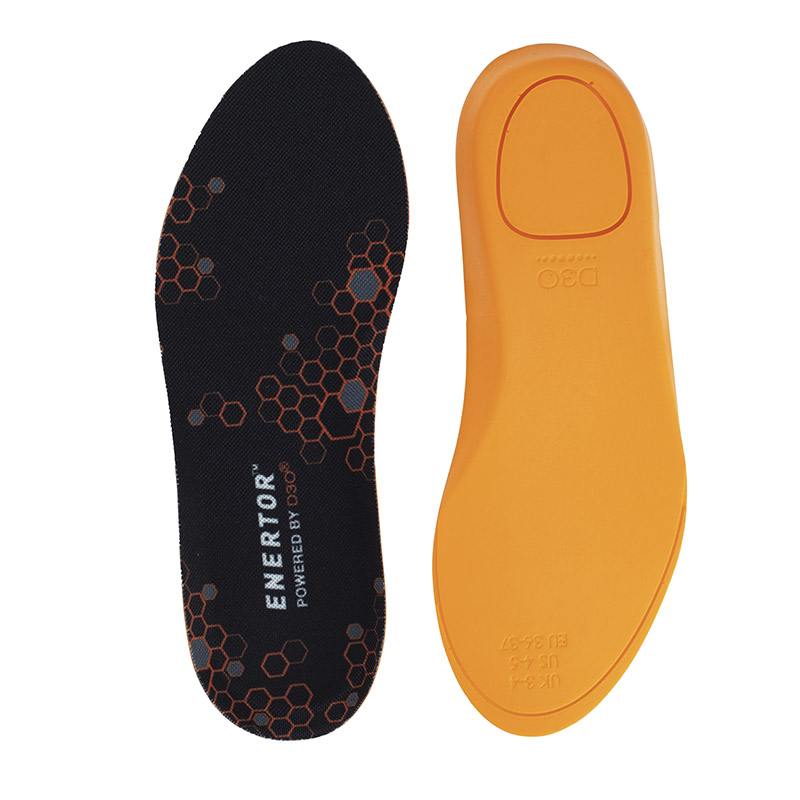 Enertor provide solutions in all different shapes and sizes. Their premium Full Length Shock Absorbing Insoles offer a full-length solution to plantar fasciitis, heel pain, turf toe and impact injury. If you're after a no-nonsense solution for jogging or running, this is the insole for you.
What We Love
Traditional full-length size will fit any style of running shoe or trainer
Used and endorsed by eight time Olympic gold medal winner Usain Bolt
Available in sizes ranging from UK Size 3 to UK Size 14
Full foot coverage prevents a range of different conditions
Our Verdict: If you're after a no-nonsense solution for running induced plantar fasciitis pain, this is the insole for you.
Enertor Comfort Pavement Impact Resistant Heel Cups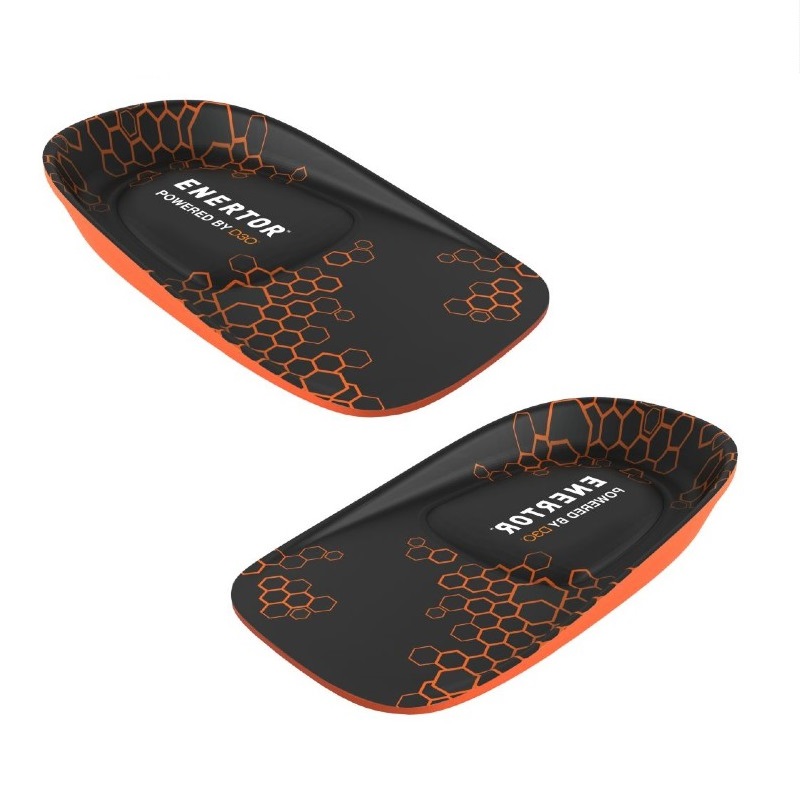 Enertor Comfort Pavement Impact Resistant Heel Cups are an innovative solution to heel pain. Unlike pads, heel cups bend and mould to the natural shape of the foot, providing a more tailored, customised brand of relief. If you're a footballer after extra padding and struggle to fit a standard insole in your shoe, these are the solution for you.
What We Love:
Innovative and highly tailored solution to heel pain
Minimal intrusion on the rest of the foot if heel pain is your issue
Can be worn with existing insoles if you have another product that works for you
Contoured to fit the natural curve of your foot
Our Verdict: Everyone's feet are different. If heel pain is your issue and you're after unobtrusive, tailored relief, heel cups are the solution for you.
Enertor Performance Full Length Moulded Shock Reducing Insoles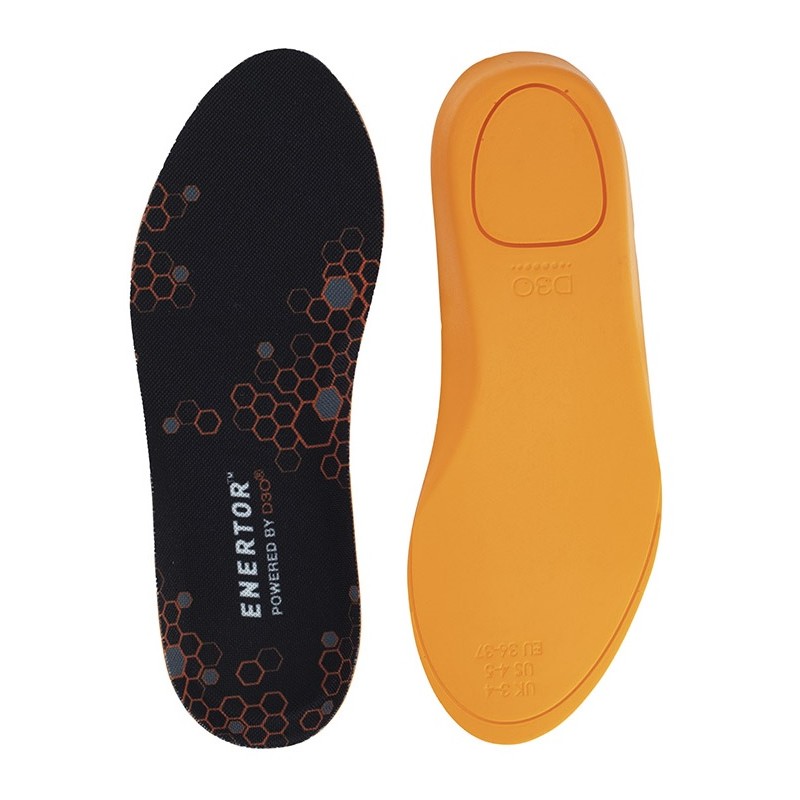 Shock and impact can ruin more than just your feet. If you're feeling any sort of discomfort in the feet when you're running, chances are the rest of your body is feeling it too. Enertor developed their Full Length Shock Absorbing Insoles to prevent shock and impact travelling up the foot, into the leg and into your hips.
What We Love:
Enertors flagship shock-absorbent insole
Moulded to fit the foot better than a standard flat insole
D30 impact-protection seriously reduces the damage done by pavement and road running
Flexible foundation fabric returns to natural state after each foot strike
Our Verdict: Serious runners, round the block joggers and professional athletes alike can rejoice. The only choice for the pavement and road runner.
Let us know what you think in the comments section below! To learn more about shoe insoles and for regular updates, click here to view our Shoe Insoles Twitter.
For more on these products, click here to view our dedicated Enertor Insoles product category.