Best Thermal Insoles for Shoes and Boots 2022
Friday, 5 November 2021 | Eugene
When the cold of winter sets in, you most likely have your favourite pair of warm boots or socks to keep your feet feeling cosy, but that isn't always enough. When these fail, how do you keep your feet warm? A great way to stop your heat escaping is by wearing an insulated or heated pair of insoles, which can provide a massive boost your your feet on cold days, turning even a regular pair of shoes into a great asset on a winter day!
To help you sort through the sometimes-confusing world of orthotics, footbeds and insoles, we've had our product experts at ShoeInsoles.co.uk put together their list of the ultimate insulated insoles to keep your warm this winter. We'll point out a unique advantage of each, and hopefully let you know which pair is the best way to keep your feet warm on cold days.
Our Best All-Round Thermal Insoles for Comfort and Warmth
Winner: Superfeet Merino Grey Performance Insoles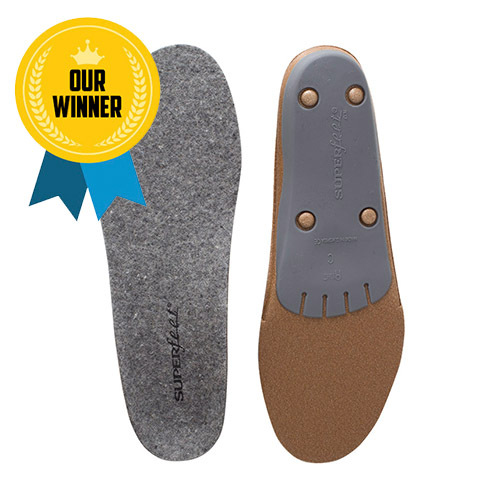 Why We Love Them...
✔ Biomechanical shape and soft foam combine with heat-retaining merino wool
✔ Wick away moisture to ensure warm feet don't become sweaty
✔ Suitable for all types of footwear – ideal for boots that are lacking in support contours
Not the Best For...
✘ Those with especially high arches
✘ Intense sporting use
Editor's Verdict: The Superfeet Merino Grey Performance Insoles feature all the comfort and protection of the bestselling Superfeet Green Insoles, now with an added upper layer of soft merino wool for excellent insulation. These warm insoles can fit into any daily or sports shoe, and are suitable for all-season use, providing shock-absorption with resilient foam and a corrective biomechanical shape.
Our Best-Value Thermal Insoles
Winner: Pedag Viva Winter Insoles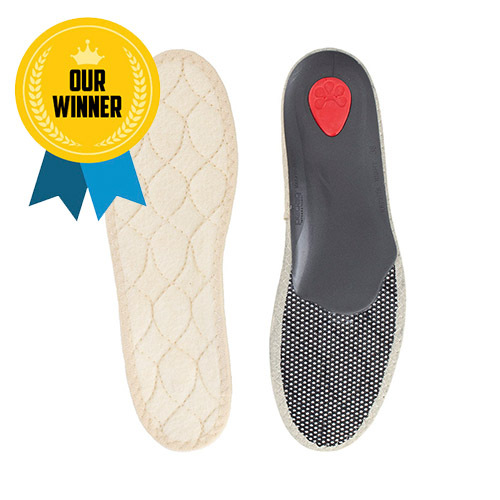 Why We Love Them...
✔ Aluminium foil base and woollen top liner combine for a cosy feel and great insulation
✔ Middle layer of closed air cells provide an excellent thermal effect
✔ Built-in arch support and cushioning provide a great all-round comfort effect
Not the Best For...
✘ Shoes or boots with especially robust arch support already built in
✘ Intense sporting use
Editor's Verdict: The natural materials of the woollen top layer of the Pedag Viva Winter Insoles provide a really nice feel under the sock, helping the insoles to noticeably boost the cosy feel of any boots or shoes. In addition to this, these winter insoles also feature an underside made of special aluminium foil which works to shield the feet from the cold ground.
Best Battery-Powered Heated Insoles
Winner: Therm-IC Heat Flat Heated Insoles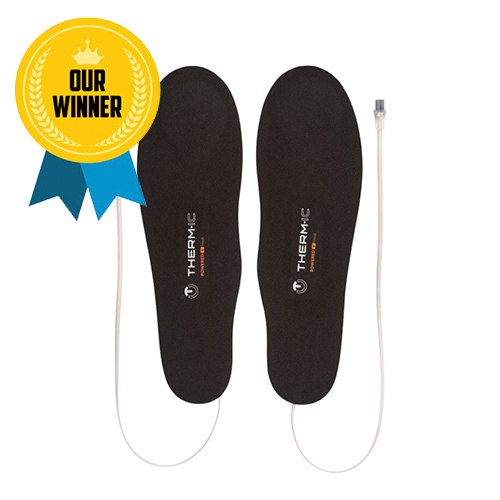 Why We Love Them...
✔ Battery-powered heating element keeps your feet toasty warm
✔ Provides all-day warmth with battery lasting up to 22 hours of use
✔ Clever design allows comfortable use in all types of footwear, even tighter-fitting shoes
Not the Best For...
✘ Those looking for a high level of arch support
✘ Sufferers of metatarsalgia or splayfoot
Editor's Verdict: On the coldest days when you may be sitting or standing around outdoors, heat-retention alone may not do the trick. The Therm-IC Heat Flat Heated Insoles are an ideal solution, as they include built-in heating elements to warm your feet to the ideal temperature.
Best Thermal Insoles for Winter Sports
Winner: Superfeet Red Hot Insoles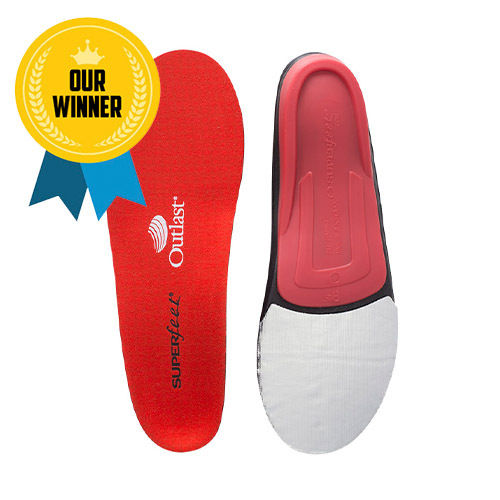 Why We Love Them...
✔ Regulate temperature while correctly aligning the feet – ideal for winter sports
✔ Airweave and Thermo-foil layers combine to trap warmth, deflect cold and increase airflow
✔ Designed for the shape and size of men's feet – available for women as the Superfeet Hot Pink Insoles
Not the Best For...
✘ Those looking for a battery-powered insole
✘ Toe issues like hammer toes or claw toes
Editor's Verdict: If you're involved in winter sports, or go through periods in the day where your feet will be sweating one moment and freezing the next, the Superfeet Red Hot Insoles are the ideal option for you. Again building on the basic strengths of the best-selling Superfeet Green Insoles, the Red Hot Insoles feature responsive temperature control technology which absorbs, stores and releases warmth to all areas of the foot.
Most Affordable Thermal Insoles
Winner: Pedag Merino Full Insoles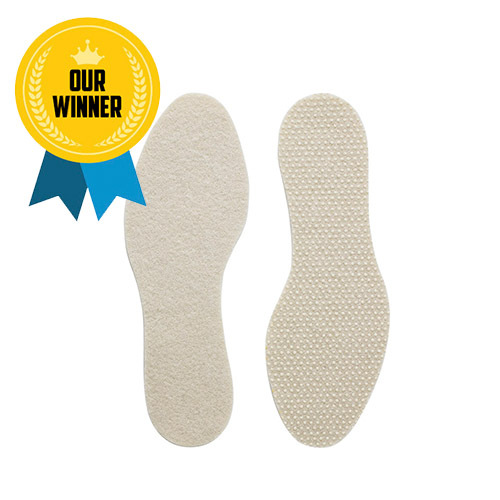 Why We Love Them...
✔ Fluffy and luxurious feel makes them an ideal addition to any winter footwear
✔ Perfect winter boots, or as a replacement for boots with worn fluffy lining
✔ Simple yet insulating materials make these a perfect cost-effective choice
Not the Best For...
✘ Those with low arches seeking arch support
✘ Anyone with forefoot or heel pain looking for significant cushioning
Editor's Verdict: The Pedag Merino Full Insoles are made using super-silky merino, encouraging comfort while trapping the heat around your feel. Simple yet effective, these insoles combine a thin low-profile design with insulating materials, helping to regulate your temperature in all sorts of conditions.
Keep Your Feet Warm this Winter
Your feet may feel warm while you're inside, but despite your best efforts, this heat will leave your feet minutes after stepping out into the cold. These insoles will help to trap that heat in your shoes or boots, making everything from walking in the snow to skiing or ice skating more enjoyable for longer. If you'd like to see all of our warm insoles that we've selected these picks from, take a look at our entire Thermal Insoles section.
If you'd like to see some novel ideas for keeping your feet warm while in the home, take a look at our Heated Slippers section, with some cosy slippers with heat pads over the toes!
Do you have a question, or something to add? Why not let us know in the comments, or find us on Twitter and Facebook!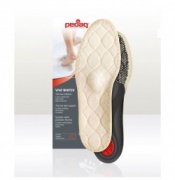 Foot support with 3 layer thermal shield;
Relieves forefoot, arches and heels;
Aluminium underside;
Super soft pure wool.
| | | |
| --- | --- | --- |
| | | In stock now |
£16.99
---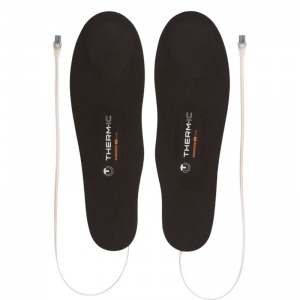 Thin heated insoles for discreet heating
Keep your feet at ideal temperatures
Easily fits into most shoes, including snow and ski boots
Universal size – trimmable for perfect fit
| | | |
| --- | --- | --- |
| | | In stock now |
£29.99
---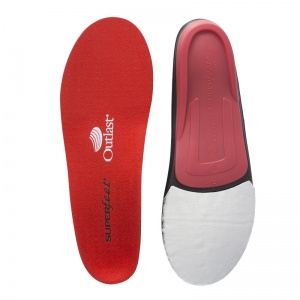 Thermal insoles ideal for ski and cold weather sports
Anti-blister fabric and anti-bacterial top coat
Heel cup and contoured shape fully support your foot during high-impact activities
Wide forefoot ideal for cold weather shoes
Superfeet 60 day money back guarantee
| | | |
| --- | --- | --- |
| | | In stock now |
£32.99
---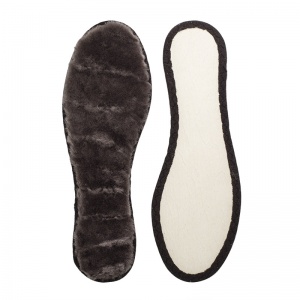 Fluffy lamb's wool insole
Indulgent in-shoe comfort
Perfect for winter wear
Anti-slip bottom coat
Available in dual sizes 3 - 12
Sold in convenient pairs
| | | |
| --- | --- | --- |
| | | In stock now |
£11.49