Best Memory Foam Insoles 2020
Saturday, 25 January 2020
If you've heard of memory foam, you probably know about the benefits it can have for your back, neck and sleep quality when it's included in a mattress. What you may not know, though, is that it can provide just as many, if not more, benefits when applied to shoe insoles. Memory foam insoles are an excellent choice for those suffering from foot related conditions, or for anyone just looking to keep their feet healthy, comfortable and in good condition. These insoles have the capacity to help in a wide variety of ways, including easing the pressure on the ball of your foot, preventing foot roll, stabilising your foot, providing arch support, absorbing heel shock, and much, much more.
Once you've decided that memory foam insoles are for you, the next step is choosing the right pair. With such a wide variety of memory foam insoles available here at ShoeInsoles.co.uk, all claiming different benefits and uses, finding the perfect insoles to suit your needs can seem a daunting task. Luckily, you've come to the right place, as we've put together a list of our Top 5 Memory Foam Insoles that we're sure you, and your feet, will love.
Pedag Magic Step Full Length Memory Foam Insoles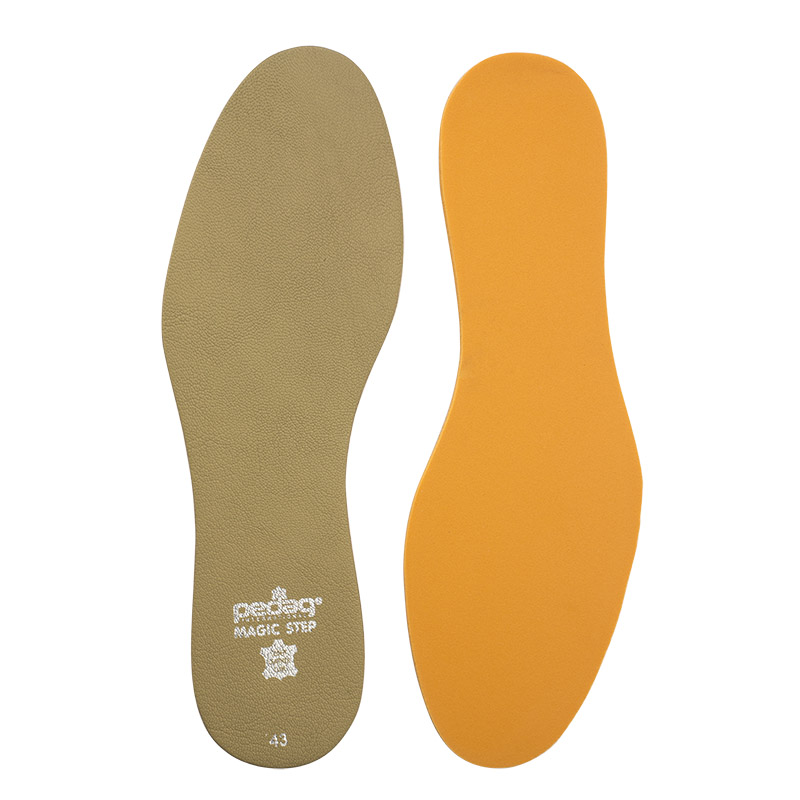 Starting off our list strongly are the Pedag Magic Step Full Length Memory Foam Insoles, designed to keep you active and on your feet for longer. These insoles are made of leather, with a memory foam layer designed to cushion your feet and reduce foot fatigue and tiredness. Anyone who feels they need extra cushioning in their shoe, feeling tired and worn after a long day on their feet, will love the combination of cushioning and support that these insoles can provide. They'll help to relieve strain and pressure on the feet, enabling you to get back on with your day, and feel great while doing it.
One of the keys to the outstanding comfort these insoles can provide is the top layer, made from real high quality and breathable leather. This breathability helps you stay cool and fresh for longer, helping your foot feel better in your shoes, and keeping your feet hygienic by reducing unwanted sweat build-up. As an added bonus, these insoles are made in a stylish, discreet nude colour that will keep your shoes looking as great as they'll feel.
Sof Sole Memory Foam Insoles

The second entry on our list belongs to the Sof Sole Memory Foam Insoles, available in both Men's and Women's versions. These insoles are suitable to be worn in dress, casual and athletic shoes for versatile, all day support and pain relief. Extremely lightweight, at only 40 grams each, these insoles won't weigh you down, and are still durable enough to last for up to 1500km of running and sporting activities. Constructed from special 'Sof Recall' memory foam that conforms completely to your foot, they'll provide you with personalised and long-lasting comfort.
These highly dynamic insoles are great for almost any situation or user, and are especially suited to help provide relief and comfort to those suffering from heel pain, heel spurs, fatigue, shin splints or ball of foot pain. Their Microban material prevents the formation of bacteria, keeping your feet fresh, and the deep heel cup helps to stabilise the foot and ankle, giving mild over-pronation support. What's more, these insoles are available in two types, each specially designed for the key differences between a man and woman's foot.
Langer Bio Plus Soft Shoe Insoles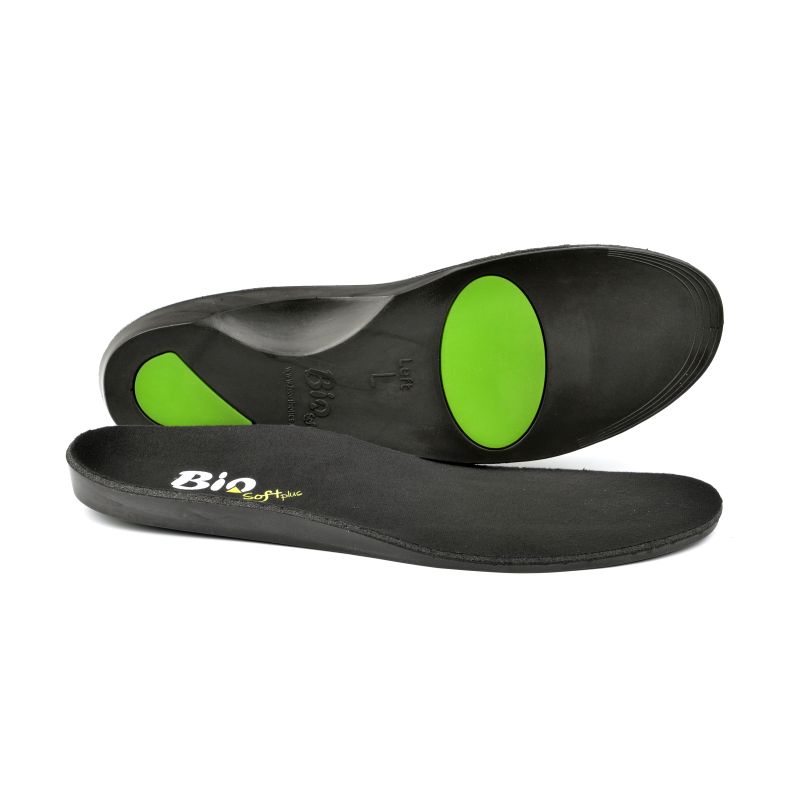 If you're looking for the very best in comfort and shock absorption, you can't do much better than the Langer Bio Plus Soft Shoe Insoles. These soft, dual density insoles are specially designed for helping with heel and forefoot pain, providing an unparalleled level of comfort thanks to their careful, expert design. Their memory foam top shapes exactly to the sole of the foot, providing feet with a fantastic level of cushioning, step after step. The high level of cushioning found in these insoles makes them perfect for those with plantar calluses, pain in the heel, front of the foot, or just general discomfort caused by a lack of support and shock absorption.
One of the key features that sets these insoles apart from the competition is their ability to be adapted and customised based on the unique needs of the wearer. Whatever your needs, these high-performing insoles can be adjusted into a perfectly contoured and personalised insole for you.
Shoe String Memory Foam Insoles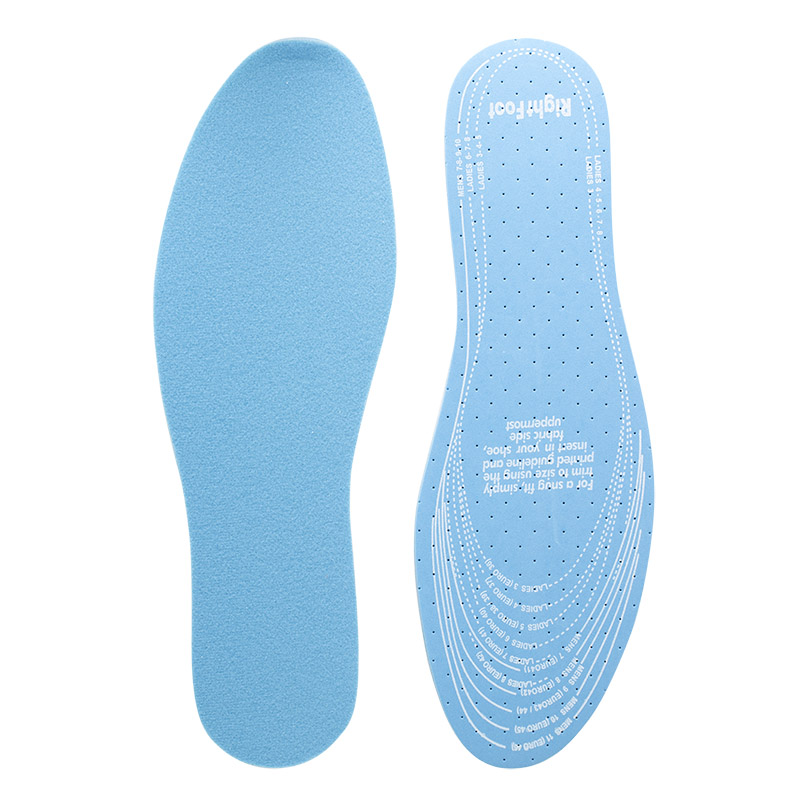 Next up is a pair of insoles that will feel as good on your feet as they are for your wallet: the Shoe String Memory Foam Insoles. A great addition to any shoe, these insoles feature a lightweight, memorising foam layer that makes them easy to wear inside your everyday shoes. They can be trimmed to fit, and represent a cost-effective way to make your shoes fit the way you want them to. They're breathable, keeping your feet feeling fresh and cool, and are perfect for offsetting commonly-found differences in store-bought shoe sizes. The Shoe String Insoles are thin and flexible, and designed to reduce foot movement inside your shoes, reducing the risk of blisters and calluses, and boosting your overall comfort.
These insoles are ideal for anyone who feels they need extra support in their shoes, but don't want to shell out for top-of-the-range insoles. If your current shoe insoles have poor internal grip on your foot, or are just hard and uncomfortable, the Shoe Strings can provide a softer base not possible without these use of memory foam. So if you have a shoe string budget, but don't want to miss out on the benefits of memory foam insoles, these are the perfect choice for you.
Pedag Magic Step Plus Memory Foam Arch Support Insoles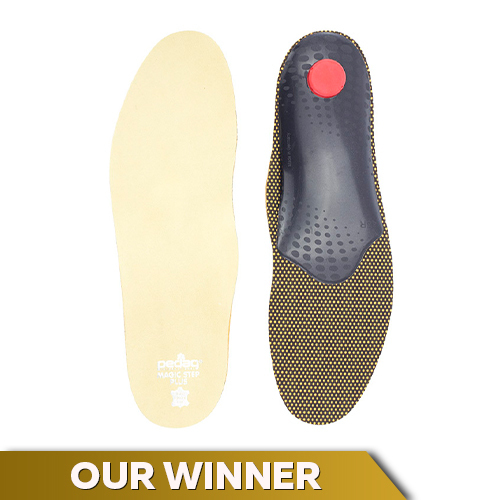 Last on our list, but certainly not least, are the Pedag Magic Step Plus Memory Foam Arch Support Insoles. A close relative of the first insole on our Top 5, these insoles are specially designed to combat some of the key symptoms and causes of lack of support and pain in the arches of the feet. When you have arch problems, a day on your feet can really take a toll, making you tired, worn, and uncomfortable. These leather insoles combine the power of a built in arch support, with a memory foam layer, to provide cushioning for your feet, and keep you feeling fresh and free from fatigue for longer. If you find your feet quickly become tired and fatigued throughout the day, these insoles may very well be the answer to your prayers.
Specially designed to provide exceptional comfort and cushioning to your feet, without sacrificing the support your arches crave, these insoles battle fatigue like none other. Perfect for those with splayfoot, fallen arches, low arches, heel pain, or other arch-related maladies, these breathable leather insoles keep your feet pain-free, fresh, and feeling great. As if that wasn't enough, they feature anatomical supports, a heel cushion and a metatarsal pad to help with pain from your heel, to your hip to your spine. Stylish and discreet, these insoles are the ultimate in memory foam-powered arch support.
Insoles Your Feet Will Remember
After reviewing some of our favourite memory foam insoles, hopefully you've been able to narrow down what kind of insole is right for your feet. These insoles can provide you with unbeatable support and comfort through a range of activities, and will stand up to anything you want to challenge them with. They'll form to your feet, and within minutes will feel like they've been made specially for you, with your lifestyle and unique needs in mind. Don't take our word for it though, try some of these revolutionary insoles for yourself, and see how they can take your walking, standing and overall movement to a whole new level.
Visit Shoe Insoles to see our full range of Memory Foam Insoles.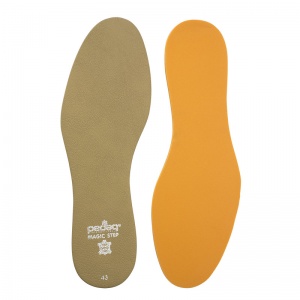 Breathable leather top for greater freshness
Memory foam layer for superior cushioning
Noticeable comfort – ideal for day-to-day use
Stylish nude colour suits most shoes
£9.99
---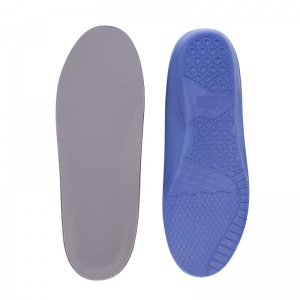 Pair of shoe insoles with Sof Recall memory foam
Designed to improve comfort of most shoe types
Conforms to your foot for optimal comfort
Heel cup increases support while you walk
£9.99
---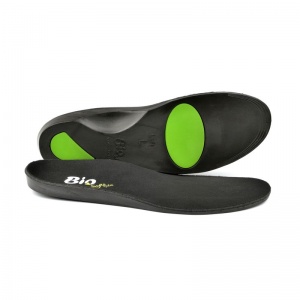 Dual density design
Memory foam top cover
Provides comfort and shock absorption
Ideal for heel and forefoot pain
£46.15
---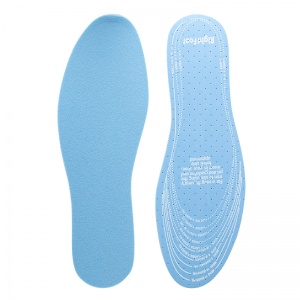 Memory foam insoles for greater comfort
Thin and flexible for unobstructive wear
Adheres to wearer's shape giving better support
One size fits most, simply trim to fit
£3.89
---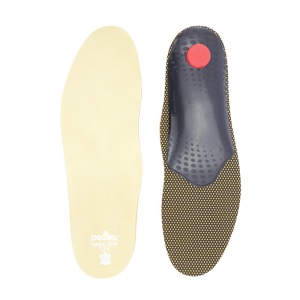 Breathable leather top provides improved freshness
Memory foam layer for superior cushioning
Noticeable comfort – ideal for day-to-day use
Built-in arch support for increasted comfort
£15.49