Best Insoles for Plantar Fasciitis 2020
3 Comments
Friday, 7 February 2020
Plantar fasciitis is a common foot condition, usually resulting in stabbing pains at the bottom of your feet near the heel. You've already done the hard part if you've figured out that plantar fasciitis is the cause of your pain, and the only thing left is to find the right pair of shoe insoles to support your feet and relieve your symptoms. Luckily, you've come to the right place, as our insole experts have all the knowledge to direct you to the right insoles for your conditions, as well as your lifestyle.
What Is Plantar Fasciitis?
One of the most common causes of chronic heel pain, plantar fasciitis is caused by inflammation of the plantar fascia (the thick band of tissue that connects your heel to your toes). While treatable, plantar fasciitis can cause stabbing pains in the bottom of your foot that make normal walking movements painful, and are usually more intense during the early hours of the day. Anyone can suffer from plantar fasciitis, but it's most common in runners, people who are overweight or those that wear unsupportive shoes.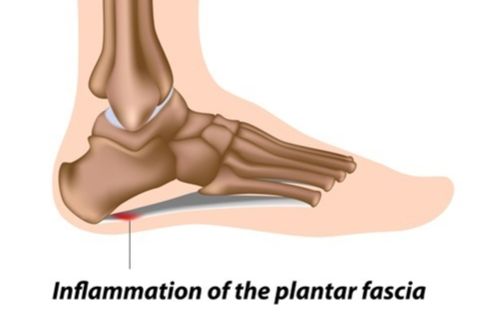 How Can I Treat Plantar Fasciitis?
Treatments for plantar fasciitis can range anywhere from medication to physical therapy, but by far the simplest treatment is to provide support with a new pair of shoes or shoe insoles. Every insole is different, so to help you choose the best pair for you, we've had our insole experts select their picks of the best insoles for plantar fasciitis, along with some useful information to help you choose the best pair for your needs.
Best Everyday Plantar Fasciitis Insoles
Sof Sole Plantar Fasciitis Orthotic Insoles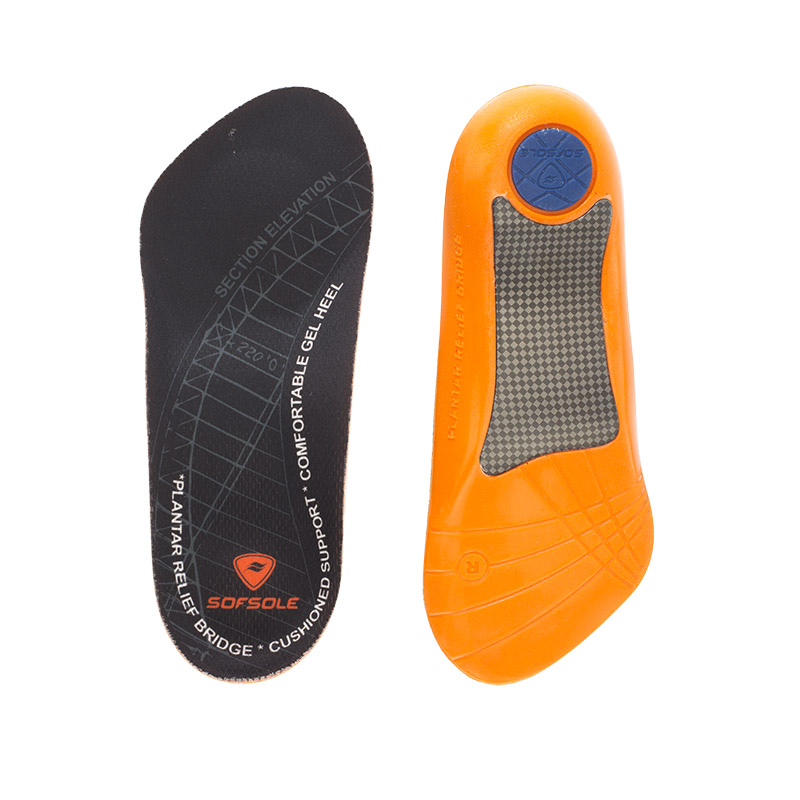 Designed separately as the Sof Sole Plantar Fasciitis Orthotic Insoles for Men and the Sof Sole Plantar Fasciits Insoles for Women, these footbeds are precision engineered to target plantar fasciitis. They feature an innovative plantar relief bridge to support the entire width of the foot and the affected tissue, as well as built-in gel heel pads to absorb impacts and relieve pain.
These insoles weigh in at a miniscule 75g, making them comfortable in most types of shoes without weighing you down. Their combination of shock absorption and support help them boost comfort while walking or running, making them a perfect pair of all-round plantar fasciitis insoles for everyday use.
Best Insoles for Over-Pronation and Ankle Rolling
Powerstep Pinnacle Orthotic Insoles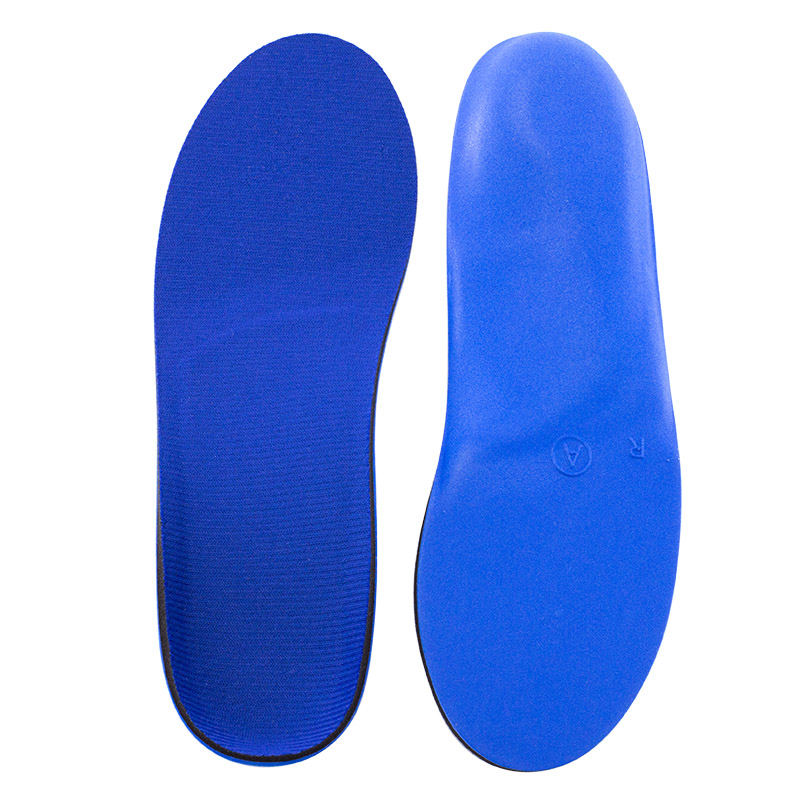 The Powerstep Pinnacle Orthotic Insoles are made to prevent over-pronation (foot rolling inward as it lands while walking or running). Over-pronation is a leading contributor to the development of plantar fasciitis, and makes existing conditions worse.
If your plantar fasciitis is a result of over-pronation, these are definitely the insoles for you. Providing extra cushioning for the foot and increased arch support, the Powerstep Pinnacle Orthotic Insoles also help with fallen arches – another common cause of plantar fasciitis.

Best Plantar Fasciitis Insoles for Sports and Exercise
Sorbothane Shock Stopper Double Strike Insoles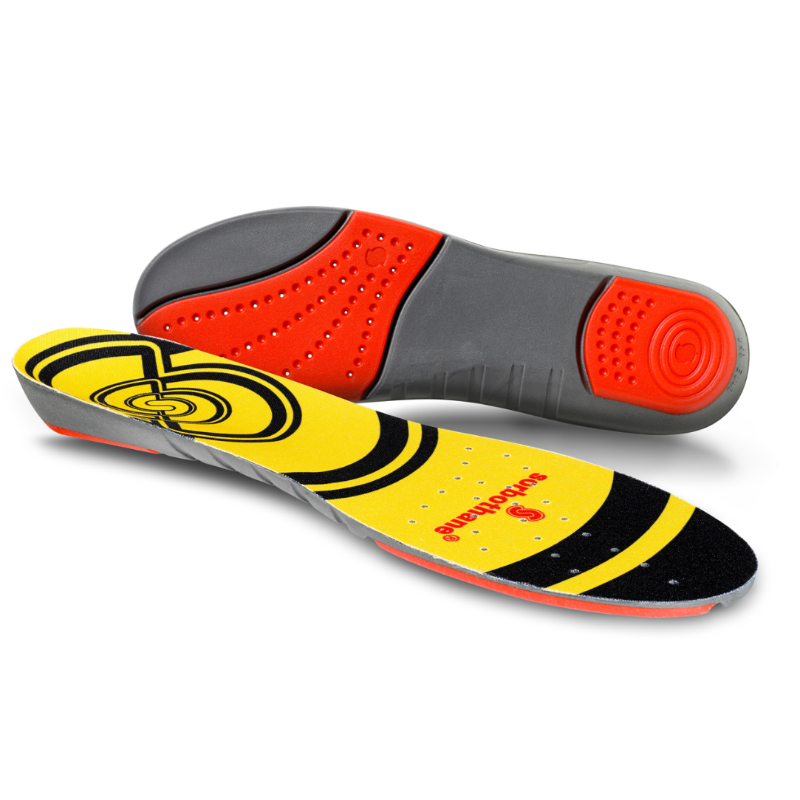 Impacts to the feet are often a major cause of plantar fasciitis, making performing intense activity a particular risk. The Sorbothane Shock Stopper Double Strike Insoles are designed to absorb shock involved with running and intense activity, and feature great arch support to alleviate strain and take the pressure off your feet.
Whether you're a hiker, runner or another type of athlete, shock absorption should be your major focus when looking for an insole for sports. These insoles tick all the boxes, and should improve your performance while reducing pain as you work out.
The World's Most Popular Insoles
Superfeet Green Performance Insoles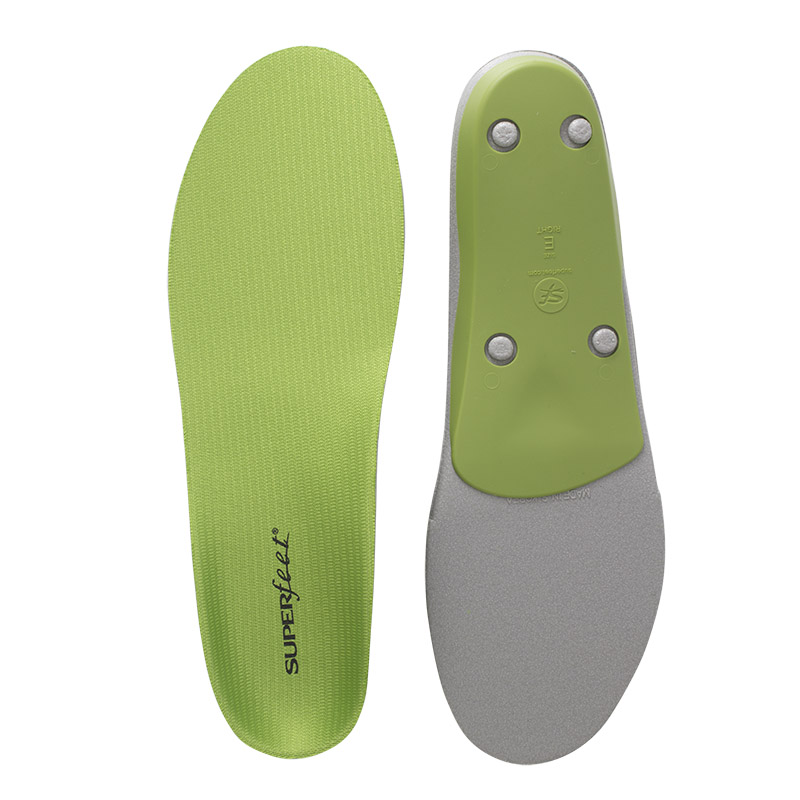 This next pair of insoles is one of our favourites at ShoeInsoles.co.uk, and is constantly receiving stellar feedback from our customers for the comfort and support they provide. Known as the world's most popular insoles, the Superfeet Green Performance Insoles provide great arch support and shock absorption, making them suitable for plantar fasciitis as well as a host of other foot problems.
Made with a slim design to fit shoes as well as an odour-control coating, Superfeet Green Insoles are an excellent choice for anyone looking for a great all-round insole that can do just about anything. Perfect for plantar fasciitis as well as knee pain, back pain, instability and arch pain, you can't go wrong with a pair of these popular insoles.
Take Your Comfort Back
With these insoles, we're confident that you'll be able to reduce pain resulting from plantar fasciitis and enjoy walking again. Hopefully, the tips from our insole experts have helped you narrow down which pair of insoles is for you, but all of these insoles have been proven to be effective in battling plantar fasciitis. If you'd like to browse more of our insoles, you can take a look at our entire selection in our Insoles for Plantar Fasciitis category.
Do you have a question about plantar fasciitis insoles, or something to add? Why not let us know in the comments, or find us on Twitter and Facebook!
Shop Our Plantar Fasciitis Insoles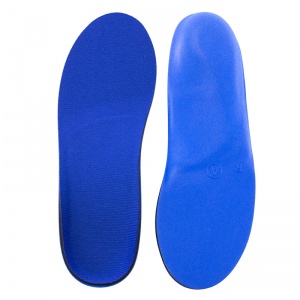 Orthotic insoles for medical-grade foot support and stability
Suitable for sportspeople, workers, elderly and more
Reduces pain in the arches, heels, ankles, knees and lower back
Reduce effects of plantar fasciitis, arch pain, overpronation and more
£24.54
---
Pair of insoles for plantar fasciitis pain relief
Comfortable solution for men with plantar fascia pain
Relieves heel spur pain thanks to gel in the heel
Fits most footwear types thanks to a ¾ length design
£12.99
---
Pair of insoles for plantar fasciitis pain relief
Comfortable solution for women with plantar fascia pain
Relieves heel spur pain thanks to gel in the heel
Fits most footwear types thanks to a ¾ length design
£11.99
---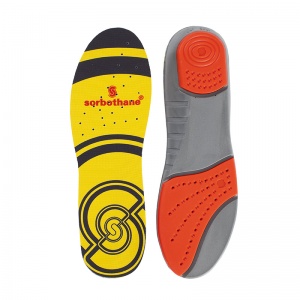 Features targeted Sorbothane protection with moulded heel cups and arch support
Ideal for any activity where the forefoot and heel are subject to the most impact
Suitable for all sports, hiking, walking, leisure activities and everyday use
In-built arch support prevents and alleviates arch pain and fallen arches
£12.99
---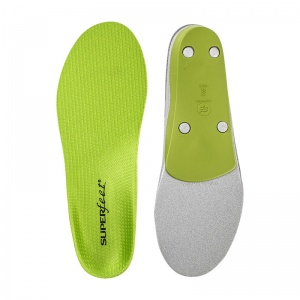 Heel cup technology contours to the foot for total support
Crafted from shock absorbing foam for complete comfort
Ideal for any sports shoe
Superfeet 60 day money back guarantee
£24.99